5 Best Fishing Waders For The Money (Reviews – Buyer Guide 2022)
Fishing Waders are waterproof boots which extend from the foot to the chest. That is why, we also call them as Chest Waders. Traditionally waders are of vulcanized rubber.
Currently, waders are available in modern PVC, Gore-Tex, and Neoperene variants.
These materials are mainly waterproof and durable in nature. The difference between waders and counterpart waterproof boots is the shaft height; the hip boot extends to the thigh, and Wellington boot extends to the knee.
Waders have been in existence as early as the 1850s and were first made by Hodgman Company. Waders can be
available with boots attached or have attached stocking feet to wear inside boots.
We have two main types of waders namely stoking-foot and boot-foot. For stoking-foot, the waders are connected to a separate boot while for boot-foot includes the boot already.
Waders have a wide range of applications. Apart from leisure, you can wear them for fishing, angling, water gardening and so on.
Waders are essential in keeping warm during cold periods by keeping the cold water off the skin which may cause hypothermal or other health problems.
Fishermen use waders during summer to keep dry. Quality waders are important for fishing and hunting.
Using waders while wading through water makes you feel protected.
5 Best Fishing Waders Comparisons
1. Redington Sonic-Pro Wader
The Redington Sonic-Pro Wader has, without doubt, made a name for itself in the market. These stocking foot chest waders made from breathable fabric are all you need when you want to go fishing.
Features
Redington Sonic Pro Waders are of ultra-durable 4- layer, breathable or waterproof durable water repellant (DWR) coated fabric and feature double taped thus enabling you to stay longer in your favorite fishing spots.
They are 100% nylon. These waders have articulated seams to enhance mobility. The seams are welded and not sewed, while the lower seat and legs reinforced to enhance durability.
Sonic pro waders are also outfitted with many pockets for stashing gear. The external pockets are large and waterproof while the custom internal pockets have plenty of places to hold retractors, hemostat and other gears.
More Features
They have Mesh pocket, Hypalon retractor dock, forceps dock and zippered pocket used for keeping tippet.
Other custom design features include gravel guard with custom molded lace, 2-inch stretch wading belt with Redington buckle and custom molded hemostat clamp D-ring.
Functionality and options
For keeping tippet and other items such as phone, keys, you can use the Mesh pocket, forceps dock, Hypalon retractor dock and zippered pocket. Besides, its high-tech ultra-sonic welded construction (no sew construction) helps prevents heat loss from the body.
The waterproof or breathable wader fabric helps to keep water out while allowing moisture and sweat to pass through. This aids in keeping the body dry and warm.
It also has fleece-lined hand warming pocket that provides enough relief for frozen finger.
Pros:
Lightweight, easy to pack and store.
Superior durability for uncompromising performance on water.
Breathable or waterproof.
Have pockets.
Convertible to high waist.
Perform in all conditions.
Provide better mobility as the wearer is free to move without difficulties.
Cons:
Expensive.
Difficult to repair.
Unzipped.
Warranty
The Redington Sonic-Pro Wader has a 1-year warranty.
2. Kobuk Breathable Stocking Foot Fishing/Hunting Wader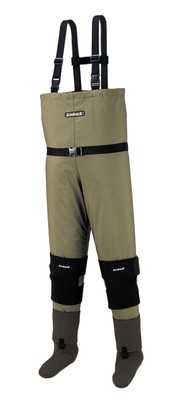 Kobuk breathable waders are what you need to go for summer stream fishing or warm weather duck hunts. Since they allow perspiration (the process of sweating) to escape and are also windproof and waterproof, they are so cool to have.
In cold climate, you can use the layering undergarments.
Features
Theses waders have tons of features. Apart from being lightweight, they are breathable. Have adjustable elastic shoulder strap with quick release buckle; a large interior pocket.
Other features include a 3mm neoprene sock and gravel guards; a 3mm adjustable neoprene kneepad which is removable.
Pros:
Breathable.
Lightweight to make it easy for use during fishing.
Easily adjustable.
Have large interior pockets.
Cheaper.
Cons:
It is unzipped hence difficult for the wearer to release themselves when nature calls.
Less durable compared to other products.
Warranty
The Kobuk breathable wader has a 1-year warranty.
3. Orvis Encounter Fishing Waders
The Orvis Encounter Wader is the new standard value for waders and is long lasting.
Features
Orvis Encounter warder is of a 4-layer waterproof breathable nylon shell. This is reasonably tough and flexible. That is what makes it comfortable and light in water. Additionally, some features are added to provide the angler with better overall experience.
A front, kangaroo style hand warmer pocket is combined with a mesh, zippered storage pocket allowing quick and easy access to critical gear.
Attached, self-fabric gravel guard helps to seal off the wading boots from sand and gravel which may make the lifespan of the wader shorter.
Three integrated belt loops combined with the included wading belt provide a safe and snug fit. Interior Velcro strip provide a placement point for the waterproof pocket 8G3H, sold as a separate item. Anatomically correct, sculpted neoprene booties for a true fit.
Outer shell: 100% nylon. Laminate: 100% polyurethane booties. Liner: 100% nylon. Hand washed. Size: S, M, L, XL, XXL. Long size: M, XL, L. Short size: XXL, XL, M, L.
Pros:
Breathable.
Made of lightweight fabric yet durable.
Self-fabric gravel guard to prevent gravel and sand from the wading boots.
Has belt loops together with a wading belt, therefore, provides a safe and snug fit.
Cons:
Heavyweight.
Difficult to repair.
Expensive due to extra cost caused by the inner waterproof pocket.
Functionality and option
The Orvis Encounter warder has a self-fabric gravel guard that helps to seal off wading boots from gravel and sand, therefore, making it durable. To tie the belts, you use its integrated belt loops and they provide sung and safe fit.
It has kangaroo-style hand warmer pocket with a mesh, zippered storage pocket allowing quick and easy access to critical gear.
Warranty
The Orvis Encounter warder has a 1-year warranty.
4. Orvis Silver Sonic Convertible-top Waders
There are days when you want as much coverage as you can get, but pants are plenty for others. The Orvis Silver Sonic Convertible Waders are what you should wear and then decide based on the conditions.
These are the most versatile wader in the market today.
Features
The Orvis Silver Sonic Convertible Wader uses the Orvis Sonic seam technology. It eliminated all the threads and stitch holes. Seams are double reinforced, so the lifespan of the wader increased dramatically.
This breathable hard-wearing wader is ideal for any serious angler. It is of 4-layer nylon outer fabric and has an innovative suspension system allowing them to convert to waist-highs without removing suspenders.
This wader's front zippered pocket is highly water resistant thus an ideal storage place for boxes.
Use the flip out interior waterproof pocket to hold other items such as phones, fishing license or even a camera. Of course, any good wader has built-in gravel guards. This wader has a gravel guard that helps keep debris out of your boots.
More Features
It includes a belt and a traditional suspender.
This wader has an integrated antimicrobial sanitized hygiene function that aids in permanently protecting the Silver Sonic Wader material from mildew, bacteria, and odor.
This ensures that the wader receives optimal wearing comfort and therefore the materials remain functional and perform even after intensive use in overcast or taupe.
The outer shell is 100% nylon. The Orvis Silver Sonic Convertible Waders come in a variety of sizes. You can choose the Convertible-Top Wader in Short, Regular, Long and Extra Long in sizes ranging from Small to XXL.
Pros:
Quick and easy to use.
Doubly reinforced to increase its durability.
Breathable.
Waterproof.
Cons:
Difficult to repair.
Very expensive.
Unzipped.
Functionality and option
With the Orvis Silver Sonic Convertible Waders, you can slide the chest portion down while fishing in hot weather. So, all you've got to do is detach the clips holding the top portion to the shoulder straps and then push the chest portion down to get it out of your way.
Warranty
The Orvis Silver Sonic Convertible Wader has a 1-year warranty.
5. Allen Big Timber Bootfoot Neoprene Chest Fishing Waders
The Allen Big Timber Bootfoot Neoprene Chest Wader is among the top options under the brand. This wader is not only affordable but reliable in performance.
This is the type of wader that you can pick from the rest of the selections in the market for your next fishing or duck hunting trip.
Features
Just like other neoprene waders, the Allen Big Timber Bootfoot neoprene chest waders are for duck hunters in mind. The Allen Big Timber waders have reinforced knee pads. So you do not need worrying about rips or snags with these waders.
The boots are of great quality and last longer with hard toe caps and steel arch plates. The high back bib gives extra warmth and protection from splashes, and the front D-ring suspenders and nylon web waist belt make it easy to adjust.
The big front pocket is great to use as gear storage. However, it has a hand warmer pocket behind the main pocket. These waders stay snug to the foot even when wading through mud and muck.
The boots have a Thinsulate lining that stops that cold, clammy feeling that makes most rubber boots so bad to ear during winter. This is a good wader for heavy-duty use.
Functionality and option
The mossy oak break-up infinity camouflage on this Allen Big Timber wader makes the suit perfect for the hunts. While in it you will be able to easily blend in with the surroundings thus making your trips more successful.
The front D-rings also featuring on the wader are of great importance. These come in handy for anglers when they want to carry any other additional accessories for their duck hunting trips and water activities.
Pros:
Very heavy to withstand tear and snags.
Has a high back keep which draft out when you bend.
Warm and dry.
Good fitting boots.
Cons:
No pockets compartments or outside attachments or any outside attachment point.
Low durability because it lacks seam sealing.
Warranty:
The Allen Big Timber Bootfoot Neoprene Chest Wader has a 1-year warranty.
Why You Choose Best Fishing Waders -Buying Tips
Getting a good fish wader is the best thing to do when going for fishing or duck hunting trip. They are of best quality and you should not worry about the climate.
Go for waders with a few extra features like better shoulder straps, better pockets; and an extra layer makes the waders more abrasion resistant. Waders remain the sole solution for keeping shore anglers dry and warm after an entire day on the water.
Most people are familiar with that dreaded feeling of a sopping wet sock squelching in and out of their boot with every step, or feeling their feet sucking up river water as they wade along the shoreline.
Fishing waders provide you with a lot of protection from the cold and water.
Fishing Waders
Even if the weather is warm, you might still need to use fishing waders. Because the weather may be nice and warm, but the water is still cold and will sap your body heat very fast if you stand in it for a long time. Keeping your feet immersed in water is not great for your skin.
You need to protect yourself from the cold water whether the environment is warm or cold. With waders, you can be closer to where the fish are, and you don't need to cast so far.
This is important where a boat is not conducive due to the currents, and the fish are too far to cast accurately, or with fly fishing the need to keep casting to mimic the movement of an insect.
What should you consider when choosing a wader?
Comfort
The waders will always fit differently. Don't expect to find your one size across all brands. It is important to use the brand's sizing guide and also check online forums or reviews to get a better understanding of the fit of the product.
There is a high possibility of buying the wrong size of fishing waders while shopping online. Your best bet will be going to a local outfitter and try different products before ordering online.
For maximum comfort, consider the following inseam length, maximum girth diameter, and shoe size. Too small size cause stress on the wader as you try to fit hence causing leaks and discomfort.
Too large size allows the excess material to fold and weaken thereby causing tears with time.
Durability
If you want to be wearing your waders all day and hike from one fishing point to another, you need to purchase a product that is durable. Some materials are resilient to scuffs and nicks compared to others.
But a durable material often results in heavier or warmer waders. Better quality, in turn, leads to more durability.
Breathability
The purpose of a wader is to stop water from passing through to the wearer. If a wader is waterproof but not breathable, it tends to get hot and steamy. A breathable and impermeable fabric will allow sweat to evaporate through the porous material keeping the body dry.
The thicker, the wader the warmer it is and the lesser it breathes.
Wader Types
The types of the wader you select depend on the depth of water in which you wade.
Hip Waders:
Used while fishing in small and shallow streams since they do not go below the knee.
Chest Waders:
These provide maximum coverage both inside and outside the water, and that's why many anglers prefer them. A chest wader makes the wearer prepare for any unexpected scenario such as fighting a stubborn fish, heavy currents or sneaker waves.
Waist High Waders:
These are intermediate waders between chest waders and the hip waders. They resemble with a pair of rain pants.
Wading pants:
These are breathable waders that do not incorporate a suspender system and are only waist-high. If you are not wading deep, then this wader will be the best option for you.
Wading pants are ideal for early spring and late fall fishing and for anglers who know their wading limitations on how deep they can wade.
Zipper waders:
They have increased the comfort level for anglers by making it easy for them to relieve themselves when nature calls.
In colder weather, the zipper is important when you want to use the bathroom, and in warmer weather, the un-zipped chest allows you to cool off if hot get hot.
Wader Styles
There are two wader styles; they include bootfoot wader and stocking foot wader.
Bootfoot Waders:
This is the style where the wearer does not require purchasing additional wading boots because they are already made up into the wader itself.
Stocking foot Waders:
For these, the waders require purchasing separate wading boots.
Wading Boots and Soles
Rubber Soles:
You can use these soles in muddy or marshy conditions and they are easy to clean after fishing. They found on bootfoot waders.
Felt Soles:
They are not eco-friendly since the felt can trap some bacteria or microorganisms while fishing at a given point and transfer them to another place. These also inevitably wear down thus they need a felt-sole replacement kit.
Studded soles:
Found on rubber bootfoot waders and felt soled wading boots. The studs offer traction on slick rocks and slimy river bottom but are not for muddy or marshy conditions. This is because they can be difficult to clean after using them.
Ultralight Wading Boots:
These boots vary in sole type but they are lightweight therefore easy for the traveling fisherman.
Wader Material
Fishing waders are of variety of materials. Each material has its own attributes, benefits, and drawbacks. Back then, fishing waders were of thick waterproof canvas.
Modern times and technology brought about the use of rubber and then later, neoprene, GORE-TEX. Modern fishing waders also often have other elements included in the design such as PVC.
Canvas:
These materials are a bit tougher than rubber. You can patch canvas to increase durability. However, they are also heavy and rigid. Canvas is the preferred option when it comes to fishing in areas that have a lot of debris and rocks.
Breathable materials:
These are materials that can wick away moisture. They cost more and usually don't perform well in colder climates unless you wear additional layers of clothes under them.
Neoprene:
It is a non-breathable but warmer. For this reason, it is strictly for fishing in cold waters and weather temperatures.
Rubber:
Rubber waders often use PCV in their manufacture. It makes the wader waterproof and durable. This material makes product heavy, but its resilience to scrapes, tears, and punctures makes it a better option for rougher outings on the water.
They are also cheap and easy to fix. Rubber does nothing for management of moisture. Inside the wader, they often develop a smell. One should wash rubber waders thoroughly after use.
So if you want to select the right fishing wader, think of where, when and how frequent you will be using them. Don't forget about the qualities and drawbacks of each material.
Price
Price can be a sensitive matter for many because the economic situation is different for everybody. A person will always get what he or she pays for. Therefore you should buy what you can afford.
Sizing
Sizing is an important consideration when selecting your wader online. The correct size of wader determines the wearer comfort as well as determining the longevity of the wader.
An oversize causes the wader to wear and tear over time due to many folds in the material.
Wader Accessories
Along with purchasing your waders, it is wise to consider buying the following accessories.
Wader Belts – used on waders with belt loops to prevent flooding.
Wading Socks – it aids in keeping the feet warm when standing in cold water.
Boot and Wader Dryer – use it for removing water from the boots and waders.
Wader Repair Kits
FREQUENTLY ASKED QUESTIONS
Q: Is neoprene the better material to purchase for fishing waders?
Neoprene is not the best material; however, it is popular and durable. The reason why it's present in fishing waders is that it is the best material for wetsuits. Neoprene is also a breathable material, so it has a semi-permeable membrane.
One can reuse them and they are also easy to repair if torn.. This is the main reason for their popularity.
Q: How might the weather and climate affect my wader?
Depending on the time and place you are planning to go fishing, you will deal with various types of weather and climates. Some waders come with insulation, and if you plan to fish where the weather is very warm, it will not be a wise choice for you.
So, ensure that when you are in hot places, you should purchase a breathable wader without any insulation. If you intend to be fishing during cold weather, then consider selecting something with insulation.
Q: What if my waders start to leak?
If a seam fails and you are under warranty, you should send it back to the manufacturer to repair / replace. If you have no warranty, then you will need to buy new ones.
Another option is to buy waders made of neoprene since they can be patch when holes get on them.
Q: Are there waders for women?
They are for both men and women.
Q: How can I pick the right size wader?
The general thumb rule is to buy waders that are 2 inches longer than your actual inseam. You also have to check the dimensions before you purchase.
Q: Should I get waders with boots?
That's a matter of personal preference.
Q: Do I need pockets?
That depends on you. However, if you plan to carry items in your pockets, then pockets will be necessary.
Q: Can fishing waders protect my skin?
Yes, because it is waterproof hence protecting your body from water (specifically cold water). The skin will not come into contact with the water.
Q: Will salt water ruin my waders?
Yes, One should rinse waders after use and should protect from direct sunlight.
FINAL VERDICT
Judging by performance ratio to the price, the Redington Sonic Pro Waders are our best pick overall out of the five. Since they are comfy, you tend to forget that you even wear them. By that, you fully concentrate on fishing, and that is all ought to be doing.
Go to Amazon and make a purchase. What you get here is a high-quality product for a relatively low price. No matter what you plan on with them, you cannot go wrong here.