Top 10 Best Ham Radios Reviews-Buyer Guide (Updated Jun, 2020)
Radio transceivers such as HAM radios provide not only a hobby for yourself, but a vital part of communications that often go overlooked. HAM radios are able to function even when all other forms of communication are dead. When Wifi, phone networks, and landlines don't work, these radios can easily be tuned in and you're set for anything.
What is the best handheld ham radio?
Best Value
BTECH UV-5X3 5 Watt Tri-Band Radio VHF
Best of the best
BaoFeng BF-F8HP (UV-5R 3rd Gen)
Also Consider
Quansheng ham radios Two Way Long Range
What is the best vehicle ham radio?
Best Value
TYT TH-9000D Mobile Car Ham Radio Transceiver
Best of the best
Kenwood TM-281A 144MHz FM Transceiver
PREMIUM PICK
Icom IC-718 HF All Band Amateur Base Transceiver
Some people want to buy the best ham radio for supporting their own needs. There are several types of radios that are available these days. You need to take a look at these top 11 best ham radios in 2019 reviews, in order to check their features and benefits.
You should compare some available radios before choosing the best device for yourself. These devices receive many good reviews from other customers because they have complete features and benefits for all customers.
Baofeng UV5RA Dual Band Transceiver
There are bandal of good customer reviews about this powerful ham radio. This radio allows you to get access to about 128 different channels easily. You can simply choose the best channel based on your preferences and needs today. It has dual frequency display, dual band display, and also A/B band independent operation system, in order to improve the performance of this device. This device is protected by its 12 months limited warranty for ensuring the quality of this ham radio.
Yaesu FT-2900 Amateur Ham Radio
This mobile ham radio is able to transmit any frequency from 144-148 MHz. It can also receive any signals with frequency ranging from 136- 174 MHz. Its scan and search function can help you operate this powerful ham radio easily. When you purchase this ham radio now, you are able to get some additional accessories, including microphone, power cord, mounting bracket, and many other useful accessories.
TYT TH-9000D Two Way Radio
It is very comfortable for you to use this ham radio. It is supported by its 65 watt two way mobile transceiver system. This device has 200 different alphanumeric channels that can be selected easily. There are some useful features that are added to this device, for example keypad lock, selectable power level, DTMF, and many other features. You can simply bring this radio at anytime you want easily.
Icom IC-718 All Band Amateur Radio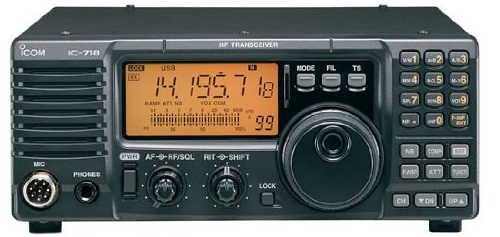 This radio is very useful to provide comfortable experience for all users. This device supports several modes, including AM, USB, LSB, RTTY, CW, and many other different modes. Therefore, you can select the best mode that is suitable for your own needs. You can also enjoy clear audio quality from its level adjustable noise blanker. This system can provide clear sound for all customers.
Wouxun KG-UV8D Two Way Radio
This ham radio can bring a lot of benefits for all customers. Its dual band can work in its frequency range, 146-174 MHz, and also 400-480 MHz. This radio comes with the large screen, in order to improve the readability of this device. You can read any warnings and other important details from this screen easily. This radio is supported by its 999 different memory channels inside this radio.
President Lincoln II Amateur Radio
It is one of the best devices from President company now. It is very easy for you to operate and use this powerful ham radio today. Its LCD display is able to display public address and any other important details easily. You can also manage all settings of this radio easily. Make sure that you manage all settings from all buttons that are located on the surface of this amateur radio.
Kenwood TM-281A FM Transceiver
There are many great features that are added to this radio receiver. This device has compact construction, so you can bring this radio at any time you want easily. It meets environmental standards for its shock and vibration feature in this device. Because of this reason, you are able to use this powerful radio without damaging the environment today. It has 200 memory channels that can store any important channels inside this device securely.
Leixen LX VV-898 Ham Radio
This is another popular ham radio on the market these days. There are some useful features that you can find in this device. It comes with voice scrambler and companding system, in order to improve the overall performance of this device. It has more than 199 alphanumeric memory channels that are very convenient for all users. This ham radio is made from durable materials, so it can last for a few years without any problems.
SainSonic RST599 Two Way Ham Radio
This ham radio brings a lot of benefits for all customers. It can provide durable, sturdy, and also good touch feeling on the surface of this radio. This device is very popular for its strong signal, high performance, and also clear sound, so you can enjoy all features from this radio. Its frequency is ranging from 136 – 174 MHz. There are several color options that are available today, including white, cyan, yellow, green, blue, red, and also purple.
Zastone Quad Band Amateur Radio
When you want to find a simple amateur or ham radio, you can take a look at this device. This radio can display and receive any radio signals easily. It features DCS, CTCSS, DTMF, alphanumeric, and many other useful features for all customers. You can select the right frequency that is suitable for your own needs easily. Its full direct entry keypad mic can make you feel comfortable with this device.