9 Best Hiking Boots Reviews-Buyer Guide (Updated 2022)
Best Hiking Boots – Find Your Foot's Mate
Hiking is a great pastime hobby for outdoor enthusiasts who enjoy being close to nature.
Numerous supplies are needed for a great hiking experience; water bottles, watches, backpacks, sunscreen, and so forth.
Possibly the most important accessory for a successful hiking trip are your hiking footwear.
Choosing the best-hiking boots or shoes to fit your needs, and your feet takes not only time but knowledge.
The best hiking boot will be one that will match your overall outdoor goal.
You will need to decide if you are planning on an occasional day trip on a smooth and maintained trail, a weekend trip to a rugged mountain or hiking during your rafting trip.
Your boot will need to match your overall needs. You will also need a boot that fits your feet like a glove. The fit of the hiking boot is possibly the most important criteria for selecting the right footwear.
Best Value
Salomon Men's Quest 4D Hiking Boots
Best of the best
Timberland Waterproof Ankle Boot
PREMIUM PICK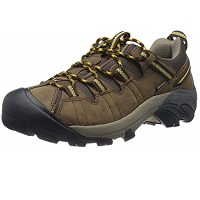 KEEN Men's Targhee II Hiking Shoe
Merrell Hiking Boot
First, the Merrell hiking boot for adults has removable insoles to allow for easy washing to freshen them up after a long hiking trip.
They have a firm rubber sole to grip uneven surfaces to help you with your safety, which is a great component of these shoes.
The mesh synthetic lining helps your feet have sufficient room to breathe, which is a healthy way to support blood circulation during the exercise.
Some refer to Merrell's as somewhat minimalistic with a Gore – Tex membrane that offers a barrier from liquids and can be a very important feature with doing winter hiking.
Additionally, the inverted lugs aid in improved traction amidst rocky mountains.
These hiking boots are created with innovative Stratafuse technology, for a weight sensitive luxury while on the trail.
Reversed lugs on the bottom provide exceptional traction on rough terrain, and a Gore-Tex membrane ensures the optimal wet-weather protection for the hiker.
Timberland Men's White Ledge Hiking Boots Review
Adventurers that love being in the great outdoors have found that hiking is a fun and enjoyable experience.
They also found that it is incredibly important to have a hiking boot that is not only durable and well-made but comfortable, as well.
The Timberland Men's White Ledge Hiker boot has been a choice favorite with hiking enthusiasts.
Pros: The Timberland White Ledge Hiking boot has been reviewed on various consumer websites.
Most the websites have an average rating of four out of five stars with 91 percent of consumers stating that they will recommend this product to friends.
Most of the positive feedback regarding this boot consists of it being waterproof, comfortable, great quality, durable and having ample ankle support.
Other reviewers enjoyed how the boot kept their feet warm in the winter months and cooler in warmer climates.
Cons: While this product did not have too many cons posted about it the ones that did provide negative feedback were that the boot fits bigger than the actual size and that it was not comfortable for people with wider feet.
Another consumer felt that the heel bed was too rigid and would have preferred more cushioning.
KEEN Men's Targhee II Hiking Shoe
KEEN Men's Targhee II is available both as a boot and as a hiking shoe. This review will, however, concentrate on the hiking shoe.
The KEEN Men's Targhee II hiking shoe is the ideal shoe for every hiker out there. It features a waterproof nubuck upper and 4-millimeter lugs that are multi-directional.
As a hiking shoe, the KEEN Men's Targhee II is specially manufactured to keep your feet dry and comfortable while at the same time giving you a secure and comfortable spring in your walking gait.
The KEEN Men's Targhee II Hiking Shoe weighs 16.64 oz. (472.48g), making it one of the lightest hiking shoes in the market.
The upper part of the shoe is made of a nubuck and textile with a lining that utilizes the KEEN.
Dry waterproof membrane. The Targhee offers a sporty and sleek look and functionality to match. It is durable and 'beats' any terrain without much difficulty.
By choosing to invest in the KEEN Men's Targhee Hiking Shoe, you are essentially choosing
several things:
i. Comfort
ii. support
iii. durability
iv. and, resilience
Pros
KEEN Men's Targhee Hiking Shoes offers users the assurance of an eff
icient hiking shoe.
Cons
The shoes are not that stylish, but they are very durable.
Conclusion
The KEEN Men's Targhee II hiking shoe brings style and efficiency into hiking. It has many great features that are suited for day hikers and beauty to complement the functionality.
The EVA midsole will comfortably receive your sole and make it happy to be in the Targhee while the patented Toe Protection will give you the confidence you need to take your hiking to a terrain of your choosing.
Salomon Quest 4D GTX Backpacking Boot
Fourth are the Salomon Quest 4D GTX Backpacking Boots which are amicably priced in the mid two hundred dollar price range for this shoe.
The thick hard-wearing sole is moderately gridded for additional adhesive friction for those who choose to purchase this line of shoes.
Customer reviews have been positive for this shoe, and it comes highly recommended by most.
Keen Dry footwear
Finally are the Keen Dry line of foot wear; with a leather upper lining and a rubber bottom manufactured by ECCO. Go in prepared for success with these resilient luxury boots.
They are also watertight with synthetic mesh higher combinations of the high-rebound midsole and a compacted rubber outsole to allow you the grip and sustenance you will most likely need.
Keen Dry products are supported by the water-resistant membrane that offers a steady balance of temperature control regardless of the climate.
Impermeable sealed mesh upper with leather overlays provide the structure and durability of this particular hiking boot, but more importantly, it is a breathable membrane mesh.
Lowa Zephyr GTX Mid Hiking Boot
Second, the Lowa Zephyr GTX Mid TF Hiking Boots primarily for men; these attractive boots are comprised of a split leather Cordura with a Gore-Tex membrane.
They offer a supposedly climate controlled insole with a PU mono wrap frame structure in the foot bed and a three-fourths inch stabilizer.
The weight is an impressive one pound and nine ounces, making this a great option for advanced or extended adventures.
These boots come highly recommended for hiking and backpacking. These come with a generous one year warranty for this hiking boot.
The cost is about two hundred dollars roughly but can range depending on the specific shoe, size, color, and product line.
Lowa Renegade GTX Mid Hiking Boot
Third, the Lowa Renegade GTX Mid Hiking Boot manufactured for men.
This hiking boot is a bit more expensive being sold for the mid two hundred and fifty dollar range.
These credible hiking boots keep your feet warm and dry amidst rainy or wet conditions and are a solid investment.
The Lowa product line is well known for their high sturdiness and was entirely designed and created specifically designed for hiking trails.
Kamik Men's Nation Plus Boot Review
The best use for Kamik Men's Nation Plus Boot aside from hiking and walking on the unsteady ground would be activities like camping and any winter excursions.
They are a bit of a higher boost but aren't short on comfort. They have the ability to keep your feet and ankles steady while walking on rough surfaces.
They are perfect for camping because you never know what kind of weather you could find yourself in a while setting up your tent or fishing for your dinner.
The Kamik Men's Nation Plus Boot is ideal for wearing in what could be unknown weather and outside conditions.
These boots are a great fit for any winter escapade because they are durable and steady through any types of conditions.
They are meant for any outdoor use and come through with comfort and reliability. Whether you are sledding with the neighborhood kids or shoveling your driveway, these boots are great for any snowy day.
Snowmobiling, ice fishing and even snowball fights will have met their match with the Kamik Men's Nation Plus Boot.
Pros: The best use for Kamik Men's Nation Plus Boot aside from hiking and walking on the unsteady ground would be activities like camping and any winter excursions.
Cons: They are a bit of a higher boot but aren't short on comfort.
Columbia Men's North Plains Trail Shoe

There are several things that make the Columbia Men's North Plains Trail Shoe, Verdant/Cordovan,11 M US stand out among the other hiking shoes.
One of these qualities is the excellent performance that the shoe delivers and the durability it accords its users.
You can jog, run or hike in these shoes as they are manufactured with the all-around outdoor enthusiast in mind.
Columbia Men's North Plains Trail Shoe
Comes in Suede leather and textile2.
Has a rubber sole with awesome lugs for better traction
Uses supportive thermoplastic PU cage
A fully developed Omni-heat reflective lining
Highly breathable hiking shoe
Pros
1. Nice fitting– It is not uncommon for hikers and backpackers to order a shoe online only to find that it does not fit them as they expected. This usually creates a lot of inconveniences as you have to make arrangements to return the shoes to the online store. This is however not the case with the Columbia Men North Plains Trail Shoe. As long as you have specified the right size when ordering for the shoes, you can rest assured of a shoe that will fit so nicely into your feet.
2. Lightweight– If you are looking for an outdoor shoe, then lightweight makes for a perfect pick. The Columbia Men North Plains Trails is a lightweight shoe that will be excellent for jogging, hiking and a variety of other outdoor activities.
3. Sturdy– The sturdiness of a shoe is the other factor you need to keep in mind when shopping for outdoor shoes. The shoes need to have a good shock-absorption mechanism, and although Columbia does not adverti
se these qualities explicitly, the North Plains Trail shoes have great support for the midsole, heel, and ankle.
4. Reasonably Priced– If you have been looking for a shoe that offers premium quality at the most affordable prices, you need to check out the Columbia Men's North Plains Trail Shoes. Their pricing is worth every cent of the great service you get from this shoe.
Cons
1. Poor padding– some users have complained of the padding on the tongue of the shoe is a little thin, something that leaves the feet feeling sore. However, this seems to be an isolated case and something that can be corrected by use of the warranty that comes with the shoes.
For the Boys
For children who enjoy the adventure, the Nevados Kids' Cire Mid Hiking Boots have soft and luxurious suede and can be cleaned by hand washing them with a super soft light soap and allow them to air dry fully before use as it may cause harm to a child's feet, including sores. The preventative mesh uppers let these shoes be insubstantial and resilient for adequate sustainability for your children's escapades. A knitted textile covering, embellished insole and a cup sole offer softening of the blow concentration with each step. These hiking boots are reinforced with a strong metal but are also comprised of a lacing system.
The weight of these shoes is an unbelievable, weighing in at one point forty-four pounds, which will help the youngsters legs not to get as tired. These kid's shoes sell for around thirty dollars and are a reasonable investment, knowing how quickly kids grow out of their shoes.
The award winning individually constructed hiking boots are made in Portland Oregon. These shoes more specifically the Crater Rim structures a robust, water-resistant leather upper. The Crater Rim has a three hundred and sixty-degree scratch impervious Vibram rubber rand. The shoe lace offers as adjustable tight fit. These hiking boots provide tried and true watertight and breathable GORE-TEX liner and a Vibram Bifida. This combination creates additional traction in craggy up and down very steep terrain.
A unisex hiking boot can be found by locating the TPS 535 by Asolo. This shoe comes in unisex sizes with whole grain soft leather, with a super tough Vibram outsole. This outsole serves for support of the foot and an improved sense of traction. These shoes were created with backpackers in mind. Therefore, the structure is not too stiff and feels fitted to your foot much sooner. These work very well for an extended week long hikes. Take care to apply an impermeable liquid to makes these watertight. These boots do not offer a Gore-Tex waterproof liner.
How to Choose?
To choose the proper hiking boots for your needs also consider the height of the shoe versus the terrain you plan to journey through. If the terrain is particularly rough, and the climate is harsh, then you might purchase a full height boot. If the terrain is sandy and more of a plateau, then a short height might do just fine. The mid height design and the tall are both helpful in providing additional ankle support which will help to prevent twisted ankles and other foot injuries.
There are many options available for hiking boots. One of the best ways to determine which boot will meet your needs is to learn about the different types that are available.
Light hiking shoes are great for those who occasionally hike and when they do it is usually less than five miles round trip. A light hiking shoe will look very similar to a running shoe but a little beefier. Many backpackers who carry extremely small loads prefer light hiking shoes during long distance journeys.
Hiking boots that are mid or high cut are designed to be used during day hikes, or trips on the weekend that do not require a lot of additional weight in your backpack. The common theory is that for every one pound on your feet you are adding an equivalent of five pounds to your backpack. Mid and high cut hiking boots will usually flex easier and take less time to break in for wear. Standard hiking boots may not offer the wearer the type of long lasting durability and support that they need.
Backpacking boots are created for the hiker to be able to carry a heavier backpack on a terrain that is more rugged. These boots tend to be more supportive and provide more durability due to their stiff midsoles.
Mountaineering boots are less common than traditional hiking boots. These boots are much heavier, and the midsoles are a lot stiffer so that they can handle heavier loads, as well as grip well in glacier travels. These are some of the toughest most durable boots on the current market.
Approach shoes are something that is becoming increasingly popular at a rapid rate. These shoes have become a hybrid between hiking shoes and climbing shoes. These are ideal for the person who does more than just hike. Approach shoes have been traditionally used by people who are climbing up mountains. The shoe includes climbing style laces which are laces that extend downwards toward the toe and creates a better control for the climber. These shoes are also equipped with rands and rubber that is stronger and stickier than most boots. The rubber is usually soft and much less durable, so they are not recommended for long hiking trips. These shoes are an idea for the person who wants to do a side hike during a water rafting excursion. They are also lightweight that they can easily be placed in your backpack without adding too much to your load.
Boot Cut
Boot cut has long been associated with the cut of jeans. But to hikers, the cut is an important characteristic of finding the right boot.
Low cut shoes are ideal for travel that is considered lightweight, on trails that are smooth and well maintained. They provide the hiker with less ankle protection and is not well protected from dirt, mud, and other debris that can get into the hiking shoe. More hikers are beginning to shift to this shoe style as they are more convenient, lighter and offer a stability that can be comparable to a mid-cut boot.
Mid-cut boots are more preferable with experienced hikers. They provide the wearer with much more ankle support to help keep the ankle from rolling and causing a sprain. These boots are designed to wrap around your ankle. They also help to keep trail dirt out of your boot as they come up past your ankle. These boots are perfect for hikers who are on rugged trails and carry medium sized backpack loads.
High cut boots are gaining in popularity with the hiking community. This style provides the most ankle support of any cut and is created to be used on extremely rugged trails, as well as carry loads that are 50 pounds or over. High cut boots will tend to have more of a break in period than other boots.
The Hiking Boot's Design
The materials that hiking boots are made out of not only affect the appearance of the boot but the durability, resistance, and cost. It is very important to select a quality made hiking boot. There are various options for a consumer to choose from.
The upper of the boot is the part of the boot that will cover your ankle. It is the upper most of the boot. They are available in numerous materials.
Full grain leather provides the hiker with the best durability a hiking boot can offer, as well as resistance from abrasions and are great for long hiking trips. While many hikers prefer full grain leather, it is usually not as lightweight as other materials, or as breathable. Married fabrics such as nylon and split grain leather offer much more breathability. Boots that are constructed from full grain leather may require more time to break them in.
Split grain leathers are used in combination with a nylon mesh. This can provide the wearer with a boot that is
comfortable, breathable and lightweight. To produce a split grain leather, the manufacturer must pull the rough interior of the leather away from the smooth exterior. Boots that are designed with split grain leather tends to be less expensive than full grain leather but does not offer as much protection from water and dirt.
Nubuck leather is one of the most common and popular materials used in hiking footwear. The Nubuck leather is created by buffing full grain leather until it is similar to suede. It is much softer and durable than traditional leather and resists water very well. Nubuck leather is quite flexible but will also require some break in time.
Synthetic fabrics such as polyester, faux leather, and nylon are being used in a lot of newer hiking boots. These boots provide the hiker with something that is much more lightweight than standard leather. It also causes the boot to be broken in more quickly and can air dry faster. These fabrics tend to make the boot less expensive than leather, but it will wear out faster. You should avoid suede whenever possible. Suede is a fabric that will attract dirt and it very difficult to clean. It is also not as strong as leather.
Waterproof
HikerAlike poles are very important to find a boot that provides protection from water but is still breathable. You want a boot that will allow your feet to remain dry in wet weather conditions and wet hikes. Feet that remain in a shoe too long after getting wet can become susceptible to fungus such as athlete's feet. The boot should also wick away moisture from your foot sweating.
Linings are the barriers that are built into the interior of the hiking boot. This will prevent moisture from being able to get inside of the shoe to your foot. Waterproof linings are excellent for keeping your feet dry, but they sometimes require more maintenance from the wearer. Linings that are made with Goretex can wear more quickly than other liners. Waterproof linings can help keep water from touching your feet, but it may not keep water completely out of your boot. Wet boots become extremely heavy and can make the hike more difficult.
Waterproof Leather is the leather of the boot that has been treated topically. However, the boots will still leak if they are poorly manufactured. You want to always check your hiking boots for areas where the seam may have threads that are loose or missing stitches. This is the perfect way for water to get into the shoe.
The leather on boots should still be treated for waterproofing with a product such as Nikwax. This will help the leather from becoming damaged from rocks and other debris and risking the waterproof capabilities of the leather.
Midsole
Merrell Moab Ventilator top midsole is the part of the hiking boot that is located between the upper part of the boot and the traction supplying outsole. The midsole is what creates the cushion for the hiker, and it helps determine the firmness of the boot. The most common materials that make up the midsole are polyurethane and EPA which is short for ethylene vinyl acetate.
In general, EPA provides more cushion, is more lightweight and less expensive than other materials. Midsoles vary by the manufacturer regarding which material they use. The densities will also vary. EPA is preferred by many hikers as it is more firm and provides more support in the boot's forefront. Polyurethane is firm and more durable than EPA which is why they are often found in boots designed for long hiking trips and mountaineering style boots.
Components that Provide Support
Numerous components have been created for around the midsole to help the hiker's feet endure less of a shock and more support. The shanks are inserts that are placed between the midsole of the boot and the outsole. They are usually 3-5mm thick and are used to help with the additional weight of the hiker's backpack. Most shanks are manufactured out of nylon, so they remain lightweight, however, TPU or thermoplastic polyurethane are becoming increasingly popular. Shanks will vary in size. There are a few manufacturers that design the shank to be the entire length of the midsole.
The plates of a boot are flexible and small inserts that can be located between the midsole and the outsole, below the boot's shank, if it has one. The plates are used to protect the hiker's feet from becoming damaged by rocks and another uneven terrain.
Outsoles
The outsoles are made with rubber. The best-known brand for outsole rubber is Vibram. The rubber is manufactured with an additive like carbon to help heavy duty hiking boots and mountaineering boots with additional hardness. The harder the outsole is, the more durability the boot will have. However, this can something cause the boot to feel insecure if you choose to roam off of a trail.
Other Components to Consider
Laces
The laces of a hiking boot do the same as the laces on a tennis shoe. They are designed to hold the tongue in place while making the shoe fit your foot more tightly. There are various options available for shoelaces as well as the lacing systems. Hikers can choose from D-rings, webbings, hooks, eyelets, or a combination system. The lacing system does not affect the feel or fit of the shoe and is more for appearance purposes.
The Lug Pattern
Lugs are the common name for the traction of the hiking footwear. These are bumps on the bottom of the shoe that help the boot retain its traction. Lugs that are thicker and deeper into the outsole can usually be seen in most backpacking hiking boots and mountaineering boots. This is to help the boot grip rugged and dangerous terrain better. Lugs that are spaced more widely apart will provide decent traction for the wearer and will keep mud and other wet debris from sticking to the outsole.
Heel Brakes
The heel of the boot is very important. This section is what will keep the hiker from sliding when they are traveling in a downward motion or traveling down a hill.
Adhesives
The hiking boot's outsole and the midsole are usually connected with a special adhesive. Manufacturing a boot that is connected with adhesive is more cost effective for the company and the consumer, which creates a durable bond. Adhesives are increasingly becoming a replacement to the traditional stitching. Users must be careful when caring for an adhesive bonded boot. Extreme warm environments such as the trunk of a vehicle or a hot attic can cause the adhesive properties to break down. You are also unable to leave the boots drying next to anything that produces a lot of heat such as a heater, wood burning stove or fireplace.
Rands
Rands are often found in hiking boots that have been treated as waterproof and are still breathable. The rand is a rubber piece that is incredibly wide and will cover the upper and the midsole. It is also commonly found just around the toe area. This piece is designed to protect the wearer's toe, as well as keep water and debris from touching the boot.
The Perfect Fit
Women Hiking boots fit now that you have discovered all of the pieces that make up the perfect hiking boot and learned all of your options, it's time to learn how a boot should properly fit. The best hiking boot for your feet will be one that addresses the three important characteristics of your foot; the length, the width, and the volume.
When you try on a hiking boot, you should be able to move your toes around easily. If you have a condition that makes your toes more sensitive such as neuroma, or you have hammertoes, this will be especially important for you. You do not want to feel too much pressure on your toes.
While you have the hiking boot on you should make sure that your feet are securely in place. They should not be able to slide around on the inside. When trying on the boot, you should do a finger test. With the boot completely unlaced you want to move your foot to the front of the boot as far as possible. Once this is done, you should be able to slide your index finger dow
n into the boot behind your ankle. No more, no less.
Finally, you want to pay attention to the volume of your foot. This is very important. The reason the volume of your foot is so important is that if the hiking boot does not securely hold the bulk of your foot, it will slip and move around and create blisters. Your toes will also hit the forefront of the boot when traveling downhill. The boot should feel as though someone has their hand on the top of your foot over the instep when it fits properly.
There are various ways that you can modify a hiking boot to help it fit the best that it can. One of the easiest modifications that you can do are the laces. If you can place your finger underneath the first lacings, then the boot will not be secure enough for you. Laces that are snug will help keep your foot from shifting within the shoe and sliding forward. There are many alternative ways that you can lace up your shoes. A professional hiking salesperson will be able to show you different techniques.
Socks are a quick and easy way to change how your boot fits. Socks that are too thick may sometimes cause your foot to shift and slip in the inside of the boot leading to blisters and hot spots. If this is happening, you need to consider a sock that is snugger and more form fitting. This will help protect your feet from becoming damaged.
Insoles that are created to be added to the hiking boot after they are purchased may be life-saving for many hikers. Insoles such as SOLE and Superfeet are an affordable solution to help a hiking boot fit more securely. Some insoles provide the hiker with a stabilization cup that offers additional support and firmness and enhances the heel's natural padding. Proper insoles will help your body to remain perfectly aligned which can help prevent pronation; your foot are rolling from the wheel's outer edge to the Forefront's inner edge, as well as supination which is where your foot tilts inside to the outside. An experienced hiker will tell you that the last thing they want is to begin to feel tired early on their hiking journey. There are also various insoles that have been created to help those that have either flat feet or those that have extremely high arches.
Purchasing
Once you know what you are looking for in a boot, you need to purchase the product. There are some steps that you can take to ensure you purchase the best hiking boot for your needs.
Be Prepared
If you are going shopping for a hiking boot, it is important that you allow yourself enough time to properly search for a great hiking boot, try on options and speak with a professional or a specialist. You should not make shopping for a hiking boot something that is rushed or hurried. Some people find it easier to shop during quieter house at the store. This tends to be in the mornings and early afternoons and the evenings during the week. It is recommended that you shop later in the day because your feet slightly swell during the day and it will provide you with a better fit. If you would like to shop in the morning make sure. You walk for at least 15 minutes before trying on any boots. This will help your foot to expand. Make sure you bring your favorite pair of socks with you to make sure they are a good fit for the boot.
Specialists
It is recommended that you spend some time with a specialist. It is true that they are there to make a commission, but they are also there to help you and spend as much time with you as possible. Most hiking boot professionals have tried most of the brands in the store and can give you an experienced opinion on which boot will work best. They will also ask you a series of questions to get a feel for your needs to help match you to the best style boot possible.
Your bare foot
Everyone knows when purchasing footwear the length and width of their foot are important. What they may not realize is that there are other aspects of their bare foot that are important to the salesperson. For instance, if you can easily see the veins and bones in your foot, you will have a foot that is labeled as low volume, whereas you may have a high volume foot if it is rounded and soft. If you can place your finger underneath the arch of your foot, they will consider you to have an arch that is medium or high. If you are unable, you may be suffering from a flat foot, and the insoles are more important. If you suffer from corns or bunions, you should purchase a hiking boot that is wider.
Try Try
It is very important that you try on several different brands, sizes, and types to find the right fit. If you have a wider foot KEEN may be a better company for you. If your foot is thin, you may do well with LOWA or Asolo. It is important that you do not focus too much on the numerical size of the hiking boot. This is one of the biggest mistakes that people make. A boot will usually be a different size than your sneaker or dress show. The size may also vary from manufacturer to manufacturer.
After you try on the boot, you need to take some time with it. Walk around the store and see how they feel. Many specialty stores will have faux terrains, steps, rocks, inclines and so on to allow you to feel the hiking footwear on different terrains. If the store does not have this, you should at the very least walk around as much as possible and up and down stairs.
Asolo Fugitive Boots solely should also examine the outsole of the boot. You will need to turn the hiking boot over and examine the tread of the product. If you are interested in hiking in terrain that is rough or steep, you will need to look for lug patterns that are aggressive and deep, as well as a heel brake that is well defined and strong. The heel brake should be able to dig into any hiking surface to keep you from falling. If you are interested in using gaiter steps, you will also need a heel brake that will allow room for this.
If you are interested in purchasing a hiking boot online, you should consider purchasing a manufacturer and brand that you have used in the past. If you are not familiar with brands or this is your first purchase you should make sure to read as many independent reviews as you can. Try to stay away from the company pages and their reviews as they may not post any cons about their product.
Top Choices
With so many various options on the market, it may be difficult to know where to begin looking. Consumer reports and outdoor websites are always doing their research to make yours easier. They have decided that the best manufacturers for hiking boots are
Columbia
LOWA
KEEN
The North Face
Vasque
Asolo
As well as deciding on the top overall companies, they have narrowed down their choices on the top hiking boot models. They are:Purchasing a quality hiking boot to meet your needs doesn't mean that you need to spend a fortune. You can find quality hiking boots at relatively inexpensive prices. Hiking boots range in price from $40.00 to $350.00 depending on the retailer, brand and any sales or rebates they may offer.
Breaking Hiking Boots in
Most hiking boots that are currently being manufactured have the ability to be taken a right from the box to the hiking trail without causing too much damage to your feet. However, there are still some heavy duty boots, especially those created with high cut uppers and full grain leather that will require some break in periods before using them on a long hike. The best way to break in your hiking boot is to wear it around your home with a lightweight backpack on. This will help you become more familiar with the shoe and help make the boot more comfortable.
If you do not take the time to break in your boot, you may be at risk for blisters and hot spots. Older hikers will advise you that you should soak the boot in water before wearing them to break them in easier. However, this is not advised as you can create serious damage to the hiking book and possibly void its warranty.
Maintenance
You should also take the manufac
turer's warranty into consideration when purchasing a boot. You should look for a company that will cover their craftsmanship and quality, as well as the material for at least twelve months.
Hiking boot should come with a proper care guide to help your boots remain new and in good quality. All boots should receive some waterproofing treatment, even if they are available with waterproof linings. This will help keep the boots looking and feeling like new, as well as keep them dry and clean. If you are planning on adding additional waterproofing finishes to you hiking boot, you will want to make sure that the manufacturer does not have a clause in its warranty that will void if you do this.