10 Best Inflatable Kayak Boat Reviews – Buyer Guide [Update 2022]
Theoutdoorchamp.com provides information on inflatable kayaks and other types of inflatable watercraft.
Here you will find a comprehensive guide to help you determine which product is right for you to purchase.
Our goal is to help you make a smart and sound decision for you and/or your family.
There are many factors in selecting a good kayak from price to ease of transport and therefore we have gathered all of the data for you in one location.
Some brands we have reviewed are Sea Eagle, Advanced Elements, Coleman and more.
We try to focus on only the top models to save you time reading long reviews for products we would not recommend for purchase.
You should also check out our inflatable paddle board reviews and inflatable boat reviews pages. We hope you enjoy reading!
---
Kayaking is a sport that continues to grow in popularity. Some people are looking to stay in shape and burn some calories. Others just want to be out on the water and enjoy nature. Each year, there are new and improved options when it comes to this fantastic outdoor adventure.
Inflatables popularity has grown as opposed to the standard hard-shelled kayaks. With the constant improvements in the market, people have to do extensive research into discovering the best one for their next water adventure.
Our goal is to make this chore easier by providing you with our picks of the top-rated inflatable kayaks.
Best Inflatable Kayak
Anyone who enjoys kayaking with a friend or loved one will enjoy the Advanced Elements AdvancedFrame Convertible kayak. Below is a list of reasons why we love it.
Tracks very well
Has built-in aluminum ribs to define the bow and stern
Three layers of material to give you extreme protection against punctures
Padded seats ensure comfort for all riders
Adjustable seat locations helps with tandem or solo kayaking
Best Inflatable Fishing Kayak
If fishing is your preferred kayaking adventure, you should consider the Coleman Colorado inflatable. Below is a list of reasons why we recommend this fishing watercraft.
Has rugged design and durability
Multiple air chambers prevents it from sinking if you get a small puncture
Guaranteed not to leak through its air valves
Trolling motor add-on, which will expand your fishing capabilities
Has paddle holders on board
Best Tandem Inflatable Kayak
The Sea Eagle 330 is our pick as the best inflatable kayak because of its versatility and great price. Below is a list of reasons why we love it.
Has enough room on board for tandem riding
Weight capacity of 500 lbs.
Lightweight design makes it easy to carry on your favorite hiking trails
Works well in whitewater and has a class III rating
Total time to inflate and attach the seat is less than 10 minutes
Best Three Person Kayak
Are you looking to enjoy the open water with two other people? Do you just need a lot of extra space for a friend and gear? The Coleman Big Basin 3 is the three-person kayak for you. Below are reasons why we love this big vessel.
Can hold up to almost 500 lbs and weighs less than 40 lbs
Tarpaulin bottom makes it is very durable and hard to puncture
Multiple air chambers means if there is a puncture you will be able to make it back to shore safely
Tracks well which will keep you from tiring out
Extremely comfortable for those longer trips.
Best Whitewater Inflatable Kayak
When you want to go on whitewater, it is important to have a vessel that is up to the task. The Advanced Elements StraightEdge is that one and below are reasons why we recommend it.
Has self-bailing system
Has aluminum ribs for durability
Made of heavy-duty PVC tarpaulin material to resist punctures
Has a weight capacity of 300 pounds
Folds up small enough to fit into a duffel bag
Best Inflatable Kayak for Beginners
Beginners need to feel confident and stable when they first get into a watercraft. They don't need all of the bells and whistles that some of the more advanced kayakers would want. That is where the Coleman QuikPak K1 comes in.
It can be set up in as little as 5 minutes
Has a tarpaulin bottom to protect it from punctures.
Multiple air chambers to ensure it does not deflate before you can get back to where you need to
Very reasonably priced
Honorable Mention
The Hobie Mirage i9S is our honorable mention. Below is a few reasons why we like it.
Gives you the power to steer using an integrated rudder system
Also has a sail mount add-on to use wind power
Has a large cargo area
Has easy carrying handles built-in
Folds up to fit inside of a rolling travel bag
Has a maximum weight capacity of 325 pounds
Inflatable Tandem Kayaks
Tandem kayaks are great for people who want to spend time out on the water with a loved one or friend. Things like bird watching and fishing are fun alone but can be even more fun with someone else.
If you're specifically looking for a tandem fishing kayak I would recommend the Coleman Colorado. the Having someone to talk to or help with the paddling can be relaxing for many people.
Another good reason to own a tandem model is safety. Some people like to go into remote areas that could dangerous if an accident occurred. It is always better to have a partner in these cases. You never know what could happen out on the water so kayaking with others could save your life.
They tend to be larger and a little heavier to accommodate the extra passenger weight. So if you plan to also use it alone making sure you are comfortable carrying the overall weight by yourself.
Some inflatable kayaks such as the Innova Sunny, come with a carry backpack which makes it easier to transport if you plan on kayaking in more remote areas that a car cannot access.
Please see our list of the top inflatable tandem kayaks.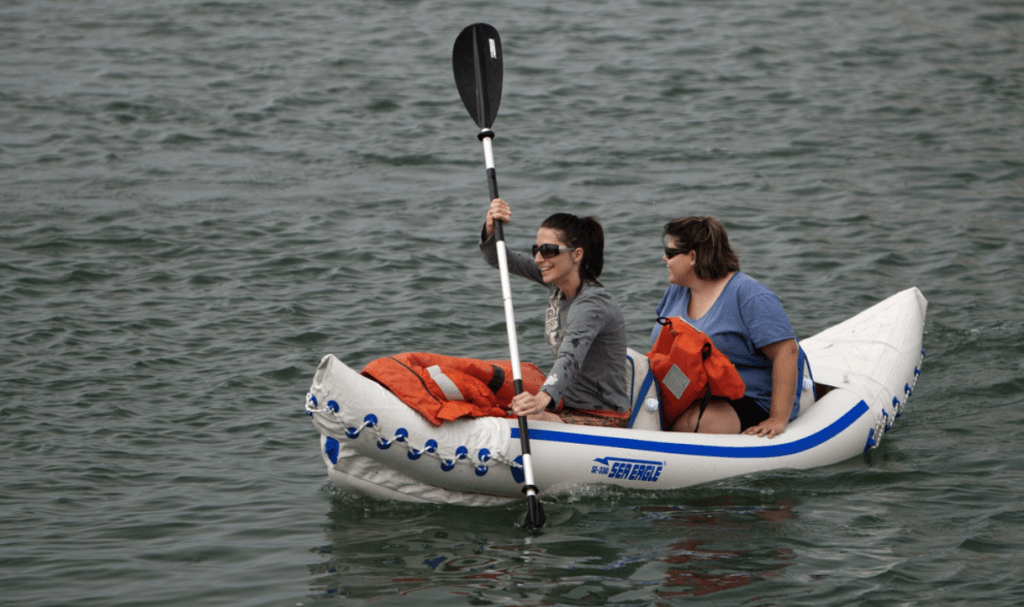 Inflatable Fishing Kayaks
Fishing from a kayak is a great experience. You can quietly get into remote areas that many motor boats cannot access.
Due to their weight, you can launch your boat from just about anywhere. You can hike into remote areas with your inflatable on your back, blow it up and then get in the water.
You will get a nice workout hiking to your location and paddling out on the water. It may not seem like much but a day out on the water can really be good for your health.
Fishing kayaks are also easier and cheaper to maintain compared to many boats. You won't need to buy gas or oil for your watercraft. There also aren't many parts that can break which can be costly.
Many fishing kayaks come with rod holders, adjustable seats, extra storage and more. So while they may be smaller than many boats you still have some nice features.
Please see our list of the top inflatable fishing kayaks.
If you are looking for something different check out our top inflatable fishing paddle boards and inflatable fishing boats here.
---
Inflatable Kayak Buying Guide Tips
Taking the plunge into the world of kayaking is exciting. Imagining yourself paddling through the pristine waters, immersing yourself in the wonders of nature, finding yourself in adventures of one kind or another. It can be considered a sport, hobby, or work-out routine depending on whether you are interested in recreation or leisure.
Many people enjoy the solitude of kayaking while others enjoy the comradery that comes when you row with a partner. Maybe you just want to bring your dog!
Perhaps you will add camping, hiking, fishing to your itinerary.
What types of water will you take your vessel?
There are many factors to keep in mind when purchasing your inflatable boat.
The following is a list of important things to consider when looking to buy a new inflatable kayak that will meet your needs.
Single or Tandem Kayak
Will you be kayaking alone or with a partner? Inflatable boats offer many options here from one seat to three seat options.
Many tandem inflatable kayaks are easy to maneuver and transport alone as well as with a partner, so keep that in mind if you need versatility. Even those who often paddle in solitude appreciate the extra space and storage that a tandem kayak offers.
Pay attention to weight capacity for each inflatable boat you look at as well. You will want to be sure that even with two people, that you also have enough room for supplies.
If you consider yourself larger than average, you will want to pay close attention to legroom, and the size of the cockpit in the tandem inflatable kayaks.
Size and Weight of Kayak
Once you have decided on a single or tandem boat, the next thing to consider is the size and weight. How much storage space do you need and what sort of vehicle will you use to transport the kayak?
Most inflatables fit nicely into the trunk of even small vehicles when deflated. Scan the specs for the weight of the kayak when it is packed away for transport so that you can plan for hikes into more remote areas if you choose.
If you plan to go solo you want to make sure that your inflatable is able to be transported by you alone without too much trouble. Many inflatable boats are designed to fold into a backpack with padded shoulder straps for the ultimate comfort in transport.
What Types of Water Are You Kayaking On
Many manufacturers specify the class of rapids their watercraft is built for. If you are going to be paddling on lakes and slow rivers, you will be fine with a vessel rated for class I or II rapids. If you plan to take on rougher waters you will want to get an inflatable kayak built specifically to handle white-water.
Products constructed with I-beam floors are going to offer more stability (less tipping). Pay attention to the materials that it is constructed from. Depending on the water terrain, you may need more durability and puncture resistance.
If you frequent large, open bodies of water you should look for models that are designed with multiple air chambers so that if you do experience a puncture, you'll still be able to paddle to safety.
Also reading reviews from other customers is a great way to get a true feel for what each product can handle based on the personal experience of others.
What Do You Plan to Do on the Water
Will you be out all day and need plenty of room for provisions? If you plan a day-long trip on a sea kayak, consider the design of the seats. Inflatable seats offer comfort and supportive seat backs as an added feature that serves well for long trips.
Also important for longer trips is storage space. Storage space usually comes in the form of D-rings for clipping extra cargo, mesh pockets, and a bungee laced deck. Behind the seat, storage is very convenient for the things you want to be able to reach from the cockpit.
Are you going to be fishing? There are lots of wonderful options designed exclusively for the angler like rod holders, extra stability, low visibility, and trolling motor fittings.
Are the kids coming along with you? Some kayaks are better than others for stability for kids who like to move around a little more and even jump on and off for quick swimming ventures. Again, I-beam floors are recommended for those who will be getting in and out of the inflatable kayak during their ventures.