6 Best Knife Sharpener Reviews-Buyer Guide 2022
We had mentioned in the other article on knife sharpening, the traditional way of sharpening knives using a sharpening slab.
However, some people might consider buying a knife sharpener owing to several reasons.
Sharpening knives on a slab takes a bit more time and effort in comparison to knife sharpeners.
You might be someone who'd let a sharpening machine handle it. In that case, a knife sharpener that can handle a serrated edge is for you.
What were our top criteria's for the pick?
Well, we've certainly taken into account how complete the sharpener is – can it work on multiple types of knives and blades?
Are there all the stones you need?
Does it offer many angles to work with?
And then, there's also the quality of the cut. After the process, is the blade as good as new or even better?
Does it provide the sharpening quality that's advertised? We think it's always better when products are accurate with their description and deliver exactly what they claim to do for the price.
And let's not forget just how professional and/or easy to use the whole method is. If the system doesn't allow you to customize your cut or perform more things manually, it certainly loses value as a system for experienced users.
Finally, speed, price and durability naturally all play a role in choosing the best knife sharpener.
Best Pocketable Knife Sharpener On Amazon
Smith's PP1 Pocket Pal Multifunction Sharpener:
Slim, lightweight, easily pocketable knife sharpener

Smith's Pocket Pal is a compact, lightweight sharpener that consists of pre-set carbide blade for coarse sharpening, pre-set ceramic blade which can handle fine sharpening, and a tapered diamond rod that can be used to sharpen serrated edges and hooks.
The carbide blades can be replaced as well, so it can serve as a long-lasting sharpening system which is compact, and can be easily carried anywhere.
Rated 4.3 out of 5, thousands of votes being counted on Amazon and priced at just $$ at the time of this writing, Smith's PP1 is a small and handy multifuntion sharpener.

SOG SH-02 Countertop Sharpener:

This is a small but very effective knife sharpener. The best part about this knife sharpener is that it can be placed firmly on a non-porous flat surface owing to the suction technology.
Once it has been set on the surface, you can get to sharpening your knife without much effort, as shown in the picture.
It is priced at $14.59 at the time of this writing.
This is a great sharpener which is easy to set up and use. For the price, this is a great deal.

Smith's CCD4 3 IN 1 Field Sharpening System: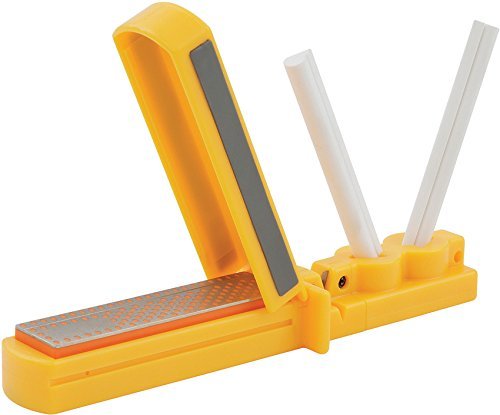 Smith's CCD4 3 IN 1 Field Sharpening System
This is probably the most useful knife sharpener you can own at the price of just $15.90 on Amazon.
It can sharpen serrations, hooks and plain edge blades as well. For sharpening hooks, it has sharpening grooves.
It even has a 750-grit interrupted surface diamond stone.
The teardrop sides of the ceramic rods provided in the system is extremely useful for sharpening serrations.
It is rated 4.6 out of 5 stars on Amazon.
For the price tag, it has features of a higher end sharpening system.

Presto 08800 EverSharp Electric Knife Sharpener:

This particular knife sharpener features two-stage sharpening system and deals with almost any kind of non-serrated blade.
This sharpener has two settings, coarse and fine. You can choose the setting of your choice.
It's quite easy to use.
All you need to do is plug the power cord in, turn it on, and insert the knife into one of the two wheels depending on whether you'd like to go for coarse or fine.
In just a few seconds, it sharpens the knife blade.
The product is rated 4.4 out of 5 on Amazon, counting in hundreds of reviews and votes.
Priced at $27.54 at the time of this writing, we highly recommend this sharpener.
Smith's Tri-Hone Diamond Sharpening Stone

The Smith's Tri Diamond Sharpening Stone is a lot simpler, but that doesn't mean that it doesn't deserve a spot in this top 5.
Simplicity is one aspect a lot of customers are looking for, and this is one uncomplicated knife sharpener.
You get three stones, each well identified on the side in big characters on you rotate it as you complete the different steps of your sharpening.
You use it pretty much as your standard sharpening bench with some lubricant and any extra oil will drip down.
There's also an angle guide included, and although not as impressive as the Spyderco's, it's still pretty useful.
The company then plays a role in this choice, as Smith's is just about the most trusted company when it comes to knife sharpening.
It may not be super big for your larger knives, but it will make a perfect job on all your sports, pocket and kitchen knives.
Worksharp WSKTS Knife and Tool sharpener:

This knife and tool sharpener is priced at $69.95 on Amazon at the time of this writing.
Although it is a bit higher on the price compared with the other sharpeners on this list, it could outlast almost all of them.
It is not only extremely well built, it is also very easy to operate.
The head on this sharpener is rotatable so you can sharpen knives in any direction you prefer.
It comes with a 6 foot long cable, making it very conveniently operable.
It has an overall score of 4.7 out of 5, counting hundreds of user reviews and votes.
It comes with coarse, medium, and fine belts to suit your needs, and you can use it to sharpen almost all kinds of blades and garden tools.
If you wish to invest once on an all-round sharpening system, this is it.