9 Best Trekking Poles Reviews-Buyer Guide (Updated 2022)
Trekking poles are one of the best and simple inventions. Since its humble beginnings, technology has played a vital role in the evolution of trekking poles.
Today, the market offers a plethora of choices to the customers, with a wide variety of features to choose from.
Are you looking for the best trekking poles for you next hiking adventure?
Trekking Poles are also known as walking sticks.
Also, find out how to get the most out of sticks by using them the correct way. Plus, learn the advantages of having a pair of hiking poles.
Hiking and walking are fun and exciting activity. And, I am going to show you how to taking the stress out of it.
Best Value
Hiker Hunger Trekking Poles
Best of the best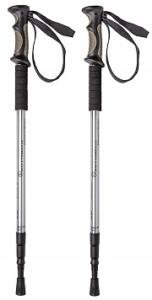 BAFX Trekking Poles
Also consider
Montem Walking Poles
Walking Sticks versus Trekking Poles
Is there a difference?
Some folks use the names walking sticks and trekking poles interchangeably, both items being tools you can use for balance and support while walking, especially with a heavy pack.
Many consider walking sticks as being handcrafted, usually from wood. They are each unique. Some can have a twisted shaft or be intricately carved. I have seen some colorfully decorated with a life story such as completing a hiking trail or being a cancer survivor.
Trekking poles are usually thought of as being manufactured of light weight alloys such as aluminum and can be sold by the set.
Some trekking poles are engineered with shock absorbers, so they help decrease possible knee strain, and they can collapse for easy packing.
The hand grips of trekking poles are made of cork, rubber or foam to help prevent slippage but, these are usually the first thing that tears up. Walking sticks can also have non-slip grips, or you can add them.
My blue aluminum set of trekking poles is not as beautiful as my hand-carved walking sticks, nor as fun to collect.
Trekking poles are known by many names
I have heard trekking poles called by a variety of names including trekking sticks, Nordic walking poles, Nordic walking sticks, hiking poles, hiking staffs, walking staffs, walking sticks, walking poles and hiking sticks.
#1 BAFX Products Anti Shock Hiking Trekking Poles 2 Pack
BAFX Anti Shock Trekking Poles are made of durable, light weight aluminum. Hiking Trekking Poles enlarge from 26.5″ to 53″ inches (approximately).
These Trekking Trail Poles contain anti-shock springs so you can easily trek.
BAFX Anti Shock Hiking Poles are very comfortable and stylish with strong hand grips.
Grips are now "ribbed" for less hand slippage with sweaty hands.
The wrist strap is now padded and wider for more support & comfort!
Features of BAFX Anti Shock Hiking Poles:
Comfortable grips
Extend from 26.5 to 52 inch (approx.)
Two sets of rubber tips
1 set of mud disks for mud, snow, etc
Anti-shock spring
Twist locking system
Wrist straps
Approx. 12 ounces each
Best regular walks, hiking, and adventurous treks
1 Year warranty
#2 Cascade Mountain Tech Trekking Poles with Quick Lock
Cascade Mountain Tech Trekking Poles are made of 100% CARBON FIBER. Total weight of these poles is 7.8 oz Due to this light weight are best poles for hikers, walkers, back packers.
As you know that light weigh pole makes very easy long hikes and walks.
Their easy locking mechanisms are very helpful for all type of adventures. You can easily adjust pole height as per your requirements like the hill, flat terrain, or a downward slope.
You can extend it from 26" to 54.5".
This best for women trekking, men trekking, kids hiking trips. You will also get a bonus tip kit includes: snow basket, boots, small rubber feet
From the manufacturer
| | | | | | | |
| --- | --- | --- | --- | --- | --- | --- |
| | | | | | | |
| Shaft Material | Carbon Fiber | Carbon Fiber | Carbon Fiber | Aluminum | Aluminum | Aluminum |
| Locking Mechanism | Twist Lock | Quick Lock | Quick Lock | Twist Lock | Quick Lock | Quick Lock |
| Grip | Cork | EVA | Cork | EVA | Cork | EVA |
| Pole Weight (Single Pole) | 8oz | 7.8oz | 7.8oz | 10.4oz | 10.4oz | 10.4oz |
| Adjustable Height Range | 23″-53″ | 23″-53″ | 23″-53″ | 26″-54″ | 26″-54″ | 26″-54″ |
| Anti-shock feature | ✓ | | | ✓ | | |
| Adjustable strap | ✓ | ✓ | ✓ | ✓ | ✓ | ✓ |
| Tip kit included | ✓ | ✓ | ✓ | ✓ | ✓ | ✓ |
| Tip material | Tungsten Carbide | Tungsten Carbide | Tungsten Carbide | Tungsten Carbide | Tungsten Carbide | Tungsten Carbide |
| Great for women & men hikers | ✓ | ✓ | ✓ | ✓ | ✓ | ✓ |

#3 High Trek Premium Ultralight Trekking Poles
High Trek Trekking Poles best for hiking due to Sweat Absorbing EVA Grips.
You can also use as walking Sticks in your daily life. Most of the custmer love it due to Tungsten Tips and Flip Locks.
You will also get free accessory kits which include monster feet, snow baskets, and a convenient carrying bag.
High Trek will ship all poles with mud baskets and protective covers for the tungsten carbide tips.

#4 Hiker Hunger Trekking Poles
Hiker Hunger Trekking Poles are made of 100% Carbon Fiber due to which these are strongest & Lightest best for Outdoor. These are made of anti-shock material so you can use it freely with out any fear. These Poles are very light weight each one only 7.6 ounces making the pair of poles only 15.2 ounces. The main feature of these Poles is Quick Flip Lock so you can collapse or extend. It could extend from 24" (60.9 cm) to 54" (137 cm) quickly.
It's ergonomic cork nonslip EVA Foam Grip makes it very comfortable, moisture-wicking and conforms to the shape of your hand.
What's Included?!
♦ 2 Hiker Hunger 100% Carbon Fiber Trekking Poles with Cork Grips, nonslip EVA Foam Grip extensions, Wrist Straps, and Tungsten-Carbide Tips♦ 2 Rubber Tips♦ 2 Rubber Feet♦ 2 Mud Baskets♦ 2 Snow Baskets♦ Carry Bag with Strap

#5 Montem Ultra Strong Trekking Poles
Montem Trekking Poles are made of last, comprising of tungsten tips, and EVA foam handles. Montem's Poles are made of the same material which is used for airplanes.
Montem Trekking Poles adjustable bolts will allow you to adjust any height very quickly. These poles can extend from 24" to 53" due to which it is perfect for everyone.
Montem Trekking Poles come with nylon straps to ensure the safest journey. These are very light weight only9.6 ounces per pole.It is best for poles for women and men of all age.

#6 Hammers HP5 Anti-Shock Hiking Pole
In the world of hiking and walking poles, many brand names stand out as some of the best in the industry. One name that is casually mentioned but often forgotten, however, is the Hammers brand. Hammers is an interesting hiking pole name, because while they are not known for their high-end hiking poles, they ARE known to create some of the best available low-cost hiking poles that are durable, functional, and will meet the needs of casual hikers. There are very few hiking poles that cost more than $, while other brands (Leki, Komperdell) tend to range between $-$$per pole.The Hammers HP5 Anti-Shock Hiking Pole is an example of an inexpensive pole that may not be as flashy as some of the other available hiking poles, but more than gets the job done and may be one of the best and most durable low-cost hiking poles around.
Features of the Hammers HP5 Anti-Shock Hiking Pole
· Very light weight design 11 oz per pole.· Has telescopic sections that allow the pole to be adjusted from 29 to 60.· Comes with its compass and thermometer.· Made with a very comfortable cork handle.· Equipped with a removable basket and a snow basket included.· Spring loaded anti-shock mechanism for reduced arm press
ure.
Pros
While none of the features on the Hammers HP5 Anti-Shock Hiking Pole are "wow" worthy, they are all of the good quality. The spring loaded anti-shock system is effective for the price, and the cork handle is one of the most comfortable available, especially amongst inexpensive models. The Hammers HP5 Anti-Shock Hiking Pole is also very adjustable, shrinking to as small as 73 cm (making it far more compact than other inexpensive models) while extending to over 140. The tips and baskets are very good, and the model is not known to breaking. The Hammers HP5 Anti-Shock Hiking Pole also comes in more sleek colors, such as bright blue.
Cons
The locking system of the Hammers HP5 Anti-Shock Hiking Pole is not as good as some of its main competitors, and the spring loaded anti-shock system is not as advanced as some of the other anti-shock systems out there. The pole also is prone to bending more than the expensive poles.
Overall Impressions
The Hammers brand scores with this pole when it comes to using by casual users. This pole should not be mistaken for a high-quality hiking pole for hardcore trekkers and hikers. Instead, the Hammers HP5 Anti-Shock Hiking Pole is more of a quality pole for those that only hike casually but could use the additional support. The poles have a funky locking system that is not very pleasant to work with, but as of yet only the more expensive brands seem to have mastered the easy to use locking system, so this is to be expected. If you are a casual pole user and not an avid trekker, the Hammers HP5 Anti-Shock Hiking Pole is a more than an acceptable choice for you.

#7 Kaito BT409 Hiking Poles Review
The hiking pole industry has a lot of big names. Black Diamond, Leki, Hammer these are all brands that are well known amongst hardcore trekkers. With that brand name, however, comes additional cost because these brands know that people will choose their poles since they have such a large market share. For some people, a high priced hiking pole is not what they are looking for – especially those that are looking to try out hiking poles for the first time.
For those people that want to buy a hiking pole but aren't sure if they are going to use it, they will want a lower cost hiking pole that can meet enough of their functionality needs to get the job done. One such example is the Kaito BT409 Anti-Shock Hiking Pole. The Kaito BT409 Anti-Shock Hiking Pole is very low cost (a single pole can be found for as low as $, and it has many of the features that people need from their poles including a few extras.
Features of the Kaito BT409 Anti-Shock Hiking Pole
· 3 section extendable hiking pole for uphill, downhill, and level ground.
· Very lightweight design for easy travel.
· Effective anti-shock system for reducing arm pressure.
· Ergonomic foam grip with plastic handle.
· Equipped with a 90-degree rotatable flashlight in the handle.
· Waterproof carbide tip.
· Comes with both a thermometer and compass attached to a wrist strap.
Pros
Interestingly, as far as the number of features goes, the Kaito BT409 Anti-Shock Hiking Pole has MORE features than comparable name brand models. Flashlights, compasses, etc. are not found on many of the expensive brand models. For those that believe in the importance of a flashlight on their hiking pole, for example, the Kaito may be one of your only options. And since the hiking pole is still adjustable, it provides you with the support you need for both up and down hill.
Cons
The plastic grip is not going to be nearly as comfortable as the foam and cork grips found on many of the other hiking pole manufacturers. It is also not made from as strong or light material as some of the other poles, and the locking mechanism is iffy at best. The pole isn't prone to breaking, but it is certainly not as durable as the more expensive poles.
Also, Kaito is an electronics corporation, so their strength should be in the flashlight, but the flashlight can be difficult to turn on and off.
Overall Impressions
Having a flashlight, compass and thermometer on the pole are a neat little addition that serves greater functionality to those making an outdoor trip. Most regular hikers and trekkers do not use those types of frills, but for the casual hiker, they can be quite fun, and certainly are a good safety feature for those not bringing a flashlight of their own. The Kaito BT409 Anti-Shock Hiking Pole is not a professional hiking pole, but it is not meant to be, and for an inexpensive pole it is quite effective.

#8 Leki Hiking Poles
For hiking and walking poles, brand name means a lot, because the differences between the poles have a great deal to do with patents on how certain features work. Each company creates its own anti-shock, locking and grip systems (among other things) that make it differ from the competition in what would otherwise be very similar products. That is why, unlike with most other types of products, choosing a hiking pole has a lot to do with the brand that created the pole.
For this reason, when most people are choosing which hiking pole they want to use, they most often look at two brands:
In the United States, Black Diamond is king. They are well known across the country and have one of the most popular locking systems available. But in Europe and the rest of the world, Leki is far and away the leader, known to be one of the most reliable walking and hiking pole manufacturers in the world.
Unlike Black Diamond, Leki has ventured out with its poles, offering trekking poles, hiking poles – but also walking poles for Nordic exercise and even standard walking poles for assistance across regular terrain.
Thoughts on Leki
Leki has some amazing strengths but also various weaknesses for long distance hikers. Leki's grips are said to be some of the most comfortable in the world, and a pole molding process that prevents breakdown. Leki provides some of the most durable poles as well, and many of their walking poles are very thick which, while it makes the poles heavier, also reduces the likelihood of breaking. That makes them very useful for those that put a lot of weight on the poles.
On the other hand, Leki is not without its faults. Leki's locking system (known as the "Super Lock System") is reliable but takes a lot of time. It involves twisting each piece of the pole to lock it in place, and this process can take several minutes. Its anti-shock system is very good, but not all models are equipped with as effective a variety.
Leki earned its spot as one of (if not the) leading manufacturers of hiking, walking, and trekking poles for a reason. They make very good products, and these products are comfortable and designed with tools to reduce breakdown. But the locking system has been outdone by Black Diamond, so for those that do not want to sit and adjust, you may want to look elsewhere. However, it should be noted that Leki also creates walking and Nordic poles and these poles (which do not need to be adjusted) are easily
some of the best available, so they should be one of the first brands you look to for your Nordic and daily walking needs.
#9 Black Diamond Hiking Poles
For years, Black Diamond has been one of the most popular hiking pole brands on the planet. Designed to be extremely durable, loaded with easy to use features, and made with materials that reduce breakage, Black Diamond is the most popular brand at most mountains in the US and is competitive abroad despite the tough European market.
Black Diamond's main strength is the ease and comfort of their features. They are the only hiking pole brand that instituted the "flick lock" system – known to be one of the best available locking systems for adjustable poles, and they have created some of the most reliable anti-shock systems on the market. In fact, the FlipLock system is on all of their poles, so if you enjoy the feature, any Black Diamond pole will have the capabilities.
Most models come with two types – shock and anti-shock varieties. The anti-shock versions are likely to be heavier (with a few exceptions), but many people prefer to go with Black Diamond's anti-shock poles because they are known in the industry to be very high quality, making them a good choice for those looking to take pressure off of their elbows.
Thoughts on Black Diamond
Black Diamond is an easy choice for hiking pole purchases. Other brands make some high-quality models that should be considered, but Black Diamond has come out with some of the more innovative features that are found on every model and not found on other brands. The FlipLock system, especially, is known for its ease of use – better than Leki, which has a twist lock system that some hikers enjoy. Also, there are some poles (such as the Black Diamond Trail Trekking Poles) that are not a great deal of additional weight despite having the anti-shock system available.
Black Diamond also has very popular grips, and there are many options for the kind of pole you need for your excursion, giving you a choice with which one to choose. Lengths and weights can also be changed, as compact models are lighter and smaller for those that require a more compact pole.
The only noticeable downside to choosing a Black Diamond hiking pole is the price. They can be quite a bit more expensive than other hiking poles available – though not much more expensive than the well known European brands.
Overall, Black Diamond has made a variety of solid products that have some of the most popular features in the trekking and hiking worlds. The locking mechanism, light weight, the anti-shock systems and more – all of these make Black Diamond the primary choice for hiking poles across the US, and for a good reason. There are very few buyers that do not enjoy their Black Diamond hiking poles, as they continue to make quality, effective products.
Do I need a hiking pole?
Anyone that has experienced pain in their legs on a hike has likely found some long thick stick that they picked up to try to finish off the trail. Thick sticks are useful makeshift hiking tools, allowing you to get some of the support that you need as you cross the hefty terrain.
Because something as simple as a stick works well enough to give your knees and legs the help that they need, many people wonder why they would benefit from a hiking pole instead. Despite the availability of sturdy, free sticks, hiking poles provide some benefits that you simply do not get from a stick that you find on the ground.
Benefits of Hiking Poles
· Convenience
Of course, one of the main benefits of a hiking pole is convenience. You have a strong, powerful stick that is the perfect length for your entire hike and designed to withstand the force of your body with you at all times. You no longer have to waste time trying to find a clean stick of decent length that will withstand both your weight and the entirety of the hike.
· Shock Absorption
Most hiking poles are designed with shock absorption capabilities. This takes a great deal of pressure off of your shoulder and elbow as you walk, giving you a more comfortable trek and helping ensure that your joints do not experience as much pressure as they would with a regular stick.
· Comfort
Hiking poles also have some different features designed to improve your overall comfort level – features that you will not find with a regular stick. The handles themselves are considerably more comfortable, and the stick will not have any spare branches, leaves or bark that could cut into your skin or make your hike more uncomfortable. These poles are also of a much lighter weight and made with a stronger material.
· Safety
Hiking poles are made with withstand long hikes and will be able to manage your weight better than sticks that you find on the ground. Also, the tips at the end of the pole are designed with points that help them grab into the dirt more easily, and the baskets make sure you don't get stuck within the terrain. Each of these improves how safely you maneuver with the stick, as well as whether or not it will last over the course of your hike.
Hiking Poles are Made for Hiking
Though large branches that you find on the ground make adequate hiking poles when you have no other options, true hiking poles are designed to withstand all of the elements, handle your weight, be much more comfortable and absorb some of the pressure that occurs when you slam your pole against the ground. They are much more enjoyable on a long hike, they have more safety features than any stick, and they will last you through all of your longest hikes for years and years.
How do I choose what hiking pole to use?
Trekking and hiking poles often have a lot of similarities. Most have extension capabilities, anti-shock systems, and other interesting features that make them ideal for your trekking needs. In general, when someone is looking to select on of these poles for their personal use, the decision comes down to:
Price
Comfort
Dependability
Depending on price considerations, most people look for a pole that is not known to break that often and also provides them with the comfort they need to enjoy their trek more. However, beyond these simple considerations, there are other things that must be looked at before you decide which pole to choose.
· Locking Mechanism
One of the biggest considerations that are often overlooked is the ease of adjusting the length of the pole. Some poles have problems locking, while others have a flick lock system that is extremely simple and works quickly. These can make the price difference, but they also differ between brands. For example, only Black Diamond poles will have the well known "Flick Lock" system that many trekkers love. Some of the cheaper poles, on the other hand, may require a great deal of manual effort that can be incredibly time-consuming.
· Shock Absorption
Another way that poles can differ dramatically in the success of their shock absorption system. Again, this often differs between brands, as brands like Komperdell have no anti-shock system at all, while others brands may have advanced shock absorbers that take much of the pressure off your arm and elbow. It is a good idea to check the reviews on each pole since systems within-brands can differ as well.
· Material
The lighter the pole, the more prone it is to breaking (unless you spring for some of the more expe
nsive poles). Also, aluminum poles are known to bend, while carbon poles, when made correctly, have more give. On the other hand, carbon poles made incorrectly are known to shatter, so much of that, again, has to do with the model of the pole as well as the manufacturer. Many of these pole makers have lifetime warranties on some of these options making them great deals.
· Grip
Of all of the things that poles are used for, the softness of the grip is extremely important. You will be holding on to these poles for a long period over the course of your trek, and if you are finding them uncomfortable at all within the first mile or so, by the end of your trek you are probably going to be carrying the poles on your back rather than using them. Find a pole with a grip that is comfortable enough to use for the course of the hike.
Pick Carefully
Certain brands have certain reputations, and the functionality within these brands can differ a great deal in overall effectiveness. It is a good idea to check out all of the available poles and make your choice based on the ones that feel the best in your hands, give you the functionality you need, and fit within your price range/budget.
Overview of Hiking Pole Features
Hiking pole manufacturers are constantly trying to update the features of their poles to make them more valuable to the average user. Though they are extremely valuable for your hiking trips, they are also a convenience for most people rather than a necessity, so these pole designers have been working hard to make sure that their poles become of even greater use to those that decide to take one or two with them up and down a mountain.
While many of these features are very useful (such as a whistle in case you find yourself lost and needing to call for help), there are also several other features being created designed to make the poles even more convenient and give them additional uses beyond simply assistance walking up a mountain.
Cool Hiking Pole Features
· Compass
Many hiking poles now come with their own embedded compass in the handle so that you always know which direction you are traveling. However, these compasses are not simply the basic metal compasses that point in a single direction. Many of them are electronic, giving you additional options such as monitoring how far you have gone, how many steps you have taken, the time of day, etc. Some of these even come with their timers so you can check to see how long it takes you to get up and down the mountain.
· Flasks
Though they are very hard to find, there are hiking poles that come with their own included flask directly built inside the pole. This feature alone turns your hiking pole into a more enjoyable and convenient hiking tool, and while it may make your pole weigh slightly more as you use it on your way up, chances are that weight will be reduced dramatically as you make your way down.
· Camera Mount
Hiking poles may also be designed with features that allow you to place your camera mount directly onto the pole, helping you take steady, even pictures without having to lug an additional camera mount up the mountain. This type of feature is great for both hobbyist and professional photographers, but even those that simply want to take a few photos of the mountain may find that a camera mount helps them accomplish their goals.
The Future of Features
Hiking poles are becoming more and more designed to provide its users with the features that they need to hike deep into the wilderness. While features like a flask may be entirely optional, the included compasses and whistles may help save your life if you are stuck in the woods. Soon there will no doubt be additional features such as an included hunting knife if necessary or even a flashlight or some other safety features that will be beneficial to those that are lost or stuck. While the poles themselves are useful enough for your hiking trip, there will no doubt be additional options that will slowly be created over time to ensure that the poles help improve every aspect of both your trip and your safety.
What is a telescopic section hiking pole?
As you decide on which hiking poles to purchase, one of the features you will need to consider is whether or not you will need a pole that can adjust its length. Known as both telescopic poles and adjustable poles (telescopic sections referring to the pole's ability to go into itself like a telescope), these sticks have different benefits that may make them preferable to those that are going to go out on a long hike or walk.
Benefits of an Adjustable Length Pole
Poles that can be reduced inside are much easier to store with you when you are on your walk. Should you want to stop using the pole temporarily, for example, you can reduce its length dramatically (often to around 2 feet) and stick the pole in your backpack of by your side. Poles that do not reduce in length will hang from wherever you are storing it and may get caught in the terrain.
Adjustable length poles are far more likely to be the perfect length for your everyday use since you can simply add or subtract inches if you need an additional pole to help make your hike more comfortable. Also, if you are climbing uphill, you may want your pole to be shorter than if you are climbing downhill and using the pole for balance, depending on the way you trek.
Poles that are going to be used by more than one individual are going to benefit from a hiking pole that can change its size so that anyone that ends up using the pole can adjust it to a more comfortable fit.
Weaknesses of Adjustable Length Poles
Because these poles are not entirely straight and connected (meaning, there is some "give" implied by the fact that these poles can be compressed), they may represent a danger for particularly large/heavy men and women, as the pressure from their weight could push the pole into itself. This could result in injury depending on the area you are climbing or walking.
It can be difficult to change the length of some of these poles due to the method of locking it in place – often with a screw or some difficult to handle metal object.
Two telescopic section poles do not compress to as small a size as three section poles, so depending on the type of pole you purchase, it may not compress to a suitable size for you.
Also, telescopic section poles are more expensive, and may not represent a cost that is worth the benefits, especially if you can find a single length pole that is suitable for most of your needs. Comfort and safety are still the most important aspects of any pole to consider. Still, there are many benefits of using an adjustable hiking pole, and if these benefits help make your trek more pleasant, they may be worth the nominal cost increase.
Should I use one hiking pole or two?
When people use hiking poles to walk up hills or walking sticks to move across a great deal of terrain, they have the option of using just one stick or using two sticks together with one in each hand. There are various reasons that people choose to do one or the other, such as:
Cost -Two walking poles are generally more expensive than one walking pole.
Comfort – For some people, two walking poles is much easier, because it provides less weight on both legs. For others, the two sticks represent more of an inconvenience, because they enjoy walking with one arm free.
Purpose – Two poles may help you move through higher hills, but if the pole is used more for clearing away things in your path than help with your legs and back, you may not need two.
One walking pole is usually enough for most walkers and trekkers. It's gives you a little more mobility, and when you do not need a great deal of assistance for your legs, the single stick is simply a helpful tool for traveling long distances. However, there are some reasons you might want to two poles. Some of these benefits include:
· Better for the Back
When you have only one pole, you may find yourself leaning on it in ways that twist your back, and can make it ache over the course of the walk. When you can use the two hiking poles correctly at the same time, you can keep yourself walking with your back up straight.
· Uses More of Your Upper Body
Cross country techniques are known to be beneficial for working the upper body while you walk, instead of simply putting all of the pressure on the lower body. Those that are using two poles for fitness may benefit from this additional muscle workout.
· Supports More Weight
Walking poles are most beneficial for supporting your weight and helping you reduce stress over longer distances. Two poles increases that support considerably, and the ability to keep your back straight further reduces pressure.
· Greater Range of Motion
Two poles allow more of your body to be active, due to the way that you need to stride with both poles. Those motions help increase your heart speed while going at the same pace, giving you improved health/body benefits without requiring too much extra work.
Using two poles should be mainly about your comfort level. If you are not comfortable with the motions that you need to do with two poles, or you prefer the freedom of only a single pole, there is no reason to try using two poles for most of the benefits above. One pole will still suffice for most users.
But if you are looking for any of the above benefits and do not mind splurging on an extra walking pole, using two poles has added benefits and may be more comfortable for you as well.
How do I protect my knees with a hiking pole?
When you are hiking – especially when you are hiking downhill – your knees take a great deal of physical abuse. They experience the majority of the shock that comes with each step, and unlike your muscles, they do not become stronger the more you use them. As a result, when you are trudging down a hill, you are slowly weakening your knees more and more, making the downhill trip more and more difficult.
Luckily, there are some things that you can do in order to reduce the pressure that you experience on your knees as you are hiking downhill. Each of these will make hiking downhill easier, and may even reduce the discomfort that you feel the next morning.
Ways to Reduce Knee Pressure
· Reduce Weight
Carrying heavy backpacks is a primary cause of heavy knee fatigue during the downhill portion of a hike. Your joints are not used to that increased weight, and the gravity of moving downhill with those extra pounds places even more pressure. Try to carry the least amount of weight possible, and distributed between bags if you are hiking with other people, and this will allow less pressure on your joints.
· Walk in a Zigzag Motion
Though it can be tough to get used to at first if you have the room you should zigzag as you travel down the hill to decrease the amount of pressure that you experience on only a certain part of your joint. Zigzagging distributes the pressure over a greater area, reducing joint fatigue.
· Using Hiking Poles
Hiking poles are designed to help support your weight better as you move down the hill, which will provide you with less joint pressure. Hiking poles can reduce pressure by as much as 25%, which can make a tremendous difference over the course of your travels.
· Get Good Hiking Shoes
When you have good hiking shoes with equally effective insoles, a lot of the pressure that comes from each step will be transferred to the shoes instead. The soles will absorb more of the shock, and it is the pressure from the shock that hits your knees that can cause the most amount of discomfort.
· Keep Steps Minimal
The smaller the steps you take, the less force there will be with each step – especially as you travel downhill. When you take larger steps, your body experiences more force with each step, and since your leg is also further away from your body, most of that shock is absorbed by your knee rather than by your entire body.
Taking Care of Your Knees
The harder you are on your knees, the more your joints become inflamed and damaged. You want to try to do your best to keep the harm to your knee joints to a minimum, and you can do so by following the above steps. Each of them will help your knees stay safer during your downhill travel, and the less damage you can do to your knees each trip, the less damage you will cause on the next trip.
Should I carry a hiking pole even if I don't use it regularly?
The greatest benefit of hiking poles is how they reduce discomfort while you travel. Whether you are carrying heavy bags, trekking across long distances, or simply need extra assistance to go up and down hills, these poles give you the support you need to make the journey easier and more enjoyable. The less you need to worry about the state of your knees, the more fun your hike will be.
Still, there will be days that you find you do not necessarily need the pole. Perhaps you are feeling particularly energetic, or you would like to have both hands free to maneuver across the terrain of the area you are hiking. If you do not plan on using the poles, the question arises – should you take these poles with you anyway, even though they are not in use?
Reasons You May Need the Poles
· In Case of Injury
If an injury should occur on your travel, the poles may become extremely necessary to help make your way down the mountain. One of the reasons that people like their hands-free is because they expect to be climbing, jumping, and moving over terrain in which the poles may end up being an inconvenience. But when you are performing these actions, you also increase your injury risk, and should you injure your ankle, leg or knee on the trip; you will need the pole to help you get back home safely.
· Moving Away Objects
A similar need for these poles will be if you happen upon something that needs to be moved to the side, where it would be more dangerous (or more disgusting) if you used your hands. For example, if there are spider webs in your path, or if you need to move away from a thorny bush. Both of these can be moved with the stick so that you do not have to use your hands or pick up a stray and possibly dangerous stick on the trail.
· Steep Angles
As great as it would be to be able to get anywhere easily with free hands, there may be times that you need to climb down a particularly steep angle, and when this occurs it is much safer to have additional support. The hiking pole can be used to provide you with increased resistance so that you will not find yourself slipping down the cliff.
If you have the room in your bag or a way of carrying these poles with you, you should always have them around. They are particularly useful if you injure yourself, and you may find that you have other needs for them on your journey. As long as you have a bag to keep them in or a method of carrying them that does not involve your hands, you should still try to keep your hiking poles with you in case you need to use them some time on your trip.
What should I do to take care of my hiking pole?
Though trekking and hiking poles can withstand some of the roughest terrains, they do still need a little bit of care and maintenance to ensure they continue to meet your needs. Hiking poles that are properly maintaining will last considerably longer, and since proper care of these poles is not too difficult, you should be ready to dedicate the time you need to maintain your pole whenever necessary.
Check for Damage
The first thing you should always do with your pole is checked it thoroughly for any damage that may have occurred on your trip, even if the trip was simple and not in rough terrain. Damage can occur at any point, and if you see signs of breaking, excess wear, and tear, or anything that may cause the pole to break or weaken over time, you can s
ee if there is a way to replace or repair the area. At the very least, you will be ready in case your pole will not withstand a longer trip.
Preventing Against Rust
The next thing you need to watch out for is rust/decay. There are a variety of ways to ensure your pole does not experience these types of problems. For starters, after a long hike in the wet outdoors it is a good idea to make sure that the pole is completely dry and stored in a warm, dry place after use. If your pole can be taken apart, it is a good idea to do so and let each piece dry separately to improve air flow. Also cleaning a dirty pole both inside and out is valuable.
Note: Never put any lubricants inside the pole unless the manufacturer recommends it.
Replacing Parts
You may also need to replace some of the parts of the pole as well depending on their degree of wear and tear. For avid hikers, the basket may need quite a bit of fixing up, as they can be most prone to breaking due to the degree of the abuse they receive on a hiking trip. Tips may also need replacement, especially rubber and aluminum tips, which is why it is always useful to have extra tips on hand for a quick replacement if necessary.
Fix any Bends
Should your pole have any bends in it, you will want to bend it back carefully. If possible, take apart the pole and handle only the bent section to avoid causing any harm to the rest of the pole.
Read the Manufacturer's Instructions
Finally, always follow the manufacturer's instructions for how to clean the pole. As mentioned, most poles are not designed to handle internal lubricants as these can cause rust and decay, while others can handle them without issue. The guide provided by the manufacturer will be able to tell you what you can and cannot use with your pole, and the proper way to clean and maintain your specific pole correctly (as well as what to watch out for and how to correct it).
Overview of Trekking Pole Problems
Hiking and trekking poles have a lot of beneficial features that make them ideal for regular use. They improve your fitness, make going up and down hills easier, help you clear away things in your path, reduce strain on your legs and back, etc. There are many reasons to use these poles on any outdoor outing you end up enjoying.
That said, there are still a few issues that may occur if you decide to use a trekking pole on one of your outings. Like any optional piece of equipment, there are those that may not find a pole as suitable for their activities as others. Here are a few issues that may occur if you decide to use a trekking pole.
1. When You Don't Need the Pole, it Can Be a Hassle
Poles are very useful when they are in use. When they are not being used, however, they become somewhat of a burden. Adjustable length poles are designed to reduce the degree that these poles impact your hike, but they still need to be carried somehow and, depending on how they are designed (especially if they use baskets) they can get caught or tangled in vines, trees, rocks, etc. when they are not in use. Full-length hiking poles should only be carried by those that expect to use them, and adjustable poles are a good way around this problem if you have something to keep the pole in when you are not holding it.
2. When You are Using a Pole, Your Hands Aren't Free
Another problem that may occur when you use these poles is that with each pole you use, you lose the use of one of your hands. Having free hands on a hike or trek is useful, and while trekking poles are great for reducing injury, those that do use them have one less hand available for checking maps, chatting on the phone, eating, or grabbing onto the side of a hill. Those that use their hands on a hike or walk often may find themselves inconvenienced.
3. Extra Expenditure
A benefit that many people like from trekking poles is that they use more of your entire body for the hike. Because there is increased energy for your upper half and core (energy that is focused just on your legs), hikes can be more beneficial to you physically. But some people would prefer not to use their entire body and keep the energy on their legs, in which case the benefits of the pole are no longer benefits.
Poles Are a Valuable Tool
Hiking and trekking poles are valuable pieces of equipment for those interested in going out on long hikes or walks. Still, they are not for everyone, as those that do not want to expend extra energy, temporarily lose the use of their hand or have no place to store it will not find it as enjoyable as others that may choose to use the poles.
What other uses do trekking poles have?
The general purpose of trekking poles is to allow you to trek for longer than you would be able to without the poles. They are made to support the weight, as well as to prevent you from falling or tripping as you hike over some of the rougher terrains.
Still, though they may be primarily designed for trekking over longer distances, they are also useful for your safety. Having a pole or stick in your hand as you walk around can help you avoid many potentially dangerous situations that you can encounter in your travels. Here are several examples of how a hiking pole can help you protect yourself while you are traveling in the outdoors.
1. Moving Aside Brush
When you are trekking for a long distance, you will likely encounter many areas with thorns, poison ivy, sharp twigs, etc. With a trekking pole, you can easily push these down or move them aside so that you do not have to walk into them, without disrupting your travel.
2. As a Weapon
In the rare event of an animal attack, the pole can easily be a makeshift weapon, giving you a long pointy stick that you can use to scare away or push away any animals that may be showing aggression to your arrival. Knowing that you have a pole that you can use for safety is a benefit on its own. The poles also allow you to touch animals that you are unsure if they are sleeping or deceased so that you do not have to put your hands or face near them.
3. Removing Spider Webs
There will be times that you encounter spider webs on your travel that you need cannot avoid. With the trekking pole, you can gather up the web at a distance so that you do not have to touch or be near the insects, allowing you to walk through it unimpeded.
4. Testing the Ground
Occasionally you will come across ground or terrain that looks unusual, and you may not be confident enough to cross without testing it first. The hiking poles can be pushed into the terrain first so that you can know that it is possible to cross without hurting yourself.
5. Emergency Tools
Many of the more modern hiking and trekking poles come with their emergency tools in case you are stuck in an unknown area with no cell phone or reception. There are hiking poles with their whistles, their own compasses – even their flashlights – all designed to help you find your way out of a dangerous situation and possibly help yourself get rescued in the event of an accident.
Keeping Your Hiking Pole With You
Trekking poles may be designed to support yourself over long travel, but they are still a long, pointy stick with other features and uses available when you need them. You should never underestimate the value of having a sturdy object on hand when you travel for ensuring your safety and giving yourself a valuable tool in case you need to protect yourself while you are deep within the outdoors.
Are there any cheap alternatives to hiking poles?
When you buy a hiking pole in a store, you are getting a carbine stick made specifically to handle the pressures of a long hike. The length is designed to be perfect for your height, the shock protectors are placed in such a way that there is reduced vibrations on your arm, the tips are meant to stick into the dirt, and the handles are designed for comfortable maneuverability.
But when you do not have a hiking pole on hand, you may w
ant to make one out of the materials you do have on hand. Though you could try to use a stick that you find at the mountain, chances are you want to use something that will be more likely to withstand the entire journey, and it is tough to depend on a stick that you find on the ground to handle that type of pressure.
So while purchasing a professional hiking pole is a better decision for those looking to make several hiking trips, those that are about to leave for an outdoor excursion and do not have a hiking pole on hand may be able to make use of the following makeshift options.
1. Ski Poles
Ski poles have many of the same features as hiking poles. They are not designed for quite the same purpose, they tend to be heavier, and their baskets and points are designed to handle snow, rather than rough terrain, but if you have ski poles on hand and are in need of support for your hiking trip, ski poles do make good temporary hiking poles (and are easier to borrow from a neighbor). Just make sure not to break them.
2. Shower Curtain Rods
A little longer than you need but more durable, shower curtain rods are lightweight for their material and can handle quite a bit of pressure, so they will be able to withstand a long trip. They are certainly not ideal, as they have no basket and a poor grip, but if you can plug the bottom end (so that the rod is less likely to sink into the sand or dirt), a shower curtain rod will be able to handle a single journey.
3. Broomstick/Mop Stick
Many brooms and mops come with removable shafts in case you want to replace the bristles. The stick itself is usually quite strong, made of wood or another powerful material, and does not have the open hole that the curtain rod does that can cause the stick to sink deep into the dirt. Broomsticks are not going to be able to handle more than one or two hiking trips, but they are still a decent alternative to having nothing on hand.
Makeshift Hiking Poles
Hiking poles were made for several long hiking trips and journeys, making them the ideal choice for when you go out. But should you need one and not have a hiking pole on hand, using one of the above alternatives as a temporary replacement is certainly an option.