5 Best Trolling Motors For Kayaks- Guide Attach to inflatable kayak [2022 Update]
It is no wonder that the subject of trolling motors is confusing, you don't troll with them! Get the best list of trolling motors available!
Fishing is known as the most enjoyable and challenging hobbies, which give the opportunity to feel natural while giving a chance to bring back fish for dinner.
For many people, trolling is the best form of fishing, combining both ingenuity and fishing prowess to reel in your desired catch.
But when you troll on your fishing kayak you may need a few items, such as outriggers, downriggers, planer boards, spreader boards and paravanes.
However, the most important piece of equipment you will need when you a trolling is a trolling motor. These motors power your boat and maximize your fishing potential, and we will look at this in a more detailed manner below.
Our Pick For 3 Best Trolling Motors For Kayaks
Trolling motors have different features and specifications, and below we will look at the top 3 trolling motors out there for your kayak, based on their features, functions, power limits, battery life, and speed range.
Best Value
Newport Vessels Mounted Trolling
Best of the best
Minn Kota Trolling Motor
PREMIUM PICK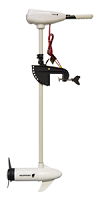 Newport Vessels Electric Trolling Motor
Best Small Trolling Motors For Kayaks Comparison table
Product

Detail

Rating

Minn Kota Endura Transom Mount Trolling Motor

Power: 40 pound
Length: 30″
Weight: 17 lbs.
Speed: 5 Fwd/3 Rev
Draw: 40-42 amps
Propeller: 2 Blade

Watersnake Trolling Motor Kayak

Power: 36lb Thrust
Length: 24″
Weight: 19lbs
Battery Meter: 5 Point LEDMax Amp
Draw: 30 AmpsStock
Propeller: 2 Blade (Small)

Newport Vessels Kayak Series Trolling Motor

Power: 36lb Thrust
Length: 24″
Weight: 23lbs
Speed: 8 speeds (5 forward & 3 Reverse)
Draw: 52 Amps
Propeller: 3 Blade
Handle/ Tiller – 6″

Watersnake Saltwater Transom Mount Trolling Motor Kayak

Power: 18 lb (7-15 amps)
Length: 24″
Weight: 4.85 lbs
Speed: 2 speeds
Draw: 20 amps
Propeller: 2 Blade

Power: 55 lbs
Length: 26″
Weight: 17 lbs.
Speed: 5 speed levels
Draw: 50 Amp
Propeller: 3 Blade

Cell
Cell
Cell
Minn Kota 1366161 Terrova Bow-Mount Trolling Motor
The Minn Kota Terrova 80 is a powerful and advanced trolling motor that makes every fishing experience more productive, more hassle-free, and more enjoyable.
So far, this features Minn Kota's most complete portfolio of technologies, including the highly advanced Universal Sonar 2 and the iPilot GPS.
As a Minn Kota trolling motor, the Terrova 80 comes with all the goodies serious fishermen love about the brand.
Minn Kota trolling motors are built using an indestructible composite shaft that's up to 3 times stronger than steel.
When it gets hit, the shaft simply flexes. It won't break and is also resistant to corrosion.
This trolling motor can also take you practically anywhere, even when there are weedy hindrances, thanks to the Weedless Wedge 2.
This technology pushes weeds away without any additional effort from the motor or power from your battery.
Minn Kota has also improved its deploy lever design to make deployments easier and its electric-steer foot pedal to make it even more comfortable and easier to use.
The ergonomic foot pedal is made of waterproof material and can easily be controlled to adjust the speed, to steer, and to switch the motor on/off momentarily, as needed.
It has made hands-free steering even easier and more manageable.
The good points:
• iPilot GPS
• Universal Sonar 2
• Weedless Wedge 2
• Electric-steer foot pedal for hands-free steering and speed adjustment
• Highly durable
• Safe and waterproof materials
• Powerful and great for larger boats
• Mainly very positive user reviews
The not so good points:
• Not cheap
• Not recommended for those looking for smaller trolling motors
Minn Kota Endura C2Freshwater Trolling Motor
The Endura C2 is a trolling motor innovation from Minn Kota, giving trolling enthusiast the opportunity to take advantage of the best freshwater fishing holes out there.
This high performing transom mounted motor has been built to navigate the most far reaching edges of fishing water, while ensuring that your investment will pay out for a long time to come.
Now for the features that deliver such an amazing trolling experience for everyone on board. The Endura C2 is composed of a 12-volt motor with a thrust level of 30, as well as five forward speeds, and three reverse speeds.
When all of the aforementioned components of the transom mounted trolling motor come together, you are left with a powerful motor that will give you maximum control of your kayak while you are out exploring and fishing in fresh water.
The motor also has a 30 inch high-yield composite shaft, made of nearly indestructible components that are harder than steel. You can go out fishing with the knowledge that this trolling motor shaft will not kink, break or corrode.
However, the most impressive feature of this motor is its 6 inch telescoping handle which improves the ease of operation of the motor by providing you with a comfortable and ergonomic way of maneuvering the kayak.
And we cannot talk about the telescoping handle without mentioning the tilt twist tiller, which works to magnify speed and steering by using an ergonomic grip that provides you with optimized hands-on control on the water.
The Endura C2 also has a lever lock bracket which acts as a sturdy mount that can withstand UV, warping and flexing damage.
This bracket is constructed using composite materials, which makes it sturdier than the standard brackets you will find on the market today.
Highlighted Features
12-volt freshwater transom-mounted trolling motor
6-inch telescoping handle
Cool quiet power maximizes battery life and doesn't spook fish
5 forward speeds, 3 reverse speeds for maximum control
Drill Paddle for Canoe, Kayak, Raft, Boat
The drill paddle is more convenient and versatile then a trolling motor because there is no heavy 12 volt battery to haul around.
Drill Paddle was designed to take the strenuous work out of canoeing and kayaking. This 1.5 pound hands held devise easily hooks to your 3/8 or larger cordless drill.
The Drill Paddle will maneuver on ANY side of your craft, with little effort from you.
The Lithium-Ion batteries last from ½ an hour to 45 minutes at maximum power, and 1 hour or more when cycled every 5-10 seconds.
It will take the craft at a speed of 1-3 knots and out about ½ mile or more, depending on weight of craft and passenger.
The Drill Paddle can be used on a variety of crafts, float tubes, kayaks, canoes, rafts, inner tubes, pontoon boats, both air type, and standard, up to 20 foot long.
For those using Hydrobikes this is a great inexpensive alternative for those who are unable to pedal due to back problems or health problems.
The Drill Paddle will maneuver your craft in any direction without turning around or moving your seat position.
This is a great tool for those who are handicapped as well as the elderly.
The Drill Paddle can be used on a variety of crafts, float tubes, kayaks, canoes, rafts, inner tubes, pontoon boats, both air type and standard up to 20 foot long.
It is an inexpensive alternative to gas motors.
Newport 36lb Thrust Saltwater Electric Trolling Motor
The NV Series 36lb motor from Newport Vessels is designed for small to medium sized boats that are used in saltwater and freshwater.
In this review we will break down the features and talk about why we like it and what we think could be better about it.
As a whole, the NV Series is a very affordable trolling motor with a ton of great features. The 36lb thrust model is no exception.
With a 36lb thrust rating, this motor is best suited for smaller boats (under 16ft) or as an auxiliary motor on larger boats.
The shaft length on this model can be extended up to 30″ which makes it a good choice for boats with higher transoms.
The shaft itself is made out of a composite material which makes it lighter than steel shaft motors but also less durable.
This model has a 5 point LED battery meter so you can easily see how much power you have left in your batteries.
This makes sure you don't get stuck out on the water without enough power to get back to shore!
Newport Vessels includes an 18 month warranty with each NV Series trolling motor they sell so you can be confident that they stand behind their product.
Power – 36lb Thrust (0.48HP Equivalent)
Total Weight – 19lbs
Total Height – 42″
Max Amp Draw – 30 Amps
Shaft – 30″ Fiberglass Composite (1.15″ Diameter)
Battery Meter – 5 Point LED
Handle/ Tiller – 6″ Extension
Stock Propeller – 2 Blade (Small)
Intex Motor Mount Kit for Intex Inflatable Boats
Kick back and relax while cruising down the river on an Intex inflatable boat with this motor mount kit.
The kit lets you attach up to a 3.5-horsepower motor to the rear of your Intex boat, so you can rest your paddling arms and float in comfort.
The mount–which is made of marine plywood with aluminum support arms–attaches and detaches easily, so you don't have to spend a half hour fussing with the components each time you want to use the motor.
Plus, the mount disassembles quickly when you return back home for easy storage in your garage or closet.
The motor mount kit is compatible with the following Intex inflatable boats:Challenger 2, 3 & 4 Seahawk 2, 3 & 4 Excursion 2, 3, 4 & 5 Mariner 400 Seahawk II
Product Features
Motor mount kit designed for Intex inflatable boats
Lets you attach up to 3.5-horsepower motors
Made of marine plywood with aluminum support arms
Attaches and detaches quickly; disassembles for storage
Compatible with most newer model Intex boats
Why Do You Need A Trolling Motor On A Kayak?
Allows you to move quicker
You are able to cover a large fishing area as compared to paddling
You are able to cover a large fishing area as compared to paddling
You are able to cover a large fishing area as compared to paddling
Things To Consider
There are several debates on why you need to have a trolling motor on a kayak or boat that is designed for paddling.Doesn't this promote laziness and take away the fun of being active and exercising?However, this is not the case. Trolling motors are very effective when you are covering a large fishing area fast without getting tired.
Boat Size
The size of your kayak will determine the type of trolling motor that you will require. The motors come in 12 volt, 24 volt and 36 volts.
For instance, if you are have a 16-foot kayak you will definitely need a 12 volt, 55lb motor. If your kayak or boat is 19-foot, you will need a 36 volt motor that is close to 100 lb.
Apart from the size of your boat, the weight of your vessel will also determine the type of trolling motor. Boats up to 1,500 pounds will require at least a 30 pound thrust motor while those weighing up to 4,000 pounds will require 80 pounds of thrust motor.
Unfortunately, many anglers are not aware of the weight of their kayaks or boats.
Available Battery Space
This is another factor that highly depends on the type of boat that you are using. As I mentioned earlier, trolling motors come in 12, 24 and 36 volts. In other words, you will require up to three batteries respectively.
Depending on the space that you have, you will be able to make the right decision on the number of batteries that you should buy for your kayak.
Type Of Water
There are different trolling motors that are designed for both saltwater and freshwater. For instance, the VariMAX 12-Volt Saltwater Trolling Motor(reviewed below) is perfect for saltwater fishing because it does not corrode. This type of trolling motor has a special coating for corrosion protection and durability.
Mounting Place
Basically, there are two types of strolling motors, transform-mount motor and bow-mount. The transform mounted trolling motor is mounted at the back transform of the boat, and it is hand operated. If you have a small boat with a flat back, this is a superb selection.
On the other hand, bow mounted motors can be hand-operated, foot operated or controlled wirelessly. These types of motor provide improved control and easy maneuverability. In addition, they are expensive as compared to the transform motor.
How to attach trolling motor to inflatable kayak
If you are not aware of how to attach trolling motor to inflatable kayak, then it is high time you've learned something truly interesting. An inflatable kayak is something that can give you the utmost pleasure of having adventures times. An inflatable kayak is a form of the boat that is inflated through the air by pumping air in it (that might be automatically or manually). Through inflatable kayaks, kayakers with a bladed (single or double) paddle row the kayak with necessary force to move forward.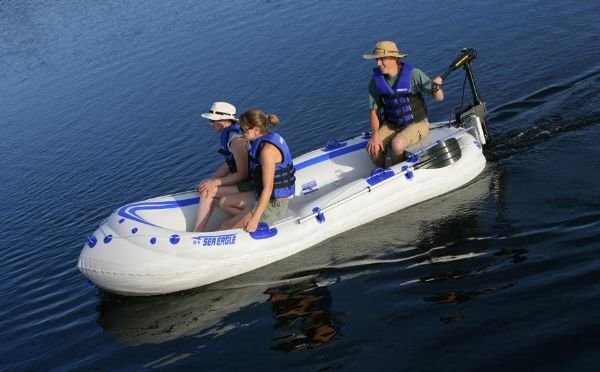 However, kayaking is something that feels like out of the world. One who has kayaked through toughest and thrilling way would never forget such experience. An inflatable kayak can also be used for fast boating on plane watercourses also. In such cases, you can kayak manually or use a trolling motor mounted on it.
What is a trolling motor?
A trolling motor is just electrical equipment mounted on the back of the kayak. This equipment has two three primary parts- one is the battery or the power source, second is the motor which revolves rapidly according to the speed regulations and third is the fan or the blade which is revolved by the motor rotation.
What trolling motor does when mounted on an inflatable kayak?
When a trolling motor is inserted or placed rigidly in the back of an inflatable kayak, then you can move forward with your kayak through just a push. You won't need to kayak the boat to move forward. However, to take turns, you have to sway the blades of your paddle placed right after the motor blades to change water thrust directions. Seeing the back portion of the kayak, if you move the blade to the right, the kayak will move towards the left side from the front. If the blade is turned left, the kayak will turn right. It's just a vice versa relation.
How to attach trolling motor to inflatable kayak?
Attaching a trolling motor at the back of an inflatable kayak isn't of too much hassle. All you need is the kayak inflated at higher space above ground level; so that you can mount the trolling motor precisely without damaging the fan blades. Secondly, you'll need all the gadget and gears to screw the motor tightly to the kayak infrastructure. However, steps to be followed simultaneously are-
Get your kayak very clean and free from gave ceases. Also, get your kayak adroitly washed. After that, inflate your kayak with necessary measures.
Make sure that you place your inflated kayak above your waistline; in this regard, you can keep your kayak on the bench or two distant objects.
When you've placed the kayak suitably and then go to the back portion of the kayak and start bolting the trolling motor structure frame to the kayak tightly. Sometimes, kayaks come with options for nuts and bolts for trolling motor attachment, and you can opt to buy those while you plan for one.
After fitting the structural frame to the kayak, you can easily push the trolling motor and place to the groves of the motor frame; this will help to reduce motor vibrations as much as possible for the kayak and keep it steady to a certain direction.
Place the battery before the motor frame inside the kayak space. This is the power source for the kayak trolling motor. That's it! Attaching a trolling motor to an inflatable kayak is this easy!
Things to remember while connecting a trolling motor to your inflatable kayak:
A trolling motor is electrical equipment which, along with the battery; will weigh more than the kayaks total considerable weight. Therefore, there is a chance for the kayak to drown at the backside. Like this, there are certainly more things you have to remember while connecting a trolling motor to your best inflatable kayak–
While you are attaching your trolling motor, make sure the motor fan blades don't get damaged or hit by any other objects. This might distort the blade curves and ultimately distort the fan qualities.
Make sure the kayak is placed at a high level before attaching the trolling motor. The motor fan will be drowned to below the water level while kayaking and therefore, you have to make sure if the fan has been dipped under the water or not after the kayak has been loaded.
There will be a battery provided for the trolling motor. This battery is way heavier than any other objects in the kayak. Make sure you put extra weight on the front or have inflated the kayak accordingly so that it doesn't get dipped or doesn't go to the water surface closely.
Conclusion:
A trolling motor can lessen all your labor down to zero. For kayaks, trolling motors are inserted only when you are up to using the kayak as a traveling boat. However, inflatable kayaks can be very fast while using a trolling motor. To do that and save your traveling time through narrow watercourses, you better know how to attach trolling motor to inflatable kayak.