March 23, 2020
Crossbows For Hunting
Looking for the best crossbows for hunting? Crossbows are fast becoming popular among bow hunters. Crossbows are easier for most people to learn with and have a lot more impact power able to take down the big bucks. When going deer hunting, you want to have the best crossbow that you can, using a crossbow will help improve your accuracy, giving you a better chance at bagging that trophy buck this deer season. Featured below you will find video reviews and more news about crossbows for hunting and other crossbow accessories.
Best Value
Barnett 78128 Whitetail Hunter II 350 FPS Crossbow
Barnett loading system

3lb zero-creep release

Power Stroke: 12.5

Feet Per Second: 380 FPS

Draw Weight: 150 lb

Length - 20 inches

Includes: 4x32 scope
Best of the best
CenterPoint Sniper 370- Crossbow Package
System: Compound


Axle-To-Axle (Cocked): 18.00


Power Stroke: 13.50


Feet Per Second: 370


Draw Weight: 185lbs


Length - 36.5 inches

4x32 scope
PREMIUM PICK
Tenpoint Turbo GT Crossbow Package
System: crank

Axle-To-Axle (Cocked): 17.5"

Power Stroke: 12.6"

Feet Per Second: 340 FPS

Draw Weight: 175lbs

Length - 36"

3x Pro-View Scope
Best Crossbow Reviews
Crossbows are one of the weapons developed centuries ago that changed the face of projectile warfare. Back where live ammunition wasn't available yet, arrows were deadly because they could hit enemies that are a distance away.
Below are our choices for the best crossbow available. But because the cost of these weapons varies significantly from those around $100 to those over $1000 and more, we've divided the models by price so whichever cost you're most comfortable with you'll be able to get the best crossbow for your needs. Included with our choices are our crossbow reviews of each of these x-bows to give you a clear idea of why they're among the top products in their class.
Cheap Crossbows
For the beginner and those who don't want to spend a lot of money for a crossbow, our list of the top cheap crossbows may be just what you're looking for.
All considered, these are not cheap equipment. Many of them cost over $600 which is a sizable sum for most of us. So before jumping in and just buying any of the products be sure you know what you plan on using it for.
Here are some tips:
If you want it for recreation and just shooting at targets, maybe a mini crossbow or even a pistol crossbow will work. Our mini and pistol crossbow picks will probably be more useful for you.
If you're more serious and want to shoot longer distances with them, and maybe do some hunting but want to stay on a budget, our picks below cover different price levels from those below $200, all the way to those just below $400.
If you're planning to hunt with them, are committed to the sport, and willing to invest in equipment, our top hunting crossbows will give you good ideas.
So now we move to the picks per price level.
Best Crossbow for the Money
Best Cheap Crossbows under $200
SA Sports Fever
SA Sports Fever CrossbowFor beginners who want to enjoy shooting at targets and doing some small or medium game hunting the SA Sports Fever recurve crossbow another affordable option. Very similar to the Inferno Fury in specifications, it comes with a 4×32 multi-reticle scope, shoulder sling and automatic safety that allows both right and left handed shooters to access easily.
It is short at 31 inches in length, but like many recurve crossbows has a longer limb to limb wingspan (at 27 inches). While easy to cock, you'll need to deal with the long width if you're in a blind or a stand. Though make sure that if you're hunting with this to limit your range since it isn't built for serious hunting.

Under $300
Barnett Jackal Crossbow Package
Topping our crossbow reviews best under $300 list is the Barnett Jackal Crossbow. While there are some lower cost models under $200, the Jackal's build and performance gives it a step up above them. This weapon is a relatively short 12-inch draw length and 'light' 150 lbs. Cocking weight yet packs 315 feet per second arrow velocity on release. Still be sure to use the rope cocking device to ensure you're cocking the weapon evenly on both sided.
One of the main reasons it is very popular is because it balances both cost and quality giving you hunting crossbow that can be used for harvesting turkey, elk, and deer. The Jackal comes with a military style stock, and its grip is separated. This lets users grip the weapon more like a pistol which leaves your hand with more freedom.
One of the best crossbows money can buy if you're starting out or don't want to spend a ton of money though it works well for experienced shooters and seasoned hunters as well. It uses a 3.5 trigger pull which is a standard Barnett uses in almost all its crossbows except for a select few. This gives users the knowledge that they can quickly get that feel when switching or upgrade to other models. It also comes with dry fire prevention safety, so you don't accidentally shoot when there isn't an arrow seated or seated properly which saves the life of the crossbow.
Cons:
Scope
Heavy
Strings split easily

Barnett Wildcat C5
Barnett Wildcat C5 CamoThe Barnett Wildcat C5 is very similar to the Jackal, and the two are staples in the low-cost category because of their ability to mix shooting power with controllability. Both come with 150 lb. Limbs and shot with similar speeds and power. The Wildcat is a bit heavier and uses a more standard Barnett style grip and stock (thumbhole), while the Jackal has a military style stock with pistol grip.
You will pay a little extra for the Wildcat C5, and have more options regarding color and scope. For a budget perspective, the similarity of the two makes it more worthwhile to skip the little extras and go with the less expensive Jackal. Though you may want to at least look at the Wildcat package options in case something stands out to your preferences.

PSE Copperhead TS Crossbow Package
While the Jackal was somewhat easy for us to pick, the second slot was more difficult to fill. There were some candidates, but they each had drawbacks that could make you sway between them depending on your preference. When choosing budget crossbows a good number, you always want quality for the price, and after a long decision process, we've ended with one, or maybe two. We'll explain, you'll see.
Made by another well-known brand in archery circles, our second pick, the PSE Copperhead TS Crossbow is rated at 260 feet per second with a draw weight of 150 pounds. It has a Mossy Oak camo pattern on a rifle style stock and features a trigger assembly that will automatically engage the safety when you cock the X-bow.
Built for all weather use, it will keep up with you when the weather suddenly turns from dry to wet conditions while deer hunting. One of its strong suits is almost anyone can easily handle Copperhead. It offers low recoil, and it doesn't take many shots to get adjusted and comfortable with it.
The reason we had trouble finalizing our second pick here is we were torn between the Copperhead and the faster Carbon Express X-Force 350. This is a problem with doing crossbow reviews sometimes there isn't that one clear winner. In this case, both are similar in price, but the major differences are the X-Force 350 gets up to 300 FPS vs. the 260 FPS of the Copperhead. It was also lighter, shorter, included noise suppression. Together it felt like the better pick. At least until the trigger issues.
For a high powered X-bow, a heavy trigger pull may be acceptable, but here we're looking at a portion of the users going to be beginners and those just getting into crossbow for deer hunting and shooting it isn't. The key thing here is not everyone has that heavy trigger. And for some who have more pull weight, they aren't bothered by it. But be sure a hard trigger can affect your shooting and of course your accuracy. The only way to make sure about this is to test and squeeze it for yourself. If it feels good, then it fits you.
So ultimately the trigger issue the X-Force 350 'forced' us to go with the Copperhead. In the end, we want to get smooth, accurate and consistent shots that won't take the fun out of both target shooting and hunting.
Currently unavailable.
Best Crossbows for Hunting Under $500
Arrow Precision Inferno Wildfire II
We finish this group with another recurve in the Arrow Precision Inferno Wildfire II. The cheapest among this group at $410, it only trails the Barnett Penetrator by 5 ft/sec in terms of velocity making it one of the fastest shooters at $400. This is a lighter alternative to the Barnett with enough power to take on grizzly bears moose and other very large game.

Under $750
Barnett Buck Commander Xtreme Crossbow (BCX)
Barnett BCX Buck Commander XtremeAt under $700, you'll be hard-pressed to find a better ox-bow than the Buck Commander, making it the next item on our crossbow reviews. For clarity, this line has two different models; there's the Buck Commander Xtreme (BCX) and also there's the original Barnett Buck Commander.
Both are very similar since they're the same line, with the BCX being the newer model that supersedes the Buck Commander. The main differences being Commander BCXteme is lighter, at 7 lbs. Compared to the 8 lbs. of the Buck Commander. You also get a 10-pound increase in draw weight to 185 lbs. On the BCX, along with a slightly shorter power stroke and smaller overall body.
Both shoot at 365 FPS and offer exceptional accuracy. When sighting these in, make sure you exercise safety precaution by using thick targets or pad the area behind the targets. These will shoot the arrows right through your targets if you don't do that. It's important because you don't want to lose your bolts when just starting out. And more importantly hurt people or damage property.
The Buck Commander line belongs to Barnett's CarbonLite array of products which uses its CRT front ends which stand for Carbon Riser Technology. So instead of the heavier metal construction, they use durable carbon material to lessen the weight which moves the weapon's center of gravity towards the shooter. This improves the weapon's balance and makes it easier to control.
Both Buck Commanders are very accurate and fast, they are also easy installs and come with good optics that allow you to adjust for windage and elevation.

Excalibur Ibex SMF Crossbow Kit
If you're in the market for a crossbow and have a shot at acquiring an Excalibur at a reasonable price, you should take it. From one of the best brands regarding quality and performance, our next best crossbow for the money pick at under $  is the Excalibur Ibex SMF Crossbow (it's just over $ ).
Those looking for a light xbow have one in the Ibex which weighs less than 6 pounds. It is also easy to cock despite its 175 lb. Drawing weight. Fairly easy to maintain, string replacement is easy, in case you need to change the strings it can be done quickly. Sighting in the Ibex is also quick work as only small adjustments will be needed to get it zeroed in. These are some of the features that make it ideal for a first crossbow, for those just starting out, beginners and youth crossbow shooters.
Intermediate and experienced hunters will appreciate its power. It easily takes down an 8 pointer and is primed for hunting large game. With a 305 FPS velocity rating, it shoots very consistent and holds very well. The overall size also makes it easy to maneuver when you're stalking prey and are holed up in tight places.
This recurve crossbow has a lifetime warranty so when issues arise you can expect Excalibur to provide you with replacement parts.
While looking at the Ibex, we'll quickly include its sibling, the popular Excalibur Axiom SMF Crossbow, in our crossbow reviews because the two are practically the same, but not totally. Most of their features and specifications are the same as the draw weights and speed. Where they differ is in feel because they're physically different which gives you a very different shooting feel.
The Axiom SMF has a stock with the hand grip separated from it, while the Ibex SMF uses a thumb hole. The Axiom's length is also longer, and it comes with less travel on its trigger compared to the Ibex. In the end, if you're choosing between two, it will be all about preference and feel, as both similar pack power and are very accurate.
Under $1000
Excalibur Matrix 355
Excalibur Matrix 355If you prefer a recurve crossbow's simplicity and reliability, there's no denying that Excalibur Matrix 355 is among the best in the world. The different platform eliminates the heavier front to rear weight ratio that compound crossbows have due to the much simpler design. This gives the shooter a more balanced, lighter bow that shoots extremely accurate and has very little recoil and noise. This also means you'll need to do much less maintenance since there are no extra wheels and cables.
Extremely accurate over long distances the Matrix 355 is equipped with a very high-quality scope and Realtree Xtra camo.

Barnett Ghost 410 Crossbow Package
If you've got the cash to spend and wanted to get a top quality ox-bow, the Barnett Ghost 410 Crossbow should be on your shortlist. This is another Barnett production on our crossbow reviews. Falling under the company's array of CarbonLite Crossbow models, it has a high energy cam, string and cable setup installed on a lightweight carbon riser. What this means it gives users more power without the burden of a heavier front end. As a result, this X-bow weighs just a shade over 7 pounds, yet fires an impressive 149-foot pounds of energy of arrow speeds of 410 feet per second.
When you're spending this much for a xbow, you expect something that you can take out to the woods and hunt just about anything, and the Ghost 410 delivers just that. Bears, moose, and other large game are all within the weapons choice of prey. It is very similar in design to its predecessors the Ghost 400 and Ghost 350, using a step through foot stirrup which appears to be built into the frame of the xbow instead of it being a protruding attachment like you see in most similar products.
Power is useless if you can't hit the target, and on that front, the Ghost 410 can deliver. Thirty-yard shots hit to center with groups expanding to between 1.5 to 2.5 inches at 50 yards depending on your aim, experience, and control. At 70-80 yards, you can expect between 2 to 3-inch distances. The lighter front riser helps you keep the nose up while shooting as your off hand carries less of the weight due to the shift in the balance of the weapon. It uses a 3x scope with illuminated green and red dots if you need to aim during darker conditions.

Click here to read our review of Barnett Ghost 410 CRT Crossbow Package
The Ghost 410 is among Barnett's elite line of carbon designed crossbows that deliver one of the fastest arrows around. Nicknamed after the arrow velocity, it delivers this Ghost model fires bolts at an initial speed of 410 FPS ranking it among the fastest in the market.
So did Barnett just focus on speed and forget everything else or did they make sure that the Ghost 410 gave shooters a top notch crossbow overall? Here's our review.
Barnett Ghost 410 Crossbow Package
The Ghost 410 kit includes the CarbonLite crossbow, 3 22" Easton arrows along with field tips, rope cocking aid, assembly tools, and users manual. This pretty much sets you up for all the things you need to put the bow together and go out start shooting without having to worry about ordering any other things.
Also included are the following crossbow accessories. A detachable quiver, crossbow sling, and a 3×32 mm illuminated scope that gives you red, green and black reticles.
Design
The Ghost 410 is the flagship of Barnett's CRT lineup, which stands for Carbon Riser Technology. What this means is that they've swapped out the aluminum or magnesium risers they use for many of their core crossbows like the Wildcat, Quad 400 and Jackal. And in its place use carbon which is lighter than the already very lightweight aluminum and magnesium risers.
The result is you not only get a lighter crossbow overall at slightly over 7 lbs. But also shift the weight distribution within the weapon. Crossbows, especially compound models are front heavy, so the introduction of the lighter carbon material moves the balance of weight more to the center giving the shooter an easier time to control and hold the weapon.
Barnett Ghost 410 top view spans 37.4 inches long and is fairly narrow at 19.8 inches from axle to axle making it easy to maneuver when you need to get around to position yourself for a shot.
Also unique is its foot stirrup design where you have it integrated into the riser's structure. Instead of the solid forearm, Barnett uses a pass-through foregrip that helps keep your fingers away from the string's shooting path.
Altogether, the all black stock with thumbhole grip gives the 410 a look that's as modern and as far away from the traditional wooden crossbow as you'd get.
Specifications
The obvious headliner for the Ghost 410 is its bolt velocity which at 410 ft/sec. Will let you out shoot pretty much any of your friends unless they've got the same model. It comes with a 185 lb. Draw weight which will require you to use the included rope cocking device.
You'll be needing at least 400 grain, 22" crossbow bolts with this shooter, which are the arrows that come with the package. Because of the 410′s speed, you'll easily be able to use heavier bolts without feeling much of its effects regarding speed and trajectory. You'll also want to take advantage of this when hunting which will allow you to deliver more kinetic energy on impact.
Just so you know, with the Barnett indicated arrows, the Ghost 410 pack a whopping 150 ft-lbs. Of energy which will pretty much give you the freedom to hunt the largest game around, be it grizzly bears, bison or buffaloes, should you wish?
Shooting Performance
When it comes to shooting the 410, you'll find a smooth 3.5 lb. Trigger mechanism that comes with an anti dry-fire system, which adds another layer of safety so there are no chances that it can be fired when there is no bolt seated in the rail. The automatic safety engages once the weapon gets cocked.
The multi-reticle illuminated scope also works well and has been pre-sighted at the factory so all you'll need is a few adjustments for windage and elevation and the target will be hit.
The power lets you easily shoot 75 yards with good penetration. What's even better is you'll be getting respectable groups (2 to 2.5 inches) at 60-65 yards and over. We know its got the distance, so the accuracy level at longer ranges gives you a distinct advantage over other similarly priced models.
The accuracy over long range distance, plus excellent takedown power, gives a hunter that extra advantage of still being able to hit his desired target points on the prey even if they can't get any closer without the risk of losing the element of surprise.
Barnett Ghost 410 Crossbow Package Summary
The Barnett Ghost 410 is one of the elite crossbows you'll find in the market. In it, you get what you pay for. Regarding quality, Barnett places a lot of thought and attention to detail, so it isn't just a one-dimensional crossbow that focuses on speed and power. The extra modifications it makes in the design, material used and safety features all add up to make it one of the best crossbows in the market both for target shooting as well as game hunting.
TenPoint Titan Xtreme Crossbow with ACUdraw
When you get to more powerful crossbows, which is what those at higher prices often are, you can expect a few things. These are most will be compound x-bows, they will have high draw weights, and you'll probably have a good number of them with longer power strokes. These are given, since they, together with the design of the bow contribute to the ability to extend speed, range, and precision.
The heavier draw weights and longer power strokes are often an issue since not everyone is built to keep pulling large amounts of forces. If this is an issue for you, the TenPoint Titan Extreme Crossbow comes with an ACUdraw system that eliminates the work. This feature helps it make our best crossbow list. The ACUdraw is one of those crossbow accessories that all of its owners say is well worth it. ACUdraw is TenPoint's crank cocking mechanism that lets you turn the crank's handle to draw your xbow, reducing the amount of work needed. It is installed on the stock and doesn't get in the way when it's time to aim and shoot. As a result, you don't have to worry about dealing with the Titan Extreme's 180 pounds, 12.6 inches draw weight and length.
Built with the ability for big game hunting, the Titan Extremes features a 315 FPS arrow firing velocity on a 7.3 lb. weapon. It shoots steady and provides very minimal pull back on fire. Target shooting, deer and turkey hunting at 30 to 45 yards are some of the things you expect to get excellent results using it.
Parting Shots
The best crossbow reviews presented here gives you not only which products to focus on once you've decided on how much you're willing to spend for a crossbow, but it also gives you a glimpse of the features you will want your final choice to have. Our crossbow reviews include detailed looks at each of the products, so you get a clear picture of what to expect during the decision process.
Currently unavailable.
What to expect with Cheap Crossbows
As mentioned earlier the word cheap is relative. Which is why our list provides more than the cheapest of the cheap. It also gives you a better idea of what lies just above it and which may, in fact, be worth it to spend $  or $  more for a much better product.
We all know that quality often comes at a price. This is because high-quality products will use better components which are expensive. While true, this isn't always the case, and we can easily point out some expensive crossbows that aren't worth your money. In the same light, we also have some low-cost crossbows that match the quality and performance of those that cost 2 to 3 times their price. In our list above the Jackal, Wicked Ridge and Parker bows are some of these that are worth every penny you pay for and more.
These are some of the other things to expect with cheap crossbows. Keep in mind that these are standard sized crossbows, if you're interested in smaller weapons, see our mini crossbow reviews which cover pistol and small crossbows, which cost under $.
1. The Cheapest Crossbows are Recurve Crossbows
You'll notice that the most inexpensive crossbows are of the recurve variation. In our lists, all those under $  are of this type. The reason being they are less expensive to manufacture, design and engineer because there are fewer components involved.
For the beginner and someone looking to keep costs down, not just on the initial purchase but also ongoing maintenance costs, this is the way to go, since there is less servicing involved and you can restring the bow yourself. See our stringing your crossbow tutorial for the step by step process.
2. Lower Draw Weights and Speeds
Compared to the top crossbows, you'll notice that the more affordable crossbows are limited in draw weight and speed. Draw weights in this category fall between 150-175 lbs. Which is a lot more manageable for anyone to cock especially with a cocking aid.
The other noticeable difference between this and higher priced crossbows is the speed. You'll notice that majority of the inexpensive models have velocities between 240 FPS to 300FPS (or just slightly over that). Only the Barnett products, go past 300 ft/sec, with the Quad 400 and Predator going past 340 FPS.
This is why Barnett crossbows are very popular and sell well. They have a lot of affordable models ($400/$500 and under), and almost all shoot much faster than your average crossbow.
3. Hunting Capability is Relative to the Bow
The point above regarding draw weights and speed directly affects this point which is hunting with your crossbow.
One of the major difference between the higher end, more powerful crossbows is that majority of them will have enough power to hunt with. For cheaper crossbows, that isn't always the case.
The products we've chosen above all fit the 125 lb. Draw weight guidelines for hunting so they are all able to hunt with. However, you want to know what your hunting and with those that shoot 275 ft/sec and below you want to limit them to small and medium sized game.
If you plan on hunting large game like moose, elk, bear or bears, you'll want something that shoots 275 FPS at least (preferably 300 FPS and over). There are some excellent choices above, and for more see our top hunting crossbows list.
The reason being you want to have enough power past the distance you're away from the animal plus it still must be able to pierce through the prey to kill it quickly. For the large game, we're looking at 45-65 ft-lbs. Of energy depending on what size the animal. Many 250 FPS bows give you 60 ft-lbs or so, but you do lose about 2.5 ft-lbs of energy for every 10 yards the arrow travels, which can make it a close call or leave it short in the power department.
If you're hunting deer, turkey, rabbits or other small and medium sized game, then you won't have a problem with any of the picks above. If you plan on hunting larger game, you'll want to pick only those with enough power as mentioned above (300 FPS and over).
4. Absence of Technological Innovations and New Features
With lower cost models you aren't going to get the extra bells and whistles includes. The new technological innovations are often released with the newest, high-end products. These include the newer, tougher, lighter riser and limb materials as well as any new safety features.
This is less of an issue because the simplest of crossbows will still do their job. Which is kill prey. Our ancestors used simple wooden x-bows, and they worked fine.
5. Variation in Product Warranty
Warranty is a big issue and when you can get them take advantage of them. This point is related to the next. And regarding warranty, many brands at lower price levels will not have the same warranties as some of the brands that are more expensive.
In our group above, Parker offers the best warranty with the limited lifetime warranty of the original owner. This is as good as it gets. Barnett and Wicked Ridge give you 5 years which are also great.
Higher up brands like Excalibur and TenPoint, which make more expensive bows offer lifetime warranties. So there is a discrepancy to this point.
6. Availability of Certain Brands
Lastly, you aren't going to find all the brands at lower costs. Not all brands offer products at lower prices. In the same token, some brands like Arrow Precision focus on cheap to moderately priced crossbows. Of course, there are some that cover the entire range. So as far as price is concerned brand consciousness may not always go together.
 Selecting a Crossbow
When selecting a new crossbow for hunting, there are a few things to keep in mind that will help you find the right crossbow.The main thing is to get the right size crossbow for the type of hunting you will do, the larger the animal you plan to hunt the larger the draw weight you will want. You also want to get a lightweight crossbow for hunting in a tree stand or hunting blind they are easier to carry.
Always take the time to practice with your crossbow before hunting so you can get the sights set for accurate shooting. Learn the feel of the trigger, and it's firing point when you squeeze the trigger, this way you get a clean, smooth shot when hunting.Practice shooting from the positions you plan on hunting in such as kneeling or from your tree stand to get a feel for the angle and trajectory of the arrow.Knowing how you plan to use your crossbow will help you decide upon the right crossbow for you.
Some crossbows are simply better than others. Since we are committed to giving the best to prospective buyers, we took the time to do an extensive research on the topic and separate the wheat from the chaff. During our examination, we've looked at thousands of models which might be of interest to many customers all over the world and in the United States. We have analyzed a plethora of factors, ranging from owner feedback to the way the item is described and spoken of on a variety of review websites. What's more, we've estimated the value to price ratio and studied the social media activity gathered around the products we've taken into account. After such an extensive checkup, we finally made up our minds about what the best crossbow of 2017 is. Judging by the appreciation it has gathered, we think that the Barnett Jackal is the best product for the money. It's the perfect option for deer hunting and a lot more and comes with all the features and accessories one might ever require from a crossbow. It shoots at 315-ft per second. If you're no fan of Barnett Jackal, you might want to consider the Excalibur Axiom SMF, as we've seen it's the second best unit on the line.
Crossbow Types
You will find plenty of crossbow reviews everywhere if you are ready to do your share of research. The models featured in those types of literature are of two kinds. Each type has its advantages and disadvantages, so a buyer simply needs to establish their personal needs and use that as a guide to making a selection.
A compound bow is characterized by shorter limbs and strings attached to pulleys. This kind has a cam system that enables easy drawing of the bow. The cam system also enables energy storage, which makes the crossbow more powerful. The cocking mechanism of this bow also makes it easy to draw. The shorter limbs enable easy maneuverability in cramped areas.
A recurve bow carries a more basic design, with the limbs facing away from the user. The design is advantageous, as it means less maintenance of the bow due to fewer fragile parts. In the case of the string breaks, it is easy to fix. The bow also offers quiet shooting. A recurve bow is simpler to use, cheaper and is ideal for beginners.
Usability and Performance
Owning even the best crossbow in 2017 is a waste if it doesn't provide the right use for you. Some features are simply not made for fun and target practice, which requires a stationary bow with size and weight. For serious hunting, you will need a high-quality bow.
Lighter crossbows are built for convenience, while heavy ones ensure greater steadiness or stability.
Noise is another consideration for hunters who want their bow to be as silent as possible. A weapon outfitted with parallel limbs provides quieter shots. The cam mechanism of a compound bow makes it noisier.
A fast shot needs a compound bow that stores energy. The bolts are also a determining factor, so it is always best to choose the right strength and size. Bows come with a list of the required type of bolt.
Determine which factor to forego and which to retain before making your decision.
Manufacturer
The top hunting crossbows for 2017 differ by type as well as their manufacturer. It is best to visit a dealer and check out the various types of crossbows for sale. Test crossbows of different weights and sizes. Get a feel of the weapon to see what is comfortable for you and if it carries the features you seek for your purpose. Do online research and read a decent number of reviews before making your purchase.
Extra Features
The cocking aid or cocking device enables easier prep, for greater accuracy during shooting. A rope cocking aid is the most popular, especially when the weapon is used for target shooting. A rope cocking device reduces the workload of string pulling by half.
A crank cocking device is the easiest method to prep your crossbow. Older and handicapped hunters prefer this type.
Crossbow scopes are of four kinds. Optical types feature a cross hatch, while multi-reticle scopes feature a cross hatch with fine lines, for a better perspective of the range. A Single Red Dot scope has one dot that helps with aiming, while the multiple red dots on a Multi-Red Dot scope carry out the same purpose.
A noise-dampening device is placed on the crossbow limbs to reduce the noise and vibrations emitted after shooting.
Best rated models
The best crossbow for hunting 2017 is a product of aggressive advancements on this type of equipment. A crossbow is a historic hunting weapon that has taken all of the world's game, thanks to its high precision. Since it doesn't require plenty of drawing power from the user, the crossbow has become a favorite tool for deer hunters.
Barnett Jackal
1.Barnett Jackal CrossbowIf you're in the market for a complete crossbow kit, the Barnett Jackal Crossbow Package should be first on your list. This kit comes with everything you need to enjoy an awesome hunting experience, including bolts, a quick-detach quiver, and a quality red dot sight. The sleek, military-design stock ensures ease of handling. The synthetic string and cable system are supplemented with the high energy wheels to ensure sustained shooting capability. The crossbow shoots at an awesome 315 feet per second with a 150-pound draw weight, making it agile enough to shoot an arrow through a deer with a simple broadside shot.
Excalibur Axiom SMF
2.Excalibur Axiom SMFThe Excalibur Axiom SMF Crossbow ships in a complete crossbow package to allow you to enjoy a hunting adventure. The crossbow boasts superb craftsmanship and is capable of delivering arrow speeds over 305 feet per second with amazing accuracy and reliability. The huge horsepower enables the crossbow to efficiently handle the large game. Comfortable to cock, the Axiom SMF Crossbow has a 14.5-inch power stroke and a 175-pound draw weight. This weapon is a delight to bring along thanks to its ultra-light 6-pound mass weight. The package also includes a matching multiplex crossbow scope plus mounting hardware, a four-arrow quiver, a rope cocking aid, along with four Firebolt arrows with field points.
Arrow Precision Inferno Fury
3.Arrow Precision InfernoThe Arrow Precision Inferno Fury Crossbow Kit is designed for beginners and seasoned shooters alike. It comes in a complete package that also includes a Quick Detach Quiver, four 16-inch bolts, a padded sling, a 3 Red Dot sight, a rope cocker, along with an extra sling. Superbly lightweight and compact, the Arrow Precision Inferno Fury Crossbow boasts a fully dipped camo pattern for the ability to sustain stealth hunting, plus an aluminum rail and barrel that ensure exceptional toughness and durability supplemented with the compression fiberglass limbs. The thumb guard adds a factor of protection.
Southern Crossbow Risen XT 350
4.Southern Crossbow Risen XTThe Southern Crossbow Risen XT 350 Crossbow Kit is engineered for both beginners and professional shooters alike. The superbly designed crossbow can also be used by rifle shooters and hunters thanks to its compound levering system. Equipped with an extraordinary customizable AR platform, the crossbow accommodates Weaver and Picatinny rails so users can easily mount laser, flashlights, sights and night vision riflescopes as well as any tactical accessory that goes with the AR platform. The adjustable vertical foregrip and collapsible stock allow the users to modify the weapon according to their build or shooting position.
King's Archery Self-Cocking
5.Crossbow Self-CockingFrom King's Archery comes to this crossbow with built in cocking device. This weapon ships as a self-cocking crossbow constructed from robust fiberglass for superior durability. Shooting one arrow after another is easy thanks to the self-cocking feature. Reload and fire one shot after another to bring the prey down effortlessly and quickly. The adjustable sights allow you to take precise aim. Purchase this tool, and you'll get real value for money, as it ships with three aluminum arrow bolts along with five bonus 12-piece packs of colored PVC arrow bolts. That's 63 crossbow bolts in a single package!
Buy a Barnett Penetrator Crossbows For Hunting Today!
Barnett Jackal Crossbow Package
This Jackal crossbow boasts an incredible 5 to 1 safety factor. The Jackal comes complete with CROSSWIRE Strings and Whiplash Cams which provide a smoother, quieter and more precise shot in a compact fit. With the Anti-Dry Fire and the Metal Injection Molding trigger system that has 315 FPS speed, the Jackal is the crossbow to own!

What to Look for in a Hunting Crossbow
1. Have Enough Draw Weight
Game hunting has some regulations. One of which is hunters need to use a crossbow that passes the minimum amount of draw weight set by each state depending on which types of game you plan to hunt. For many locations, 125 lbs. Is the minimum but you should check your state's laws and make sure your crossbow fits the requirements.
The crossbow's draw weight is an indication of its power. While not accurate this figure can give you a basic idea whether or not it is fit for hunting. Our best hunting crossbow picks range from 150 to 175 lbs. With some over that, which ideally the amount you want.
Note that you want enough draw weight and not too much. Too heavy a draw weight means it will be harder to pull the string back. So unless you are strong or use a cranking aid, you don't want to get a draw weight that's beyond what you can pull during the hunting trip.
2. It Must Shoot with Sufficient Speed
Just as important as draw weight is how fast it shoots. We've limited our picks to 300 FPS and above, which is something we recommend. While you can go down to as low as 250 or 275 FPS, having 300 ft/sec. or higher velocities lets you shoot a straighter trajectory within that first 40 yards for better accuracy.
The speed also guarantees that once the arrow hits its mark, it is still deadly enough to kill your prey cleanly.
Note that the draw weight isn't a good indication of speed as you have some crossbows that have 175 lbs. of the draw and shoot 300 FPS, while others with that same cocking effort are easily reaching 330 to 350 FPS.
3. Have a Good Scope
With a hunting crossbow, you'll be shooting at 20 to 40 yards away aiming at specific spots in the animal; you want a good scope that will show you your target as clearly as possible. You want multi-dot or multi-reticle scopes that let you judge the range properly. And also make sure they're sighted in. If your scope uses batteries, make sure you bring spare batteries just in case.
4. The Less Noise the Better
Now when we speak of crossbows being loud, the first thing people will think of is how loud a sound the crossbow makes when it fires. While important, this is less essential than having a bow that can be cocked quietly and doesn't make any noise as you set up.
With the speeds we're dealing with, which is 300 FPS and above, the likelihood that the arrow hasn't reached the prey that's 20-30 yards away before they can react is less likely, than it being spooked by a loud clicking sound when the string hooks to the latch.
So just as important as having a quiet shooting X-bow or one with noise suppressors, get one that's quiet to cock.
5. You Want Something Reliable and Easy to Cock
After waiting for hours the whitetail, you've been waiting for finally comes into your sights. At that exact moment what you don't want is a crossbow that isn't reliable, starts giving you issues or is difficult to cock. A smooth cocking dependable crossbow lets you cock, aim and shoot without problems. The opposite, on the other hand, can leave you with missed opportunities or cause you to make enough noise to scare it away.
6. Consider the length, width, and weight of the Crossbow
You'll be carrying the weapon as you walk to your hunting grounds, maneuver it around to cock then aim and will be in a tight space with your hunting buddies. How long, wide and heavy a crossbow makes a difference between one that's fun and convenient to use to one that you'll just be leaving at home and using sparingly.
How To String A Crossbow
In this guide, we will take a look at the steps on how to string a crossbow. This process is something you'll be doing throughout the life of your crossbow assuming you have a good one which will last for a long time. That's because crossbow strings only last for a certain number of shots and after that, they'll begin fraying.
You'll want to change the string before it gets to the point when it can break when you're taking the shot or cocking the bow since that will be dangerous.
The crossbow stringing and re-stringing processes are similar; the only difference is when you're re-stringing, you'll need to remove the current string before being able to put the new one in.
What You'll Need
Here are the things you'll need for this process:
1. Your Crossbow
2. A Crossbow Stringer
3. New string that's made to fit your crossbow
Make sure that your new string fits the make and model of what you have. This will ensure that you have the proper length, and type of string. Refer to your owners manual which will have this information.
Steps on How to String a Crossbow
1. Find a clean flat surface where you can lay out all the things you need (the X-bow, new string, and stronger) neatly. Just as importantly, space should be big enough to let you cock the crossbow since you'll need to do that to get the new string in.
Now that you're ready and all the tools are there.
2. Take the crossbow stringer and insert the loop at the end of the string into the secondary shelf at the end of each limb tip. Don't put them in the string grooves since that's where the string will go in later. Make sure the stringer's loops are in there securely since you'll cock the bow using the stringer.
3. Pull the stringer back and cock the crossbow by placing your foot in the stirrup and pulling each side of the stringer to the trigger box (see our cocking your crossbow guide for step by step detail).

If your crossbow doesn't automatically engage the safety when cocked, place the trigger safety on safe.
4. If you're re-stringing your bow, remove the loops of your current string from the grooves on the limb tips, before going to the next step to insert the new string. If your stringing your crossbow, skip this step and go to the next one.
5. Take your string and insert one end on the string groove. There will be a hole in the stringer where you can slip the new string through to get to the groove. After you've placed one end, do the same for the other limb. When you have both ends of the string in the grooves you have your new string in place.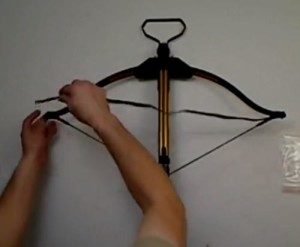 inserting new string to crossbow limb 26. Uncock you crossbow by either firing it with an arrow to the ground or safe target, or pull on the stringer and slowly let it down (while your foot is in the stirrup). When you've done this, all the tension will be one the bow and you've successfully strung or re-strung your crossbow.
7. Remove the stringer from your crossbow.
Some Additional Notes
This process only works for recurve crossbows not for compound ones. See our recurve vs. compound comparison for more information between the two. If you have a compound crossbow, you'll need to take it to the shop to get it strung, re-strung since they'll need to use a press to do that.
The stringer will be longer than the regular string. The reason for this is so you can easily insert it into the limb tips without bending the limbs.
Congratulations You're Ready to Shoot
That concludes our tutorial on how to string a crossbow. And now it's ready to be taken out to shoot.