Top 5 Best Laser Rangefinders for Hunting In 2023- A Comprehensive Review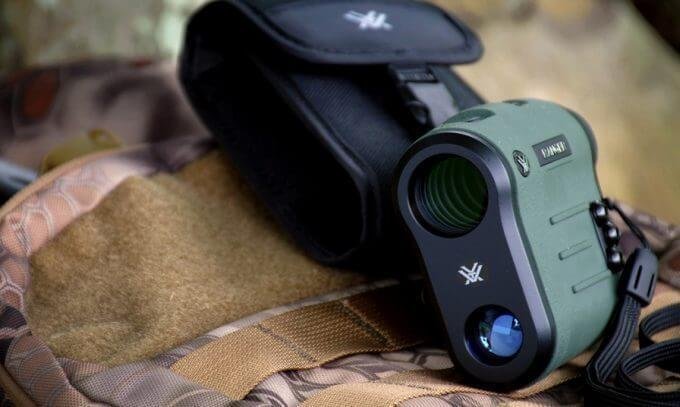 Top 5 Best Laser Rangefinders for Hunting – A Comprehensive Review>>> Are you an outdoor hunting enthusiast looking for a reliable tool to help maximize your success in the field?
Laser rangefinders are becoming popular pieces of technology among hunters.
Rangefinders are popular among hunters, in various sports and with military personnel.
Whether ranging huge distances or checking fine features like yardages between trees, laser rangefinders can give you a massive advantage in planning your next shot.
In this comprehensive review we'll cover our top five picks for best and most accurate laser rangefinders for hunting, as well as how they measure up against each other through their unique design and feature sets. Read on to find out which laser rangefinder is right for you!
Best Rangefinding Binoculars: Reviews & Recommendations
Bushnell Engage Hunting Laser Rangefinder – Best Overall
Features:
2x brighter image with a 50% larger objective lens and an all-glass optical system
ARC technology for angle range compensation
EXO Barrier coating for protection against water, oil, fog, dirt and debris
Multiple modes (Bullseye, Brush, and Scan) for different ranging needs
Measures distances up to 1,300 yards reflective and 600 yards to deer
Includes durable carrying case, para cord, and lanyard tether
Pros:
Brighter image due to the larger objective lens and all-glass optical system
Accurate measurements with ARC technology
EXO Barrier coating keeps the lens clear in all conditions
Multiple modes for different ranging needs
Easy to use and carry with included accessories
Cons:
The electronics don't come with a lifetime warranty
Not suitable for measuring tree height
Some users have reported bugs in the display.
The Bushnell Engage 1300 Hunting Laser Rangefinder is an absolute must-have for any hunter.
Not only does it come with a 50% larger objective lens, but it also has an all-glass optical system that allows you to get a much brighter image than before.
On top of this, the rangefinder also comes with Arc technology, which helps you compensate for any terrain angle, so you can always be sure that you are getting accurate readings.
But what really sets the Bushnell Engage 1300 Hunting Laser Rangefinder apart is its EXO Barrier Coating.
This coating helps to ensure that your vision remains clear at all times, no matter what type of environment you're in and no matter how far away your target is.
Its basic scan mode makes it easy to pinpoint the right target quickly and easily – just press and hold the fire button and the display will update itself instantly as you pan across multiple targets.
So if you're looking for something that delivers unbeatable precision when it comes to ranging distances out in the wild – look no further than the Bushnell Engage 1300 Hunting Laser Rangefinder!
Bushnell Laser Rangefinder Bone Collector : Best Rangefinder under 200$
Features of Bushnell Laser Rangefinder Bone Collector:
HD clarity optics
Single button operation
Displays exact distance from 10 to 600 yards with +/-1 yard accuracy
4x 21mm magnification and objective lens
Realtree Xtra camo pattern
Rugged, rainproof plastic housing
Class 1 laser with <1mW average power output
Lightweight and compact design
Waterproof and IP54 rated
Pros:
High-quality optics
Durable design
Easy to operate
Accurate distance measurement
Bright and clear optics for low-light use
Camo pattern and waterproof housing
Lightweight and compact design
Cons:
Does not adjust for angle
May be difficult to use in complete darkness
Some users report inaccuracies in low light conditions.
The Bushnell Laser Rangefinder Bone Collector is an outstanding tool for every hunter and marksman. With its quality optics, HD clarity and stunning visuals, this rangefinder will help you always hit your target with incredible accuracy.
Made from 100% quality materials, it has been tested extensively to ensure maximum durability and to last through any outdoor conditions and rough terrain.
Its simple one-button operation makes it incredibly easy to use no matter the situation.
Plus, its Realtree Xtra camouflage pattern allows you to stay hidden when you want or need to – perfect for hunting season!
The rangefinder displays exact distance readings from 10 – 600 yards with +/- one yard accuracy, allowing you to be confident in knowing exactly what your target's distance is.
Additionally, the built-in Class 1 laser has an average power output of <1mW which increases safety while being used in the field.
And with its bright crystal-clear optics, you can even target in low light conditions.
In short, if you're looking for a reliable and accurate rangefinder that lasts through anything outdoors, then I'd highly recommend the Bushnell Laser Rangefinder Bone Collector!
Vortex Optics Ranger Laser Rangefinders -Best For Long Range Shooting
Vortex Optics Ranger Laser Rangefinders Features:
Ranges up to 1,800 yards
Two modes: HCD (angle-compensated distance) and LOS (actual line of sight range)
Scan feature for continuous range readings
Three brightness settings for display visibility
Fully multi-coated lenses for optimal light transmission
Textured rubber armor for secure grip
Water and fogproof
Neck lanyard and removable utility clip for portability
Compatible with tripod adapter for use on tripod or car window mount
Pros:
Easy to use with clean, illuminated display and highly intuitive menu
Ideal for hunters and shooters, providing distance data for accurate shots
HCD mode is angle-compensated and suitable for the majority of hunters and shooters
Scan mode allows continuous range readings
Water and fogproof performance
Lightweight and compact design
High-quality optics
Cons:
May not provide sufficient accuracy for shooting at distances beyond 500 yards and slopes greater than 15 degrees (LOS mode is intended for such situations)
May not provide consistent returns in low light conditions
I recently had the pleasure of trying out the Vortex Optics Ranger Laser Rangefinder. I must say, I am impressed! With a range of up to 1,800 yards, this bad boy really packs a punch!
Every detail of this model is designed to make long-range hunting and shooting easier and more accurate.
If you're looking for a laser rangefinder that offers accuracy and convenience in a lightweight package, then the this Laser Rangefinder is the perfect choice for you.
This small yet powerful device is capable of ranging targets up to 1,800 yards, giving hunters and shooters all the distance data they need to make accurate shots.
The Horizontal Component Distance (HCD) mode provides an angle-compensated distance reading, and the multi-coated lenses deliver optimal light transmission.
The Ranger 1800 also features o-rings that create a waterproof seal, making it a rugged piece of equipment that can handle harsh environments.
The diopter adjusts for precise focus, while the utility clip keeps your rangefinder secure on your belt or in your bag.
But what really sets this rangefinder apart is its compact, ergonomic design; it's small enough to fit comfortably in one hand and light enough to hang around your neck with the included lanyard.
In short, if you're looking for accuracy, reliability and convenience in one package, then you won't find anything better than the Vortex Optics Ranger Laser Rangefinders.
AOFAR HX-700N Hunting Range Finder – Best Archery Rangefinder Under $100
Features of AOFAR HX-700N Hunting Range Finder:
Advanced pinsensor technology
6x magnification
Measurement up to 700 yards
2 modes (Range and Speed)
Lightweight and portable (110x 75 x 45 mm, 180g)
Waterproof and dust resistant
Comes with carrying pouch, CR2 battery, portable rope, carabiner, cleaning cloth and user manual
2-year VIP and lifetime customer support
Pros:
High precision and accuracy with ±1 yard
2 modes for different circumstances
Durable and waterproof
Comes with full accessories
Lightweight and portable
Cons:
No ARC
May not give accurate measurements to bunkers and water hazards
No tripod mount
Difficult to read in dimly lit situations
AOFAR's HX-700N Hunting Range Finder is a perfect tool for any hunter or golfer. With advanced pinsensor technology, 6x magnification, and accuracy to within +/-1 yard.
You can easily identify your target in any weather conditions with its Scan Mode.
This rangefinder also has two measurement modes: Range and Speed, allowing you to choose the best option for whatever situation you find yourself in.
The HX-700N is lightweight and portable at 180g with dimensions of 110 x 75 x 45mm, making it easy to carry while golfing or hunting.
It's also waterproof and dust resistant with a durable feeling. Best of all, AOFAR offers their VIP two year warranty and lifetime customer support so you can be sure your purchase is protected!
On top of the rangefinder itself, AOFAR generously includes a carrying pouch, CR2 battery, portable rope, carabiner, cleaning cloth and user manual – everything you need to get started on your next outdoor adventure!
The intuitive design coupled with an easy-to-read display make using this rangefinder a breeze.
Whether you're new to hunting or golfing or a seasoned pro looking for the best equipment available – the HX-700N from AOFAR is an excellent choice that won't disappoint.
Based on customer reviews, the range finder is easy to use, accurate, and helpful for hunting. However, some customers have reported that it may be difficult to read in low light conditions and may not always give accurate measurements to bunkers and water hazards.
TIDEWE Hunting Rangefinder with Rechargeable Battery
Features of the TIDEWE Hunting Rangefinder:
6x magnification
Displays straight-line vertical distance, horizontal distance, speed, and scan function
Ranges from 3 to 1000 yards with fast and accurate measurement (+/- 1 yard)
Lightweight (0.35lb) and durable
Easy to use with clear LCD display and ergonomic design
Comes with 750mAh rechargeable Li-ion battery, lanyard, and carrying case
Water resistant (IP54)
Camo pattern design
Pros:
Multi-functional with integration of various measurements
Fast and accurate readings
Lightweight and durable design
Easy to use with clear display
Comes with rechargeable battery and carrying case
Cons:
The focus knob also adjusts the LCD screen causing blurriness in some cases.
TIDEWE Hunting Rangefinder with Rechargeable Battery is one of the best hunting rangefinders I have ever used!
With 6x magnification, it allows me to accurately measure distances from 3 to 1000 yards within +/- 1 yard. And what's more, it displays vertical and horizontal distances and speed for my target!
The weight of this rangefinder is only 0.35lb and its dimension is 4.12" x 2.61" x 1.50" which makes it highly portable, so I can easily carry it around to any hunting trip.
On top of that, it features adjustable focus knob as well as a short press MODE button to switch between "Meter" and "Yards" mode.
Besides, I do not need to worry about running out of power as this device is built with rechargeable Li-ion battery that can last up to 20000 measurements after a full charge!
The LCD display on the rangefinder is very clear which helps me get precise images no matter the weather or light condition at the hunting spot.
The fast measurement speed of <0.5s and user-friendly design make this product ideal for all sorts of hunting scenarios!
All in all, TIDEWE Hunting Rangefinder has become an indispensable tool for my hunting trips due to its amazing features that enhance accuracy and allow for quick measurements without having to worry about battery life or image quality issues.
Highly recommended for all serious hunters out there looking for high-end performance combined with portability and convenience!
What is rangefinder?
A rangefinder is a mysterious, yet immensely useful device that uses laser technology to measure distances to objects or targets.
It works by emitting a laser beam and then measuring the time it takes for the beam to bounce back after hitting the target. This enables the user to calculate the exact distance to the object precisely and quickly.
Rangefinders are used in many different industries, such as sports, military, surveying and construction, as well as for recreational activities like golfing or hunting.
These multifunctional devices offer fast and accurate measurements, making them incredibly valuable tools for all sorts of activities.
They can be used in a variety of ways, from getting an exact measurement of how far away your target is when shooting a bow and arrow to tracking wildlife movements during hunting trips.
With their accurate readings and various capabilities, rangefinder are essential pieces of equipment for anyone looking to get precise measurements quickly!
Different Type of Range Finders
Laser rangefinder/distance meter application
The term "laser" is somewhat redundant in this context since actually, all modern rangefinders work with a laser.
Simple (not in binoculars integrated) rangefinders have the huge advantage that they are particularly attractive for beginners due to their price.
Imagine they hunt in a not particularly heavily wooded mountain area. The short distance can be quite between 100 – 300m, often over a variety of buttocks away.
Even if one often thinks subjectively to be able to reasonably estimate one's distance, one is very quick to ignore it here in a subjective estimation.
Of course, you will never measure the distance before each shot. A realistic approach here is to mark auxiliary points in advance with the help of the rangefinder. With these markings, a reasonably accurate assessment of the shooting distance is more likely.
Hunting binoculars with a rangefinder
A pair of binoculars with built-in rangefinder makes sense, in particular, if you think about buying a binocular anyway.
Here you have to dig deep into your pocket, but experience has shown that investing in good hunting equipment definitely pays off in the long run.
If you are not sure whether such a device pays off for your area of ​​application, take a look at my advantages and disadvantages:
Disadvantage
The disadvantage of these devices is in most cases the relatively high starting price. Furthermore, of course, pure laser rangefinder are often much smaller and more manageable. However, one can oppose the fact that every hunter anyway also takes binoculars with the hunt and thus has both in one.
In particular, the three dominant brands in the range: "Zeiss", "Swarovski" and "Leica" are priced (of course, depending on the model) in many cases not far apart, which makes a decision not necessarily easy.
Which is also a reason against the integrated distance meter for binoculars, the additional electronics. Especially the "old hands" among the hunters prefer as little as possible to technical functions and rely on easy handling.
Advantages
Nonetheless, binoculars also offer a number of advantages that, in our view, are those of the pure rangefinder. (Of course, it all depends on the scope and budget).
As mentioned above, it saves you the take of an additional device. You may already know this from other purchased hunting accessories that they often cannot take with you, but in the end, they might need it.
Especially at night or at dusk, the estimation of the distance is often particularly difficult and you are then dependent on a rangefinder. However, heir often fails the pure distance meter, due to the lack of optics.
Points do the various manufacturers with a variety of features such as image stabilization or a ballistic calculator. This works completely mechanically, silently and with the push of a button on many models. Such a function can be of great help, especially when dealing with the game.
Things to Consider Before Buying a Laser Rangefinder for Hunting
When you're shopping for a laser rangefinder for hunting, it's important to take into account several factors that may affect your choice of the best device. From the purpose and accuracy to magnification, size, weight, and durability—there are many critical aspects you should consider before settling on one specific model. Let's take a look at each of these factors in turn:
Purpose: When shopping for a rangefinder for hunting, it's essential to decide what its primary purpose is going to be. Will it be used for long-range shots? Bow hunting? Rifle hunting? All of these activities require different features from your rangefinder so you need to make sure it suits your needs.
Accuracy: In order to get accurate readings when shooting game or sport animals, a rangefinder with an accuracy of +/-1 yard is necessary. Anything less than this can easily throw off your aim and result in missed opportunities or damage to the animal.
Magnification: For hunting applications, you'll want to look for a rangefinder with at least 6x magnification as this will give you more precise readings and allow you to see further when scouting potential targets.
Range: Depending on how far away the target might be, you'll need a rangefinder with a maximum distance that covers all possibilities. If you plan on taking long-range shots then it may be wise to find one with a maximum distance of 1000 yards or more – although this is not always essential depending on where you hunt.
Size and Weight: You don't want your rangefinder weighing down on your arm as you take aim – especially when bow hunting – so make sure the size and weight are suitable for whatever activity you plan on using it for. Lightweight and compact designs are usually most suitable here since they don't interfere with your movements.
Durability: While some models come with their own waterproofing features, others don't – so make sure that the model offers protection against any potential rain or moisture damage if necessary. It should also have an anti-scratch coating so that regular wear and tear doesn't affect its performance over time. Price: Of course, setting a budget before purchasing is important too! Just remember that all these features come at different price points so consider which ones are essential before taking out your wallet!
Brand Reputation: Look up reviews online or ask people who have previously purchased from certain brands in order to get an idea of how reliable they might be in terms of customer service, quality assurance etc. This will help inform which brand is right for you!
Additional Features: Some models offer extra features such as temperature readings which may come in handy during different weather conditions – just remember that additional features usually mean higher price tags too!
Warranty: Finally, check whether the model comes with any kind of warranty protection if something goes wrong within the first few months after purchase – this could save quite expensive repair costs should anything happen!
FAQ
To help you decide before you buy, here are a few questions that you might want to consider in advance, for example:
Do I already own hunting binoculars? 
If not, an integrated range meter would be a good idea.
What is my budget or how much am I willing to spend?
Example: With a budget of less than $100 you can exclude some brands or models.
Are additional functions and features important to me?
What about the scope? Exclusively for hunting?
No, you can also use the distance meter quite differently. (Note: Many golfers also like to use such a device)