10 Best Camping showers Reviews-Buyer Guide (Updated 2023)
Without a doubt, stepping out and enjoying the beauty of nature is an experience unlike any other, right? While out in the wilderness, you won't have the modern amenities that you're used to every day to get you by inclusive of which is a shower.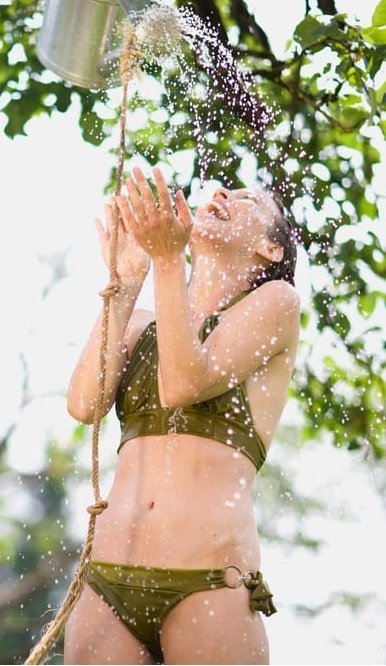 Cleaning and refreshing ourselves at the beginning of each new day is definitely the best way to kick-start our day.
Camping showers are essential for campers who want to shower outdoors. It will allow you to shower even you are outside.
Your trip will be different if you can shower while camping, hiking or padding.
Camping showers are basically portable showers that you can easily carry with you on backpacking or hiking trips.
These showers are very light in weight and very convenient to use.
Camping showers are available in a wide range of different models.
Some of these models include, the ones which have a hand held shower head attached to a hose, the ones which have attached shower heads and the ones which have a built-in pump.
Camping showers are great as they are very light in weight and very handy.
They provide you with an easy way to wash away all the dirt and grime on your body after a long day of hiking or backpacking. They also allow you to save water whenever you go out on a trip.
Comparison Table On 10 Best Portable Showers on Amzon
Before we delve into the individual reviews, how about we, first of all, take a look at a comparison chart below. It's just as good as our product listings with the exceptions that you'll get to have your pick much faster. Here's what we got for you- the best of the best.
Products
Key Features
Rating

1 Hour of Continuous Use
Rechargeable 2200mAh Lithium Battery
5.9 feet of flexible hose
.66 gal/minute

4.9

5-gallon
Large fill port
Weight: 1 lb 4 oz
Solar Shower
Push on and off

4.7

2 1/2-gallon
Solar Shower
4-layer design
Twist-off cap
Velcro straps holds

4.6

5-Gallon Solar Shower
Handy on/off
Heat-locking material

4.5

5-Gallon Solar Shower
Shower Time: 11 minutes
Wide mouth opening
On/Off Lever nozzle

4.3

20L Solar Solar Shower
Heats water to 113°F
Leak-proof
3 hours use time

4.8

12,000 BTU per hour
6 Gallons per minute
4 d-cell battery operated pump
40 minutes of run time

4.3

Pressure Camp Shower
5.8 gallons
Delivers 7-10 minutes
7-foot neoprene hose

4.7

Turns any Bottles Shower
Lightweight (Only 2oz)
Easy To Use
Simple Shower for a quick and easy

4.0
Top Rated 10 Best Portable Showers In 2023 Reviews
Iron Hammer Portable Shower
If you're out for something portable and easy to use at the same time, I'd really recommend that you do take a look at this one.
Intelligent design
With the intelligent design, you'll be getting two water flow conversion buttons. You will also have an outstanding washing pressure and with the shower head being hand-held, you'll use it for more than just showering.
It also does have a built-in filtration system- keeps you completely clean.
Includes a 4800mAh rechargeable design
It includes a 4800mAh rechargeable battery. Two 2400mAh rechargeable batteries within it hence giving you a total of 4800mAh.
When in full power, this portable charger can work for more than 60 minutes. The best part about it is that you can easily charge it up with a USB outlet. It also comes with a discharge protection circuit for utmost safety.
Easy to carry
Disassembling is quite easy and being compact and lightweight, it is quite reliable to have with you outdoors.
Product Specifications
Here are the detailed specifications of the Iron Hammer Portable Shower Electric Shower:
Volt: 3.7V
Lithium Battery: 2x 2400mAh
Water Flow: Low stall 3L/min; High stall 4L/min
Charging Way: DC Input 5V
Charging Time: Depending on your charger (5V/2A: about 4 hours)
Indicator light: Charging indicator light (blue); Low power indicator light (red)
Total length: About 210cm (82.7 inches)
Pump size: Φ 65 x 108 mm (Φ 2.56 x 4.25 in)
Safety water temperature: 5 ℃ -50 ℃
PROS
Includes a 4800mAh battery for long usage
It's a compact and lightweight design
Easily rechargeable using any USB outlet
Provides a decent amount of water flow
Built-in battery with charge and discharge protection circuit
Low battery warning and charge indicator lights
Safe and reliable design
Lightweight and portable
Multipurpose usage
Beautiful and aesthetic appearance
Equipped with a filter device
CONS
It doesn't come with a USB plug
Charging time can be lengthy (about 4 hours)
Charger requirements are specific (output 5V 2A)
RISEPRO Solar Shower Bag
Now here's something that will definitely be worth every penny. This one from RISEPRO boasts a superior design and simultaneously is going to serve you quite well.
Includes a smart heat absorbing design
This is just but many of the features that make this portable shower stand out from the rest. Owing to the fact that it has got a black PVC material, it can absorb solar energy to heat up the water within it.
With direct sunlight, you can get all the water in it heated to as much as 45 degrees Celsius- definitely the best portable shower for camping.
A large water capacity
If you're looking for the best portable shower to use anywhere in the wilderness, then the 40 liters of water provided by this one should suit you perfectly.
You're bound to get a nice refreshing shower anywhere- definitely worth every penny
Quality material construction
It is constructed out of eco-friendly materials that are leak-proof and at the same time completely safe for human health
There's more:
It does have an advanced shower heat which has got easy on/of switch with a low to high water flow variation.
PROS
It has a temperature indicator attached to the bag
A large water capacity as it is able to carry as much as 10 gallons of water
The Black PVC has the smart heating technology- utilize the solar energy optimally
CONS
Be sure to check it as soon as you receive it for any leaks
Coleman 5-Gallon Solar Shower
The Coleman 5-Gallon Solar Shower is a portable shower designed to help people have a refreshing shower while camping or in the wild.
This shower bag home 5-gallon water which you can for multiple time to showers.
The solar panel technology is efficient and reliable, allowing you to heat up the water using solar energy in just a few hours.
This is bag use solar energy to heat water. Coleman bag had one strong handle for reliable hanging and carrying.
It's constructed of a heating material which will warm the water in the sun, even on cool days.
Great for camping trips and during emergencies when hot water isn't available.
The Coleman 5-Gallon PVC Camp Shower has a great feature where it uses solar energy to heat the water. It also includes a strong handle for easy hanging and carrying.
Flexible shower hose with handy on/off valve makes showering a breeze. You can give this a try on your next trip!
One drawback of this shower is that the water pressure can be a bit low, so it may take longer to rinse off soap and shampoo.
Also, the hose is not very long, which may limit your mobility during the shower.
Additionally, the plastic material can be flimsy and may wear out over time with frequent use.
Overall, the Coleman 5-Gallon Solar Shower is a great option for outdoor enthusiasts who want a quick and easy way to take a shower while camping or hiking.
Its compact size and lightweight make it easy to pack and carry around.
However, if you are looking for a high-pressure shower or something more durable, you may need to consider other options.
Coleman 5-Gallon PVC Camp Shower Features:
Uses solar energy
Handle for carrying and hanging
Handy on/off valve
1 Year warranty
Advantages
Affordable and cost-effective
Easy to use and fill up
Lightweight and portable
Can hold up to 5 gallons of water
Water heats up with sunlight and can reach up to 120°F
Includes a handy on/off valve for easy control of water flow
Disadvantages
Showerhead may not be very durable
Water may not stay hot for as long as desired
Water pressure may be lower than expected
Some users may find the 5-gallon capacity insufficient for their needs
Hanging mechanism may be flimsy and not very secure
Advanced Elements Summer Solar Shower Bags
This is one of the tops selling Camping showers on Amazon for hiking, hunting, fishing, and other outdoor adventures.
This shower bag could hold up to 3-gallon  5-gallon and 2.5-gallon water and it is designed in such way to it could heat water fast from sun light.
This means you'll have plenty of water for a full shower, even if you're out in the wilderness for a few days.
Plus, the shower is designed to heat up water quickly in the warm sun, so you won't have to wait long to enjoy a hot shower.
It has full carrying handles and Velcro straps for soap and shampoo.
The extra-large filling valve features a twist-off cap, and the wide, rubber handle make the shower easy to carry.
One of the key features of the Advanced Elements Summer Shower is its efficient 4-ply construction.
This design includes a reflector panel and an insulator panel, which work together to optimize heat retention and performance.
The shower is also made from premium quality and durable materials, so you can be sure it will last for many trips to come.
You can roll up for easy storage.
Specifications
Before diving into the details of the Advanced Elements Summer Shower, let's take a quick look at the specs:
4-ply construction with reflector panel and insulator panel for optimized heat retention and performance
Large 5-gallon capacity designed to heat water fast in the warm sun
Easy-to-read temperature gauge to know when your shower is warm; the shower can heat up to 110 degrees in under 3 hours in direct sunlight
Integrated toiletry pouch can hold a razor, mirror, or travel shampoo bottles, and Velcro straps for a washcloth
Pros
Large 5-gallon capacity
Efficient 4-ply construction for optimal heat retention and performance
Easy-to-read temperature gauge
Convenient toiletry pouch and Velcro straps for washcloth and soap
On/off shower head saves water
Easy-to-use fill valve with convenient twist-off cap
Cons
May be bulky for some users
Water can take up to 3 hours to heat up in direct sunlight
Requires direct sunlight to heat the water
Seattle Sports PVC Solar Showers
Seattle Sports Solar Shower built with eco-friendlier PVC Free materials.
You can ask it in the warm water and ecological peace of mind.
This is because it is built with materials that: are chlorine free, Azo Free, Cause no dioxin, heavy metal or pollution in production.
For safety and environment-friendly, you must choose Seattle Sports Solar Shower.
Capacity: 5 gallons
Shower Time: 11 minutes
Tear drop shape concentrates water flow
Wide mouth opening
Secure slide-lock bar
Kink-free urethane tube
On/Off Lever nozzle
BPA-Free, PVC-Free
Ivation 5-Gallon Portable Outdoor Shower
Ivation is a lightweight and easily Portable outdoor shower bag which includes removable the hose w/On-Off Switchable.
It is constructed with high-frequency bonding Technology through which Ivation ensure watertight Seal. It is very Soft, Flexible, Pliable & Easy to Manipulate even in Freezing Weather.
Ivation shower bag is specially designed for camping and hunting and fishing for shower/washing station on the go.
It is easy to use just fill this bag and hang it in the sun for 2-3 hours; the water warms up.
Now you can take a shower with hot water.
4-Ply Construction
Easy to use on/Off shower Head
Convenient Velcro straps
Large filling valve with twist-off cap
Large Pocket
Water Temperature Gauge
Camp Chef HWD5 Triton Water Heater
Camp Chef Water Heater is made of Steel. It could make 1.5 gallons per minute hot water on demand.
The user has full control on setting they can adjust heat and water flow as per their wish.
It has its self-stand or uses included brackets to hang.
Easy turn brass
Adjustable heat & water flow
4 shower setting
72″ shower hose
1.5 gallons Heat a minute
Weight: 15 lbs
ZODI Outback Gear Hot Tap Travel Shower

Zodi Hot Tap Propane Camping Showers are among the best camping hot water producers for the outdoors. Showering with freezing lake or river water in cold camping conditions is a very unappealing prospect. A good hot shower with hot water at the end of a day in a cold campsite is a luxury. With Zodi Hot Tap Propane Camping Showers, you can enjoy this luxury.
Features
A smart 4-gallon container that stores the unit and functions as a water tank to hold water
Powerful propane water heater
A hose with a shower head
6 Volt Water Pump
Easy to use and quick hot water
Ivation Portable Outdoor Shower, Battery Powered
Ivation Outdoor Shower is rechargeable battery camping shower which will make the very comfortable outdoor shower. It has a Compact Handheld take it in your and put the pump in water it will start showerhead, and you will start enjoy.
Best indoor and outdoor hand shower with powerful battery easy on off Switch.
Versatile Shower System
Gentle, Constant Stream
Rechargeable 2200mAh Lithium Battery
Hands-Free Hanging
Nemo Equipment Helio Pressure Shower
Nemo shower main feather thing is its foot pump system through which you can pressure in the bag for constant water. You did not need any battery to pump water. Nemo shower has 11 liter tank with the spray nozzle.
11 liter tank
Hose with spray nozzle
Safety strap over the fill port
Easy to use foot pump
Ventilated carrying case
Great for showering
Simple Shower
Now you can convert any 1 or 2 Liter Bottles in the shower. This Including Platypus Collapsible Bottles & Bladders.It is very lightweight only 2oz which will make you very easy to carry anywhere. Great For Washing Pets & Sandy Beach Toys.
Simple Portable Shower
Lightweight 2oz
Turn any bottle Shower
Steady Stream Of Water
Made In The USA From Recycled Materials
Multiple Uses
How Choose Best Camping showers
When choosing a camping shower, the first thing you need to consider is the type of shower you want. There are four main types of camping showers:
Types of Camping Showers
There are a variety of camping showers available that offer varying levels of convenience and portability. Some common types include:
Solar Showers
Solar showers are the most eco-friendly option as they rely on the sun's energy to heat the water.
They are easy to use and lightweight, making them a popular choice among backpackers and hikers.
Solar showers are some of the most popular on the market due to their ease of use and affordability.
These showers use a bag filled with water that has been warmed by the sun's rays.
Propane Showers
Propane showers are ideal for people who want a hot shower no matter the weather conditions.
This makes them incredibly convenient since all you need is fuel and no set up time before each shower session.
They tend to provide more control over temperature than solar showers and much more consistent water pressure too.
The downside being that propane cans can be bulky and require frequent refilling depending on how often you intend on using it.
Battery-Powered Showers
Battery-powered showers come with tanks full of already heated water so you don't have to wait around for it warm up like with solar or propane models.
They are easy to use and provide a good water flow rate, but the battery life can be limited.
Handheld Showers
Handheld showers are the most versatile option as they can be used for camping as well as other outdoor activities such as hiking, fishing, and hunting.
They are compact, lightweight, and easy to use.
Handhelds also tend to be cheaper than their wall mounted counterparts but still offer similar portability without sacrificing performance quality – making them ideal options those looking for an easy way to keep themselves fresh during extended outdoor trips without needing break bank doing so!
Capacity
The capacity of the camping shower is another crucial factor to consider. It is essential to choose a camping shower with the right capacity to meet your needs.
If you are camping alone or in a small group, a shower with a capacity of 5-10 liters may be sufficient.
However, for larger groups, it is best to choose a shower with a capacity of 20 liters or more.
Durability
Durability should always play important role picking out any type equipment especially those designed used outside elements like camping showers where exposure rain snow wind etc can quickly lead eventual wear tear over time if not properly cared for stored between trips accordingly!
It is essential to choose a shower that can withstand the harsh outdoor conditions, including extreme temperatures, rough terrain, and exposure to the sun and rain.
Look for showers made from high-quality materials such as PVC or nylon, which are durable and water-resistant.
Ease of Use
When camping, you want a shower that is easy to set up and use. Look for showers with simple instructions and easy-to-use features such as a nozzle or a valve that allows you to control the water flow rate.
Price
Price is an important consideration when choosing a camping shower. There are camping showers available at different price points, from budget options to high-end models. Consider your budget and what features are essential for your needs when making your selection.
Reviews and Ratings
Reviews and ratings from other customers can provide valuable insights into the performance and quality of camping showers. Look for reviews from other campers who have used the shower in real-world conditions. Consider both positive and negative reviews to get a balanced view of the product.