5 Best Bushcraft Knife Reviews- (Updated Buyer Guide 2022)
Having the best bushcraft knife should allow you to dominate and come out as a conqueror in any complicated survival situation.
As you go out into the wild, you may be faced with challenging and terrifying situations, and a good knife can save your life.
However, selecting the best survival knife or the best tactical knife is very crucial since your whole life may be depending on it.
If you have ever spent a night or two in the wild, then you understand the usefulness of the knife.
Are you planning a wild adventure?
Well, then you should make this knife one of your best friends. Of course, you will also need to pick the best backpacking tent and grab a durable water bottle for your outdoor adventure.
What Is A Bushcraft Knife?
Bushcraft is a trendy term for wilderness skills used in Canada, United States, Australia, United Kingdom, South Africa, and New Zealand.
The right thinking of this survival knife is that, if you do not have it when in the wild, you may be in danger as it can save you.
This knife is equipped with the right features (we will go into detail in later sections) to help an adventurous person survive. Whether you are in the wilderness, in the bush, or in the urban, you need a survival knife.
Best Value
TOPS B.O.B. Brothers of Bushcraft Knife
Best of the best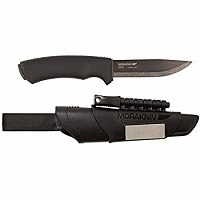 Morakniv Bushcraft Knife with Fire Starter
PREMIUM PICK
ESEE Knives 5P Fixed Blade Knife w/Kydex Sheath
When Do You Need A Knife For Bushcraft ?
Tasks For A Bushcraft Knife
If you're going to carry along a knife into the bush with you, it needs to be able to handle tasks beyond cutting up food and whittling sticks. The following tasks can all be performed more safely and effectively with a decent bushcraft blade:
Splitting Wood
Using a large machete or hatchet can be effective when splitting wood, but these tools don't provide much precision. A bushcraft knife gives you better control over where your cuts go and how deep they are. This is especially important when making kindling or cutting logs into smaller pieces for the fire pit.
Hunting
The main aim of hunting is for you to get food while in the wild. With such a knife, you can be able to track animals and skin them for food. You can also be able to fish with its use.
Chopping And Cutting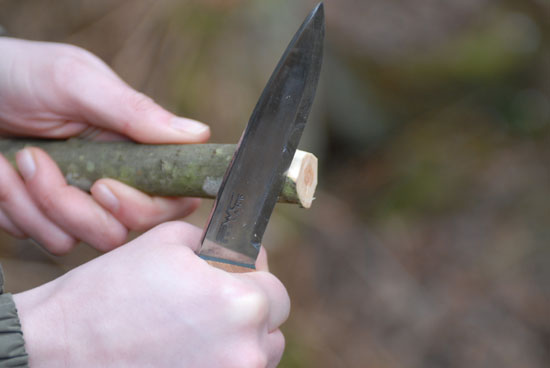 You can use a bushcraft knife to chop or cut items when in the wild. For example, if you want to make your way you can use it to clear bushes.
Shelter
With the use of a good survival knife, you will be able to build a shelter. For example, when pitching a camping tent, you can use the knife to cut the required woods for tent completion, create tent pegs by holding a knife firm and more. You need to build a reliable shelter so you can enjoy the best sleeping bags.
Digging
Digging with a knife is an important skill for bushcraft and survival. When you need to dig deep, a digging stick isn't always enough. Your knife can help you dig deeper holes, which may be needed to start a fire or build a shelter.
Self-defense
An effective bushcraft knife can be the best self-defense knife. You can use it to rescue yourself when attacked by an animal and make artificial weapons against the animals. It can save your life.
Our Top Picks Of 5 Best Bushcraft Knives
1. Morakniv Bushcraft Carbon Steel Survival Knife with Fire Starter Review
When it comes to bushcraft, there are many people who choose Morakniv Bushcrafter Carbon Steel Survival Knife as their ultimate tool. The knife has a lot of features that make it the best in its category.
This knife combines several design ideas into a single knife. With an agile and precise blade, a burly handle that offers excellent grip and a great sheath makes it the best one.
The Morakniv Bushcraft Carbon Steel Survival Knife with Fire Starter is a great choice for outdoor activities.
The blade has excellent rust resistance and can make sharp edges.
First is the blade made of high carbon steel material. This makes it resistant to rust and other oxidation which can tarnish its quality over time.
It has a hardness rating of 57 to 60 on the Rockwell scale making it very sharp and tough so you can use it for slicing and dicing.
The blade is 4.3 inches long which is enough length to cut through several items.
The blade thickness is 1/8 inches which means it's easy to maneuver. When you consider these features, it should be no surprise why this knife is one of the best in the market.
A rubber handle offers solid grip and easy maneuvering. The grip on this knife is excellent as it has smooth rubber handle.
This makes it easy to hold on to even if your hands are wet or you are wearing gloves.
It has multiple accessories such as a fire starter, a ferrocerium rod and a diamond sharpener.
The sheath this knife comes with protects the blade from getting damaged or lost when not in use by sliding or falling out.
Using it for cutting rope, camping gear and other stuff was easy because the blade was very sharp.
Truly, this is not just another survival or bush craft knife but an edge tool that can last for years and possibly decades if you take care of it.
If you want a durable knife that can protect your life in an outdoor environment then this is the only choice for you!
Features:
Knife length of 4.3 inches: Perfect for outdoor activities
Blade thickness 1/8: This makes the knife easy to maneuver
Blade material: Sandvik steel which means that it has excellent hardiness and can make sharp edges
Rubber handle: Solid handle with excellent grip
Carbon steel blade: Good rust and corrosion resistant
Steel hardiness of 57 to 60 on the Rockwell scale: Sharpen and Tough
Pros:
It is easy to sharpen
It comes with a fire starter making outdoor life better and easy
Cons:
It is not a full tang design
2. Brisa EnZo Knives Trapper 95 (Curly Birch) Review
The Brisa Enzo Trapper 95 is a great choice for bush crafting.
It is made from top-notch materials and design that is unique when compared to other knives.
It has a 3-inch long blade that is great for larger task such as cleaning bushes or setting traps.
The blade's length offers more control over the cutting process, allowing you to work more accurately and precisely when carving wood or other objects.
The blade is super tough making it suitable for outdoor uses, including cutting wood and carving different shapes.
The blade is made of D2 steel that is not only tough but also easy to sharpen.
This means that it is strong enough for major jobs like cleaning bushes or small enough for smaller tasks like cutting rope.
This material is strong but also easy to sharpen, which makes it perfect when you will be using it constantly.
The handle is also made from micarta which guarantees that it will not slip out of my hand when I am using it.
The sheath that it comes with makes carrying it easy and helps to protect the blade against any damage that might occur while I am not using it.
This knife retails at around $100 to $130. It is one of the higher priced bushcraft knives I have used, and it is surely good.
I have used the Brisa Enzo Trapper 95 for about three years now, and I have found it is perfect for almost any situation I find myself in.
This knife offers impressive performance combined with a very attractive price tag, making it a great choice for anyone looking for a reliable knife for an affordable price.
Features:
3-inch long blade: This makes larger tasks such as cleaning bushes easy, as well as easy tasks including curving or setting traps.
Super tough blade: This blade is good since it will not fail under reasonable conditions
Leather sheath: Great for carrying and protecting the knife when not in use.
Rockwell hardness: 58-59. This hardness makes the knife suitable for tough works
D2 steel: Easy to sharpen with good corrosion resistant
Micarta scale handles: Great material for grip and is durable
Lanyard hole: It offers excellent grip and control
Pros:
The handle offers great grip
Excellent material since it is made from D2 which is semi stainless.
Good price making it affordable
Cons:
Its blade is shorter than other bushcraft knives
3. SOG Specialty Knives & Tools M37N-CP Seal Pup Knife Review
If you are looking for a new knife that can go with you on all those outdoor adventures, then this is the one for you! It is made of high quality materials and it is crafted to last for many years to come.
The SOG Seal pup is full tang and made of AUS8 stainless steel. It also has a Zytel handle which offers a secure grip.
You can use this knife in various situations such as hunting, fishing, Bushcraft, camping or just in the wild when you are backpacking.
It cuts without effort thanks to its drop point blade that has been made with high-quality steel that retains its sharpness even after constant use.
This blade is 4.75 inches long and has a drop point design that makes it ideal for detailed tasks. The blade is razor sharp and it holds its edge extremely well.
The serrated section provides you with an excellent grip even when your hands are wet or muddy.
The length of the blade allows you to chop effectively and easily cut through branches that are 4 inches thick.
It has a lightweight and ergonomic design that will fit your hand well and make you feel comfortable when using it. The handle is also textured which will give you a solid grip.
The Seal Pup knife comes with a durable sheath that you can use for carrying and protection when not in use.
This sheath also has Molle compatibility so you can attach it to your backpack or any other gear bag if desired.
The handle is made out of zytel material which will ensure you have a solid grip while using it. This makes it ideal for chopping or cutting tough materials whether you're in your backyard, in the kitchen, or in the wild.
This is one of the most popular knives on Amazon with thousands of satisfied customers.
Features:
4.75 inch AUS8 stainless steel blade: Great for tough activities such as chopping
Rugged zeal handle: This handle offers excellent grip
Molle compatible nylon sheath: Easy carrying and protection for the knife
Drop point blade provides a sharp edge for detailed tasks
Rockwell hardness of 56-57 makes it strong and durable
16 inches thick Tang give the knife maximum strength
Handle: Zytel providing a solid and secure grip
Added blade spine
Pros:
Fantastic Fixed Blade
Lightweight
It holds its edges extremely well
Cons:
They come in only one color
The partially serrated blade might be difficult to sharpen
4. Ka-Bar Becker BK2 Campanion Fixed Blade Knife Review
The Ka-Bar Becker BK2 Campanion Fixed Blade Knife is an excellent choice for bushcraft and camping. Known for its strength and durability, this knife is a solid pick for any demanding task.
This straight edge knife features a non-reflective coating to prevent the reflection of light. It has a full tang blade and textured handle that makes it easy to grip.
The blade is strong enough to chop or slash through bushes and trees that are in your way. The handle has holes for better grip, so there is no chance of dropping the knife while in use.
This strong blade has a Rockwell hardness of 57-58 and comes with a leather sheath with belt loop.
The blade of the knife is sharp enough to cut through even the toughest wood, and the blade can be easily adjusted with a little help from a stone.
With an overall length of 10.5 inches, this fixed blade knife from Ka-Bar is perfect for chopping, cutting, slicing and dicing tasks while camping or backpacking.
The ergonomic design makes it easy to carry this knife all day without feeling uncomfortable, and also helps you with your cutting/chopping motions.
The sheath comes with multiple slots so you can attach it securely to your belt or backpack without needing a secondary case for storage.
I've used it to baton logs, cut just about everything from rope to heavy plastic strapping, scrape things clean and even chop stuff (including a few small branches). It's an excellent knife that has yet to fail me.
Features:
Rockwell hardness 57-58-making it perfect for tough tasks
Choil: this aids in sharpening
Handle: Ergonometric handle with holes for firm grip
No reflection: This knife comes with a special coating that does not reflect light, making it perfect for hunting
Pros:
Non-reflection coating
A sharp blade with great strength for almost any demanding bushcraft task
Excellent grip with ergonomic design
Strong and durable
Cons:
It may not be perfect for smaller tasks such as opening a box or pulling silver
5. ESEE Model 5 Review
ESEE knives are widely used by outdoor enthusiasts. ESEE stands for "Every Day, Survival, Every Environment".
The ESEE 5 is one of the most popular bushcraft knives on the market. The knife has a black epoxy powder coating which makes it resistant to corrosion.
It is a bushcraft knife designed to handle all the tasks in the bush, from soup to nuts.
The blade is made from 1095 carbon steel which makes it stronger and sharper than other knives in its category.
It is 11-inches long with a 5.25-inch blade. The blade is made of 1095 carbon steel and features an overall thickness of 3/16 inches.
The overall length of the knife is 11 inches which makes it easy to maneuver in the woods or any other terrain that you may be in.
The full tang type offers additional strength and durability for tough outdoor activities such as chopping wood, cutting trees, clearing bushes, and more.
This flat ground survival knife offers good grip and a razor sharp edge. The full tang construction provides excellent balance and control during use.
This knife can be used for all kinds of activities from cutting ropes, fabric or food to chopping or prying things open.
The Model 5 comes with additional features such as glass breaker, spine gimping and bow drill divot making your outdoor experience more adorable.
Features:
The overall length of 11 inches for easier maneuverability
Rockwell hardness of 55-57 making it perfect for medium tasks
Blade length of5.25 inches enabling you to perform medium tasks
1095 carbon steel provides extremely sharp edges
Full tang type is making it a general purpose knife. For example, you can chop, cut, clear bushes, and more.
Packed with additional features such as glass breaker, spine gimping, and bow drill divot making your outdoor experience more adorable.
Pros:
Offers excellent grip
It is lightweight
Cons:
It is expensive compared to other bushcraft knives
Tom Brown Tracker
Most people, especially before they get it think that the Tom Brown Tracker is a clumsy and heavy knife that would end up gathering dust somewhere in their basement, but the biggest surprise about it is that i
t's totally opposite of what you may think and it can easily become your favorite bushcraft knife once you give it a try and use it.
The Tom Brown Tracker is a seriously useful knife that should be in the kit of every bushcrafter, survivalist and outdoorsman.
The Tom Brown Tracker is a multipurpose knife that can easily become your favorite bushcraft knife.
It's made of top quality 1095H high carbon alloy steel, which means that it's going to hold up to years and years of abuse, while providing you with the sharpest cutting edge possible.
The blade itself is three and a half inches long with a two and a half inch handle.
The Tom Brown Tracker comes with a micarta handle which is very comfortable to hold even if your hands are wet or covered with mud.
The handle gives you a lot of comfort while using the knife, especially if you're holding it for a longer period of time.
No matter what you do with it, the edge will remain razor thin, no matter how many times you sharpen it.
You can also use this knife for breaking glass. It can also be used as a survival or combat knife. The blade is shaped in such way to make it easy to chop even thick branches or limbs.
The Kydex sheath will keep your blade safe when you're not using it but also allows for easy access when you need it.
The main reason why I bought this knife was because I wanted something that I could use at work as well as in the woods, something that could be versatile enough to be used for different jobs, especially breaking down cardboard boxes using the hammer pommel on the back of the knife.
Main Features:
1. Durable 1095 high quality carbon alloy construction.
2. Micarta handle.
3. Three point five inch chopping blade.
4. Two point five inch carving blade.
5. Overall length of eleven point five inches.
6. Comes with a Kydex sheath.
7. Perfect for hammering, carving, splitting and chopping, but also breaking metal, sawing and scraping.
Overall, the Tom Tracker is one of the best bushcraft knives for those who regularly go outdooring and want a sharp, extremely durable and dependable knife that can be used for dozens of applications no matter if we're talking about cutting wood or chopping meat.
Top 7 Bush-craft Knives Comparison Table
So, what are the essential characteristics of top bushcraft knives? Opinions differ but here are some things to think about.
Surf and Turf
Your knife is going to do both wet and dry duty. It is recommended to choose a blade material that is rust-resistant. Also, it is best to select a knife whose handle material and design gives a firm grip in slippery conditions. An example of this would be bushcraft situations requiring skinning knives.
Fixed or Folding
The majority of people feel that a fixed blade is more sturdy than a folding blade. There are quite a few folders manufactured by reputable knife makers which would work nicely. In a recent article listing their choices for the best hunting knife, "Outdoor life" lists both folders and assisted-opening options.
Tang
One point on which there is almost total agreement is "full tang" because this is the strongest of all options. Simply put, full tang means that the knife blade is a single piece and extends into the knife handle. For more information, here's the Wikipedia explanation.
"Feel"
We end up using the knives that feel good in our hands. Knives which don't have the right "feel" are going to stay home more than they are going to travel. One big "feel factor" is the weight, and a large part of the weight is the blade. Opinions vary, from about 8–28 cm (roughly 3-11 inches), as to the ideal blade length. We recommend going for comfort rather than according to a set idea.
Grind
A very popular grind is the Scandi (Scandinavian). The main reason for this popularity is simplicity. The scandi grind is one, primary grind which creates a nice wide and flat bevel. As there is no secondary grind, the scandi is easily done (and redone). Thus, most knife owners will be able to do the sharpening themselves. The only downside is the slight fragility. However, this is relative. For most bushcraft uses, the scandi grind works well.
Though these knives are considered as small tools, their significance with performing particular wilderness skills is important as these knives can help in hand-carving any wood, construction of containers from different natural resources and also twine and rope making. With the use of these knives, anyone who chooses to spend their vacation in the wilderness is sure to find enough time enjoying all the knowledge and skills that they can acquire with the use of these knives.
How to Care For Your Bushcraft Knife
Knowing how to care for your Bushcraft Knife, no matter the type will help you greatly improve the lifespan of that knife; be it stainless steel, carbon steel, or whatever type of knife it is. Your ability to take care of your knife will help make it useful when you most need it. This is probably the most important aspect of owning a knife. We all expect our bushcraft knives to be effective and durable, but if your knife is not properly taken care of, rust and other damages can cause it not to function properly.
There are few ways on how to care for your Bushcraft Knife, and they are;
Store your knife safely: proper storage helps to keep your knife functioning. Any moist on a knife can cause that knife to become defective. Moisture could make it rust and become blunt, so it is best to store it in a very safe, clean and dry place where moisture can't damage it. Any time your wet fingers or any wet material touches or handles your knife, always wipe it clean with a dry cloth before putting it away. When hunting in the rain or a rainy weather, a weatherproof case is best for storing your hunting knives.
Constantly wipe the blade(s): no matter the type of Bushcraft Knife you own and use, it is always advisable that you wipe off the surface of the blade daily to avoid rust of any form from clustering on the knife. Stainless steel products are prone to rust and any other damages if not properly cared for, so for optimum satisfaction and results, it is best to use a cotton cloth specifically to wipe your Bushcraft Knife with little drops of silicone oil which will greatly increase the lifespan of that knife.
For those of you using multi-tools, flush off dirt from the joints: with constant carrying around of your Bushcraft Knife in your pocket, the hinges, and the joints are most likely to become clogged with different types of dirt and debris. This dirt and debris can affect the joints badly, so it is recommended that you flush them thoroughly after every use. There are several things that you can use to flush the joints, and the most common of them is a hose or a kitchen sprayer. Use a hose or sprayer to flush out all of the dirt particles from the hinge and joints of the knife. You can also use compressed air to flush out dirt particles from within the hinges. Just ensure that you dry the knife properly after cleaning to void rust from clustering on your Bushcraft Knife.
After cleaning and flushing, it is good to oil the hinges and steels of the knife to increase the lifespan of the knife greatly.
Following these simple steps, your Bushcraft knife, or any other knife for that matter, will give you years of enjoyment and service to last a lifetime.