Going Hiking? Carry These Delicious And Healthy Snacks To The Trail
Hiking is undoubtedly one of the most exciting activities, especially for all those adventurers who like their adrenaline level pumping high enough. It is one of the best ways to connect with nature and your inner self, witness some astounding views, and at the same time makes for a great workout!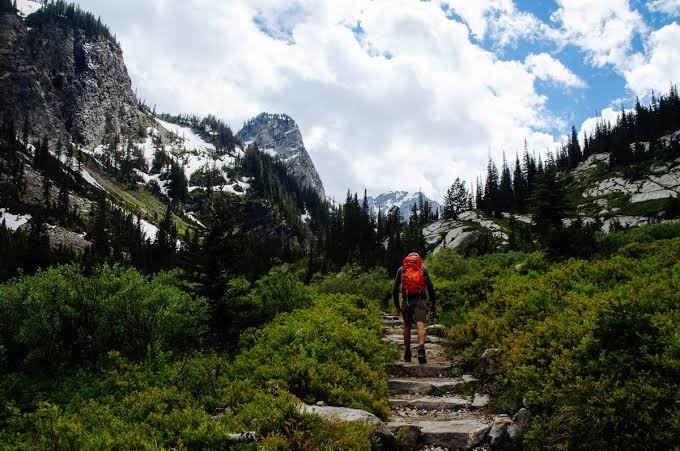 Depending on your fitness level, you may be embarking upon a long trail or the one that extends just a few miles to clear your heads and spend some time in the lap of nature. No matter what, there are certain essentials you would never want to forget.
Hiking shoes, check!
Flashlight, check!
Maps and Compass, check!
Water, check!
Wait, you just missed out the most important thing to be carried along when going hiking. SNACKS!
Snacks are as important as other hiking essentials in your backpack. During hiking, our body exerts a lot hence it needs something to get going. And, water alone is not enough to keep you going. It is only the healthy fats, carbohydrates, and other such snacks that help.
If you're muddled as to what are some of the healthy yet delicious snacking options for your next trek, you're on the right page. We have prepared a list of the same that will make your hiking snack breaks enjoyable. Read on and find out!
Peanut butter sandwiches
One of our old companions, peanut butter makes for one of the best hiking snacks. It boasts of a very high nutritional value and is combined with the goodness of proteins, calcium, and all healthy fats. That should be reason enough to carry it on your next trail? Just spread your favourite peanut butter on bread slices and you're good to go. These will energize you instantly and keep you full for longer.
However, if you have got any sort of peanut allergy, then you can opt for any nut butter of your choice.
Bananas
Well, bananas are a game-changer, literally! These are packed with potassium and help fight off any cramps. Carry them as they are or if you feel they might squish, cut them into pieces in a container.
If peanut butter sandwiches are not your go-to option then, try spreading some peanut butter on the bananas. You might also want to add some whole grain cereals for some extra crunch.
Dried Fruits
Dried fruits are yet another energy providing snacks that are full of good calories. Pack a bowl full of them as you will definitely relish these while you're walking. The best part? They taste excellent and won't go bad for days!
Granola
Just like dried fruits, they are the most delicious snacking options and won't go bad no matter how long your hike lasts. A perfect combination of sweet and crunchy, granola is something you'll enjoy munching while hiking. That being said, you can rely on granola bars and protein bars too. Amidst a plethora of options in the market to choose from, make sure to choose the one that suits your needs.
Tomato and cheese sandwiches
If you're not a lover of peanut butter sandwiches, we have an amazing substitute for you. And, that is tomato and cheese sandwiches. They are easy to prepare and are very delicious. You can either prepare them before leaving your place or carry fresh tomatoes, cheese, and bread along and prepare it once you reach your camp site.
Just place a few freshly cut tomatoes and cheese slice on bread and sprinkle your favourite herbs onto it. Too easy, isn't it?
Roasted chickpeas
Chickpeas comprise a hell lot of protein but are pretty boring to eat as it is. So, for your hike, roast them in your oven a night before and season them with a bit of olive oil and herbs of your choice. Trust us, they taste the best like this!
While all of the aforementioned options make the best snacks for everyone, we have two exclusive additions in this list for all the 'non-vegetarians'. Read on!
Tuna
Tuna is a perfect option for all the non-vegans who are looking to restore their lost energy and indulge in a protein-full snack. Pack your tuna in a sealed plastic bag and carry it with you. Just stash it open on a bread slice when you stop for a break. Besides, you can also mix it with those salty, cheesy crackers for an appetizing snack break.
Beef Jerky
Seems like something you've heard of?
Well, this snack has been the most common among hikers for years and their favourite too. It is not only healthy and easy to pack but also re-energizes and refuels your body. Alongside, it also takes care of your blood sugar level.
Just make sure that you don't overpack this snack as it is a cause of dehydration. While you want to satiate your taste buds, you would also not want to finish up all your water because of it, right?
Remember, no hiking packing list is complete without adequate snacks. Now that you have a list full of healthy and mouth-watering snacks in front of you, do make sure you pack your favourite ones for your upcoming hike.
While for other hiking essentials, you can rely on 5.11 Tactical. The brand is a one-stop destination for all your tactical needs. It offers superior quality tactical apparel and footwear at reasonable prices.