7 Best Full Face Snorkel Masks Reviews 🤿 -Buying Guide (Updated Apr, 2021)
Full Face snorkel mask perfect for summer swimming beach or any kind of snorkeling and scuba. To get full view and enjoyment under water a quality snorkel mask is very important.
Are You Ready For Water Sports Like Snorkel Or Scuba?
Water sport requires water 180° snorkel masks. With this handy snorkel mask, you do not have to hold your breath or tinker with your diving goggles like with a traditional snorkel set. …
… You can comfortably continue to breathe through your nose, both above and below. This makes breathing comfortable, and you have a wide field of view.
In This ImageUnigear 180° Full Face Snorkel MaskClick Here for MoreAmzn.to/2DCGyVh
Best Value
Ocean Reef Aria Full Face Snorkel Mask
Available in 13 Colors

Available in 7 Size

Easy to attach GoPro

Fog Resistant Design
Best of the best
Seaview 180° GoPro Compatible Snorkel Mask
Available in 11 Colors

Available in 3 Size

GoPro camera Sported

Fog Resistant Design
PREMIUM PICK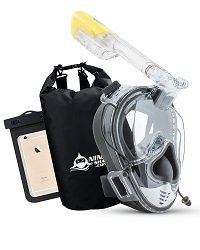 Vaincre 180° Full Face Snorkel Mask
Available in 3 Colors

1 Size for every one

GoPro camera Sported

Anti Fog System
Many people will find this mask more comfortable than a standard snorkel set.
Unlike a regular snorkel set, the snorkel mask has an integrated snorkel and goggles.
The air you breathe is sucked in through the middle channel while the air you exhale through the separate side channels goes out.
That should be of highest quality and fit well with your face to keep the salty water away.
Full face Snorkel Mask Comparison Table
Top 7 Snorkel Mask Reviews -Full Face Diving Mask Buyer Guide
You will find a lot of companies face snorkeling masks in the market due to which it hard to know which will be best.
We will help you find the best snorkel mask (for Men, Women, and Kids) based on their performance, features and price.
Seaview 180° Snorkel Mask
Are you looking for a quality mask which can be used regularly on your water sports?
Well, here comes Seaview 180° Snorkel Mask, it is perfectly designed to suit any kind of face and can be used by any age irrespective of gender. This mask has the larger vision and you will feel comfortable wearing this on your snorkel. This mask also has the clear vision with 180° viewpoint, which you will love to use.
This mask has best design which is very easy and flexible to use during water sport like snorkeling. It has been tested and verified by all customers for its dry snorkel technology which prevents salt water from getting inside the mask. This also ensures that you get long time under the water to see all wonderful creatures in the sea.
This Snorkel Mask offers 180° of vision

It has anti-fog technology

Best design to helps breathe naturally

It prevent salt water from coming into the mask

Easy to use for all age
Some of mask are leaked, water keep coming inside

Mask does not provide enough air

Some mask broke down after regular use
Seaview 180° Snorkel Mask comes with anti-fog technology with ensure that you will always get clear view without any fog. This is the best snorkel mask we have tested which ensure maximum protection against fog.
Ocean Reef Aria Full Face Snorkel Mask Review
(With Snorkie Talkie Mask System)
The Aria snorkel mask from Ocean Reef looks much the same as the Tribord. What is striking is that the type of silicone used is of better quality and that it feels softer on the face than the other two.
The brand Ocean Reef has been around for a while, and that is why you are guaranteed a good quality. So the use of this mask is only to report that we found it very comfortable and that it will last a long time.
What you have to take into account is the high price. The slightly better quality means merely that the price tag is too high.
For this price, we wanted to see at least a mask without breaking lines so that you can enjoy the underwater view.
Excellent quality and comfortable

Better quality silicone used

Good visibility and clear glass

Comes with spare parts

Snorkie Talkie Mask System
The price is very high

Mask has disturbing breaking lines
Tribord Easybreath Full Face Snorkeling Mask
Tribord easybreath snorkeling mask is the best snorkeling mask which you can get in good price tags. This snorkeling mask is the 3rd best seller in our reviews and used by more than one thousand verified amazon users. This snorkeling mask is perfect for kids and adults at the same time. You can always expect clear and 180-degree of vision through its polycarbonate windows.
This mask easy and unique design makes it perfect for breathing from nose or mouth while you do the underwater sports. This mask comes with a textile strap which is used to keep your hair in one place while you do underwater sports.
This mask comes with waterproof technology which blocks all the salty water which leaks into your snorkeling mask. This also comes with anti-fogging technology which helps you to see more clear than other snorkeling masks.
Anti-fogging technology

180 degrees angle for fuller view

Waterproof design and adjustable straps

Best design for underwater activity

Durable construction

Comfortable and easy to wear
Not suitable for free diving

Some Customer report mask comes with defect like leaking
cozia design Snorkel Set with Foldable Snorkel MASK
Are you looking for Camera mounted snorkel mask which can capture your all water sports moments?
cozia design Snorkel Set is the right water gear which you want for all of your water sports. This is the best model which provides full gear like mask and diving fins.
This is the best investment you will do for any water sporting gear which has anti-fogging, leak proof and made with durable material which can last long.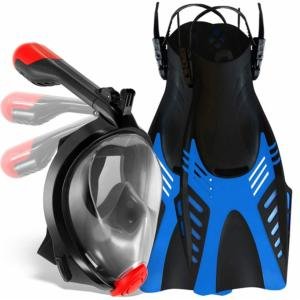 Foldable Snorkel MASK

Anti-fogging technology

Built in camera mounting

easy, natural breathing

180° viewing angle which are great

Adjustable Diving Fins
Some customer report it gets hot
Unigear 180° Full Face Snorkel Mask
Unigear is the best manufacturer for snorkeling gears which always pride themselves in the quality. This snorkeling mask has GoPro camera mounting design which comes handy when you want to record the whole session.
IT has 180° full face design which gives you fuller view and it also incorporated with anti-Fogging technology which prevents fog on your mask. This means that you can experience better view and comfort while you do all underwater sports.
This mask is compatible with all action cameras like GoPro models which can be easy incorporated in this mask. You can always use this mask to capture all underwater movements.
Pros:
Comes with waterproof technology
Easy fit to all size if face
180-degree viewing angle windows
GoPro camera mount on the top
Cons:
Not recommended for beginner
Octobermoon Snorkel Surface Scuba Mask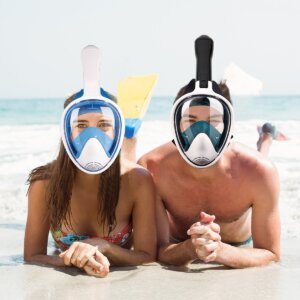 Octobermoon snorkel surface scuba mask is the second best scuba mask we has tested and found worth it to be in our top 5 snorkel Mask reviews 2017. This mask is built with good material and has 180° viewing angle which makes this mast suitable for all under water activity. This mask is perfectly fitted for any face and available in different sizes. This mask helps in breathe naturally and comfortably in water sports.
Octobermoon Snorkel mask is suitable for everyone from newbie to older person, as it has best design suitable for all ages. This mask can be used in all water sport as it has durable breathing tube.
If you are looking for any snorkeling mask which can be fit perfectly for all your family members, then you can check this perfect snorkel mask which is made for all family members.
Pros:
Easy to use
Easily fit in any types of faces
It offers 180° viewing angle which are great
Ensure natural breathing
Clear vision
Cons:
No anti-fog technology used in this mask
Vaincre 180° View Full Face Snorkel Mask
This one we have included as wild card entry to our reviews list, we have come across all type of snorkel mask and think to include this one for our user benefit. This snorkel mask has included everything and has the best price in the market.
This mask has included anti-fogging technology which is the real concern when you go first time in the water. This mask will reduce the fog you created by exhaling the air out. This come handy to all new comers and specially children, how get fear when fog gets start building in front of their eyes.
This mask has included many safety features apart from its 180 degree full view. It has included safety valve which stops waters which can accidentally seep inside the mask due to mask not tighten properly around the face.
Pros:
Full face mask
Revolutionary snorkeling mask
Anti-fogging technology used to keep your safe inside the water
180 degree viewing angle
Included safety valve which stop accidental water
Comes with GoPro Edition Camera attachment
Cons:
Check before buying GoPro Camera if this properly fit with your snorkel mask
Full Face Snorkeling Mask with Adjustable Diving Fine[/caption ]
Some of the useful specifications are:
180º Field of View: Extra wide mask for more vision
Unbreakable: The mask is made of unbreakable material
Does not cover: The mask does not cover the ventilation duct
Water drainage: Automatically drains water that has come into your mask
Automatically closes: Water inhalation is impossible due to the sealing system
Camera / GoPro connection: Convenient connection on top of the mask for your GoPro
Silicone seal: Comfortable and tight seal between mask and face
How does the snorkel mask work?
A regular snorkel set consists of a separate mask and a snorkel. These are integrated with the snorkel mask. The air you breathe is sucked in through the separate medium channel. The air you exhale goes out through the separate side channels. This has the advantage that you can quietly breathe through your nose (or mouth), and your mouth does not come into contact with the salty seawater. With a regular snorkel, this happens, and you breathe through your mouth. Some experience the latter as unpleasant. An additional advantage of this air circulation system is that the mask does not or hardly covers. Finally, the field of view under water is very large, up to 180 degrees (this is also the case with some loose diving glasses).
The snorkel mask is easy to place on your face by pulling the elastic band over your head. The silicone jacket is comfortable against your face. You can also adjust the elastic band. Make sure you order the right size. A too large mask that does not close properly will undoubtedly let water through, and then all positive effects will be lost. Tip, if in doubt, you better go for the smaller mask.
Once in the water, the snorkeling mask allows you to float gently on the surface and swim calmly. The snorkel mask is NOT suitable for swimming underwater or for example to make corner dives. This can even be dangerous. This is because the air pressure in the mask underwater is too great and you can not clear your ears.
The brightly colored spout of the mask is visible above water and is provided with a valve that closes if it comes under water. This has the advantage that no water flows from above into the mask. The disadvantage is that you can not breathe at that moment … If this happens, breathe out equally so that the float comes down again and you can breathe freely again. If there is nevertheless some water in your mask, you can simply let it run away via the valve at the bottom.
After using the mask, you should rinse it well with water. Sand, in particular, can damage the mask and reduce the functioning of the air system.
Is a snorkel mask better than a regular snorkel set?
That depends. A snorkel mask can certainly increase the fun for the recreational and novice snorkel. When you just want to float in the water calmly and want to see the natural beauty from above, the mask is a godsend. The ease of use and the wide field of view are an advantage. Being able to breathe through the nose will also make snorkeling accessible to people who have a bad experience with breathing through an ordinary snorkel (or who always get tired jaws).
Men with a mustache also benefit from a snorkel mask as the mustache with regular goggles often causes the mask to close properly. This disappears with a (big) beard because the mask must fit properly at the chin.
If you want to get more out of your snorkeling adventure by diving occasionally, making intensive snorkeling trips, or playing games, then you're better off with a regular snorkel set.
For the rest, it remains a personal preference, but it's nice that you have more choice as a snorkel!