9 Best Hunting Knife Reviews-Buyer Guide (Updated 2021)
Hunting and most other outdoor activities are fun, but terms and conditions apply.
If you do not have the right tools and gadgets for the activities, you might have to improvise. But how do you make do without a knife in the jungle?
This is why there are hunting knives of different types for different activities. Skinning is one of the most common tasks while one is hunting.
There are hunting knives meant for skinning and others for cleaning. Self-protection is paramount when you are in a potentially dangerous environment such as in the jungle. A hunting knife can do that for you.
Best Value
KA-BAR Knife
Best of the best
Gerber Bear Grylls Knife
Also consider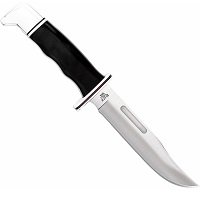 Buck Fixed Blade Knife
Tips To Select The Best Hunting Knife
Type of game you hunt
The knife used for big game hunters is very different from the one used by rabbit hunters. When it comes to hunting knives, bigger does not always translate into better. If you get a knife that is oversized, it will make the skinning process harder on top of increasing the chances of slicing through your flesh. A drop-point knife is perfect for those people who hunt big game, the likes of deer. If you prefer the smaller animals, a clip-point knife is what you will need.
Frequency of hunting
If you are an avid hunter, you should always go for the knives with a solid build. This way you will not have to repair frequently. Occasional hunters will find more value in a knife that can be used to carry out different tasks. A smaller folding knife is enough. The blade folds inward and locks making it safe. It may not be as strong as other bigger knives, but it is extremely portable. It is highly recommended for the small game away.
How do you want to carry the knife?
Do you want to keep the knife in a sheath or carry it in your pocket? A large blade will need a sheath to hang on your belt unless of course, you want to slice through your leg carrying it in your pocket. The folding knives can be carried in the pocket, or you can opt for the pocket knives. The only problem with pocket knives is that they are best used as spare tools and not for the action.
Location of your expedition
Are you going to hunt in the deep Amazonian jungles or the meadow-like area? Do you need to carry a tent for hunting multiple days? If you are hunting in a place with thick vegetation, you will need a machete or a bushcraft knife to go with. This will help you clear out the vegetation and create a path. It also comes highly recommended if you are dealing with large potentially dangerous animals.
Our Top 10 Hunting Knife Picks Go To…
Gerber Bear Grylls Ultimate Serrated Knife
This knife by a collaboration of Gerber and Bear Grylls. Gerber has a 75+ years of experience on the field and Bear Grylls is one of the top brands on survival gear out there.
This is a great knife, and if you read some bad reviews out there, try again. The first version of the knife had some problems with the pommel falling of. This is the new generation, and all of that is fixed.
Quote from a company representative: "The first run of this knife has an orange stripe just north of the pommel measuring 1/8 of an inch. The corrected version has an orange stripe measuring 1/4 inch. Thicker and reinforced."
Blade made of 7Cr17Mov stainless steel with a 57-59 HRC hardness rating, this knife will not let you down.
The sheath is well constructed and retains the knife well in position so you can easily attach it to any gear. It has a ferro rod that strikes well on a section of the spine specifically designed for fire striking and a diamond sharpener on the back of the hard shell sheath.
Specifications:
Weight: 0.70 pounds
Blade length: 7 inches
Overall length: 11 7/8 inches
Shape: Clip
Stamp: USMC
Edge angle: 20 degrees
Steel: 1095 Cro-Van
Grind: Flat
Handle material: Leather
KA-BAR Full Size Knife
This KA-BAR utility knife comes with a partially serrated edge that makes piece of cake the cutting of synthetic of looped materials.
Its a full size knife with a blade made of 1095 Cro-Van steel. This makes sharpening a very easy job, so you can keep your knife edge in amazing shape.
The perfect manmade Kraton G handle offers a great grip with a steady feel.
Having used this knife, its obvious that it would hold anything i could throw at it. Is very well made and comes at an affordable pr
ice.
Specifications
Stamp: USA
Edge angle: 20 degrees
Blade: 1095 Cro-Van steel
Pocket clip: N/A
Lock style: N/A
Grind: Flat
Handle material: Kraton G
Blade length: 7 inches
Overall length: 11-3/4 inches
Weight: 0.65 pounds
Buck 119BR Special Fixed Blade Knife
This knife will take you back in time. 47 years ago Hoyt and Al Buck used this knife to build by hand in their two-man shop. Its large 6-inch clip blade made of 420HC stainless-steel with an amazing Cocobola handle, makes this knife ideal for detail work, cutting and piercing.
Its classic design is just perfectly executed and all corrosion resistance tests on the blade gave an A+. A no brainer.
Comes with a brown leather sheath for carrying
Specifications
Blade length: 6 inches
Blade material: 420HC stainless steel
Fixed blade: Yes
Handle material: Cocobola
Carrying system: Brown leather sheath
Weight: 10.5 ounces
Ridge Runner Executive Wood Bowie Knife
Executive Wood Bowie KnifeThis knife is truly one of a kind. Perhaps it is not appropriate to say that a knife is stylish, but this one is truly one of a kind.
It comes with a striking appearance and a razor sharp 5" stainless steel blade.
This is a great knife for just about all hunting duties. It is perfect for big game hunters. Its solid stature and the weight allow you to go about the shearing and tearing with such tremendous ease.
The bad thing about it is that it can be quite burdensome if you are not going to use it but it is a good piece.
Timber Wolf Blazin Bowie Knife
This knife boast of style, elegance and some 5" of a stainless steel blade. The wooden handle provides an excellent grip and also has a lanyard hole to hang it wherever you want to hang your knife.
The quality and craftsmanship of this knife are way up north of superb.
The knife provides smooth performance for just about any task you want to carry out. This is one of those knives that you can use comfortably on both big and small animals.
The price is good if you shop online.
Gerber 45860 air ranger
This serrated edge knife comes with an aluminum handle and a 3.26-inch blade.
This is the kind of knife that you will not want to leave the house without. It can be used for just about anything from slicing through some deer to cutting a wedding cake (as crazy as that may sound).
It is very tough and ridiculously lightweight. The downside is that this knife is not all that attractive to the eyes.
Mountain Man Classic Hunting Knife
Knife5.75 inches of stainless steel protruding from a solid hardwood handle is what you will get with this knife.
The handle provides powerful grip, and the blade offers good cutting work.
This knife may come off as some movie prop, but it is not all that bad.
It is a great knife to give as a gift or for light cutting activities when you are out.
Elk Ridge Er-052 Fixed Blade Knife
No need for sharpening this tool any further, it comes well sharpened to suit the tastes of many people. This knife is one of the best hunting knives we recommend.
It comes with a sheath, and it is the perfect size of 9". If you have to sharpen some more, the shape of the blade makes it easy for you to do so.
The sheath is a little bit too tight on the blade, and you know how dangerous that can be. Nonetheless, it comes off an as nice piece for those who are looking for versatility
Found Your Ideal Knife?
These are the 10 best-hunting knives on the market today. The best thing about them is that they are all available for purchase online. You can buy them from any corner of this world as you please. Once you get any of them, you will not wait long to try their performance when you are out camping or hunting. Can't wait for your next hunting trip? Check out our other knife guides and selection tutorial.
Purchasing the best hunting knife: A Buyer Guide
Now we're going to discuss the most common questions people have when deciding to invest in a hunting knife; we focus on what you need to know before buying a hunting knife and we also tell you what you need to do to take care of your new tool after you purchase it.
Before Purchasing A Hunting Knife
I never bought a huntin
g knife before. What elements should I consider?
First of all, you will need to identify the type of game you usually hunt and the most common activities where you plan to use the knife.For example, if you are a deer hunter and you would like a knife that's suitable for deer skinning as well, a hunting knife with a drop point Gut hook blade will do the job just fine.It's really important to identify these things, so you will have an idea on what to look after, rather than just wasting time reading about some products that won't be reliable for your tasks.The second thing you need to do is to research. Read customer reviews, read special forums that are related to hunting or ask a specialist. Make sure to read about both features and benefits; don't read just a list, you need to know exactly how a certain knife can be suitable for you.
Can I use the same knife with both small and big game?
Some knives guarantee that they are suitable for both small and big game; this is true, but a fair answer would be: it depends.Think about it: let's say you usually hunt rabbits but one day you need to skin a bull; of course a bull will require a stronger blade.Usually, a blade of 5″ will be ideal for the big game hunter and a blade of 2-3″ will get the job done for a small game hunter.
Does brand matter?
While we consider that brands have already an established name and a history of satisfied clients, of course you can also choose a new brand or a new product. Just make sure you read the customer reviews, both positive and negative.
Should I choose a knife that's not made in America?
Of course! Many great hunting knives are made in Sweden, China or Germany.
What to choose between fixed and folding?
As stated earlier in this article, if you plan to use your knife for everyday hunting, a fixed blade tool will be great for you.
Are folding knives reliable?
Yes, they are, I even recommend some great folding knives in my reviews; they are just more useful for the occasional hunter, who doesn't perform complicated tasks.You can use them for activities that are not related to hunting as well, such as camping, hiking or survivalism.
What blade shape should I choose?
The most common blade shapes are clip point, drop point and gut hook. All of them have their own advantages, but it's true that the most suitable blade for hunting tasks is the drop point.
What does full tang mean?
Full tang means that the steel goes all the way from the tip to the bottom of the knife. A full tang is recommended, since it guarantees you will get a strong and durable knife.
What should I choose between a stainless steel and a carbon steel?
My advice would be to go with the stainless steel blade, because they are rust resistant.A carbon steel is not rust resistant, so it will require special attention and cleaning after you finish your hunting job.
What's the ideal hunting knife length and weight?
It's hard to assume the ideal length or weight; you just need to find something that feels comfortable, it's not too large to get in the way and it's light weight enough, so you can easily carry it in a pocket or bag.Generally speaking, a blade length of 4.8″ is excellent for hunting activities.Another thing that you need to be aware of is the activity you usually perform: a smaller blade is ideal for detail work such as skinning and a larger blade is perfect for heavy-duty tasks such as chopping or hammering.
How can I choose a knife with a good handle?
The perfect handle needs to meet three main conditions:
It needs to feel solid and comfortable in the hand;
It needs to offer control, so you can easily maneuver the knife;
It's build of materials that can be used in any weather condition, especially during rain. For example, you can choose a handle made of textured rubber.
Another condition, but not a required one, would be to choose a handle that has a bright color, such as orange or magenta, so you won't loose it when it's dark outside.
Are the knives with replaceable blades reliable?
Of course! A knife like this can be really useful if your blade gets dull in the middle of your hunting task and all you have to do is to replace it with a new one.
I'm left handed. What folding knife is suitable for me?
Many folding hunting knives feature Ambidextrous thumb studs, which enables you to easily open your knife.
Is a good quality hunting knife expensive?
Not really. A hunting knife doesn't need to be expensive to be considered valuable. You would be surprised at how innovative and strong a cheap knife can be.On my site, you can find recommendations and reviews for any budget.
Do I receive a warranty?
Many companies offer a warranty when you purchase a hunting knife from them. They can offer different conditions though, so pay attention and do some research; most hunting knives company offer a Lifetime Warranty.
After purchasing a hunting knife
How to know if my knife is sharp?
Most hunting knives come razor sharp right from the factory, but the easiest method to test them is to easily and cautiously rub your thumb across the blade. Another method would be to analyze the blade back and forth and any gleams of light that appear will reflect its flaws.
How to sharpen a knife?
The whetstone sharpening is considered the most professional technique. It's true that you will need practice to set and keep the right angle, but it's not complicated to master.
What are some useful tips to take care of my knife?
It's not hard to maintain your hunting knife. First of all, make sure you always have a sharp blade; a dull blade is useless and not reliable at all.It's essential that after each hunting task you wash your knife with soap and water; this step will be even more important if you own a folding knife. Don't let pieces of meat or blood on your blade because it can easily be deteriorated.You can use a special oil to apply it to the blade and the pivot points; this will keep the knife lubricated. It's not necessary to apply oil after each use, twice a year is fine.
How to carry a hunting knife?
A fixed blade knife can be carried in a sheath; most hunting knives come with a sheath that can be made of nylon or leather. Some sheaths have a snap closure, that enable you to attach it to your belt; other sheaths can give you the option to attach it to MOLLE.A folding knife can be carried in a pocket.
How much will my hunting knife last?
Chosen wisely, a hunting knife can last for many years, but of course you will need to take care of it as well and not abuse it in any way.