Are easy meals that can get the whole family involved, by everyone gathering around and putting ingredients in foil and folding foil.
And placing them on the coals of the campfire.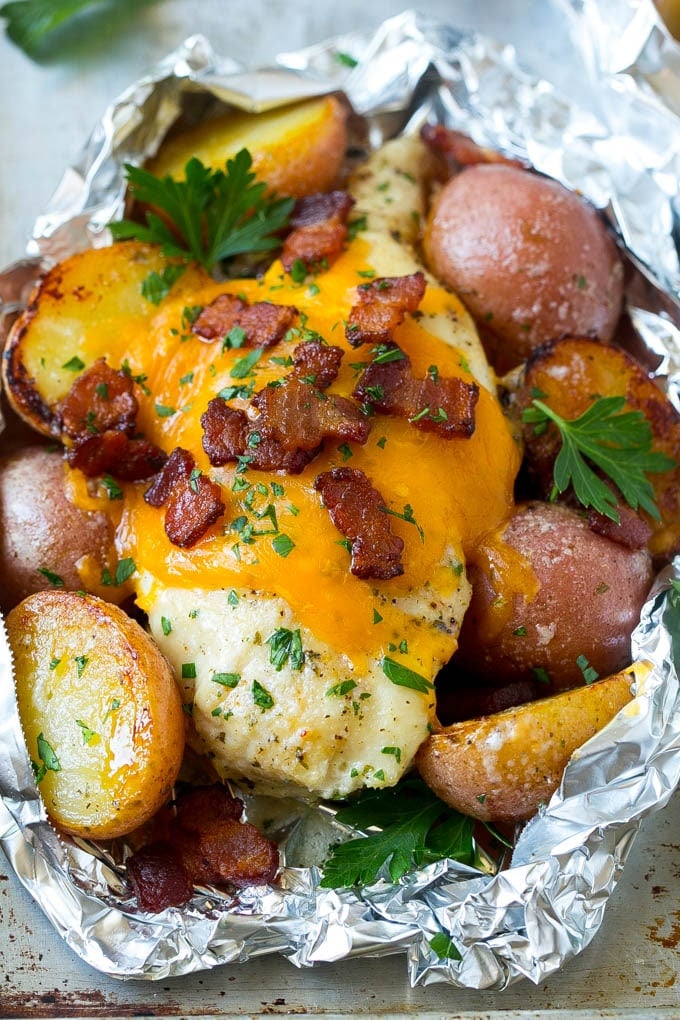 Making foil wrapped meals.
It is so much faster cooking and clean up is easier.
Fold them in into a pouch, and place it on the coals, to cook.
Don't be a penny pincher on the foil, it can lead to a mess and food loss.
Cheap foil come apart on you and when removing it from the hot coals.
You can also, and recommend, double foil your meal.
Helps protect it from tearing, or leaking.
Also spray with some cooking spray, on the side of foil, where food will cook on.
Stop sticking as you open foil.
When cooking with meat, place them on the bottom of your ingredients.
For it takes the longest time to cook.
And place vegetable or onions to keep the meat from drying out.
Place your foil packet on the coals, not in a fire.
When your done cooking your foil meal.
Before opening it, care full from the hot steam trap inside.
Grilled Sausage with Potatoes and Green Beans
Ingredients:
3/4 pound fresh green
beans, trimmed and
halved
1/2 pound red potatoes,
quartered
1 large onion, sliced
1 pound smoked sausage,
cut into 1 inch pieces
1 teaspoon salt
1 teaspoon vegetable oil
1 teaspoon butter
1/3 cup water
Directions:
Preheat an outdoor grill for high heat.
On a large sheet of foil, place the green beans, red potatoes, onion, and sausage.
Season with salt and pepper, sprinkle with oil, and top with butter.
Tightly seal foil around the ingredients, leaving only a small opening.
Pour water into the opening, and seal.
Place foil packet on the prepared grill.
Cook 20 to 30 minutes, turning once, until sausage is browned and vegetables are tender.
Barbecued Salmon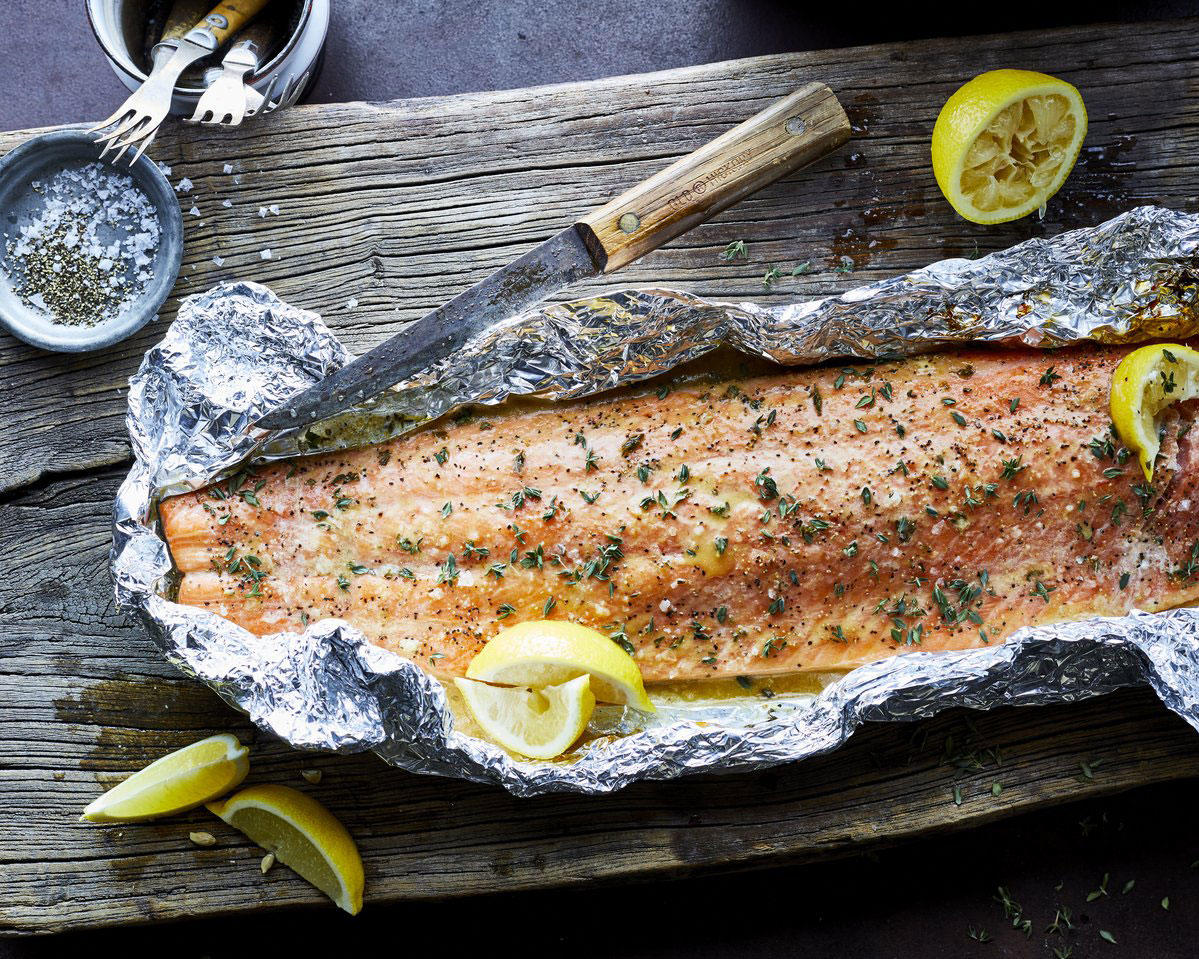 Ingredients:
1 fillet (3 1/2 to 4 lb.)
3 tablespoons melted butter
1/4 cup brown sugar
1/4 cup dry white wine
1/4 cup lemon juice
2 tablespoons Dijon mustard
1 tablespoon chopped
fresh thyme leaves
1 teaspoon salt
1/2 teaspoon pepper
Directions:
For one fillet (3 1/2 to 4 lb.), whisk together 3 tablespoons melted butter
1/4 cup brown sugar, 1/4 cup dry white wine
1/4 cup lemon juice, 2 tablespoons Dijon mustard
1 tablespoon chopped fresh thyme leaves
1 teaspoon salt, and 1/2 teaspoon pepper.
Grill the salmon, skin down on heavy foil over indirect heat.
Brushing with the glaze every 5 minutes.
Just until opaque but still moist-looking in center of thickest part (cut to test)
Sausage and Veggies
Ingredients:
1 red bell pepper
2 ears corn
1/2 large yellow onion 1 medium
4-5 small red potatoes
1 medium sized zucchini
1 package (13 ounces) Butterball Hardwood Smoked Turkey Sausage
5 tablespoons olive oil
1 tablespoon dried oregano
1 tablespoon dried parsley flakes
1/2 teaspoon garlic powder
1 teaspoon paprika
Seasoned salt and pepper
Chopped parsley
Directions:
Cut the top off the pepper and remove the seeds.
Thinly slice.
Remove husk from corn and cut into 1 inch disks.
Coarsely chop the onion.
Cut the potatoes into small bite-sized pieces — about 8-10 pieces per potato depending on size.
Coin the zucchini.
Coin the turkey sausage.
Assemble
Preheat the grill to medium heat.
In a small bowl, stir together the olive oil, oregano, parsley, garlic powder, paprika, about 1/2
teaspoon (or to taste) seasoned salt and pepper. Stir.
Add seasonings mixture to the veggies + meat and toss well.
Place 2 pieces of tin foil on top of each other.
Put a generous amount of the mixture in the center and then fold up the first piece of foil and then
the next piece of foil to form a secure encasing.
tender.
Southwestern Chicken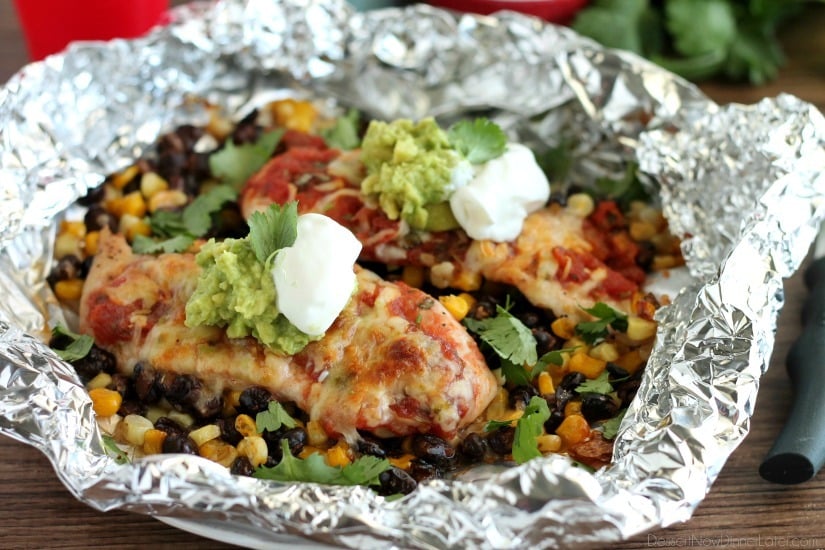 Ingredients:
1 cup frozen corn
1 (15oz) can black beans, drained and rinsed
1 tsp taco seasoning (I used homemade taco seasoning)
2 chicken breasts or 4 chicken tenders
salt and pepper to taste
1/2 cup salsa or pico de gallo
1 cup shredded pepper jack cheese
cilantro, to garnish
sour cream, optional
avocado, mashed, optional
Directions:
Pull off 4 sheets of heavy-duty tin foil (8-10 inches) and layer to create 2 packets.
Lightly mist with cooking spray.
Stir together the corn, black beans, and taco seasoning.
Divide between the 2 foil packets.
Season the chicken with salt and pepper.
Place 1 chicken breast or 2 chicken tenders in each packet.
Top the chicken with salsa and shredded cheese.
Bring the two longer edges of the foil together above the food.
Fold the edges down twice, creating the top seal.
Press the side edges together and fold, creating a secure packet.
Cook on hot coals, a gas grill, or in a 375 degree oven for 30 to 45 minutes until chicken is cooked through.
Top with fresh cilantro, sour cream, and avocado before serving.
Chicken Fajita
Ingredients:
1.5 lbs Chicken Breasts, cut into strips
3 Bell Peppers (I used a mix of red, green, and yellow)
1 Red Onion
2 Tbsp Chili Powder
2 Tbsp Cumin
1 tsp Garlic Powder
1 tsp Onion Powder
1 tsp Salt
Directions:
Cut chicken breasts, bell peppers, and onion into strips.
Mix spices together in a bowl.
Toss spices, chicken, and vegetables together and wrap them in foil.
Cook on grill over indirect heat for 20 -25 minutes OR in oven at 400°F for 20 – 25 minutes or until chicken is cooked through.
Serve with tortillas.
Baked Shrimp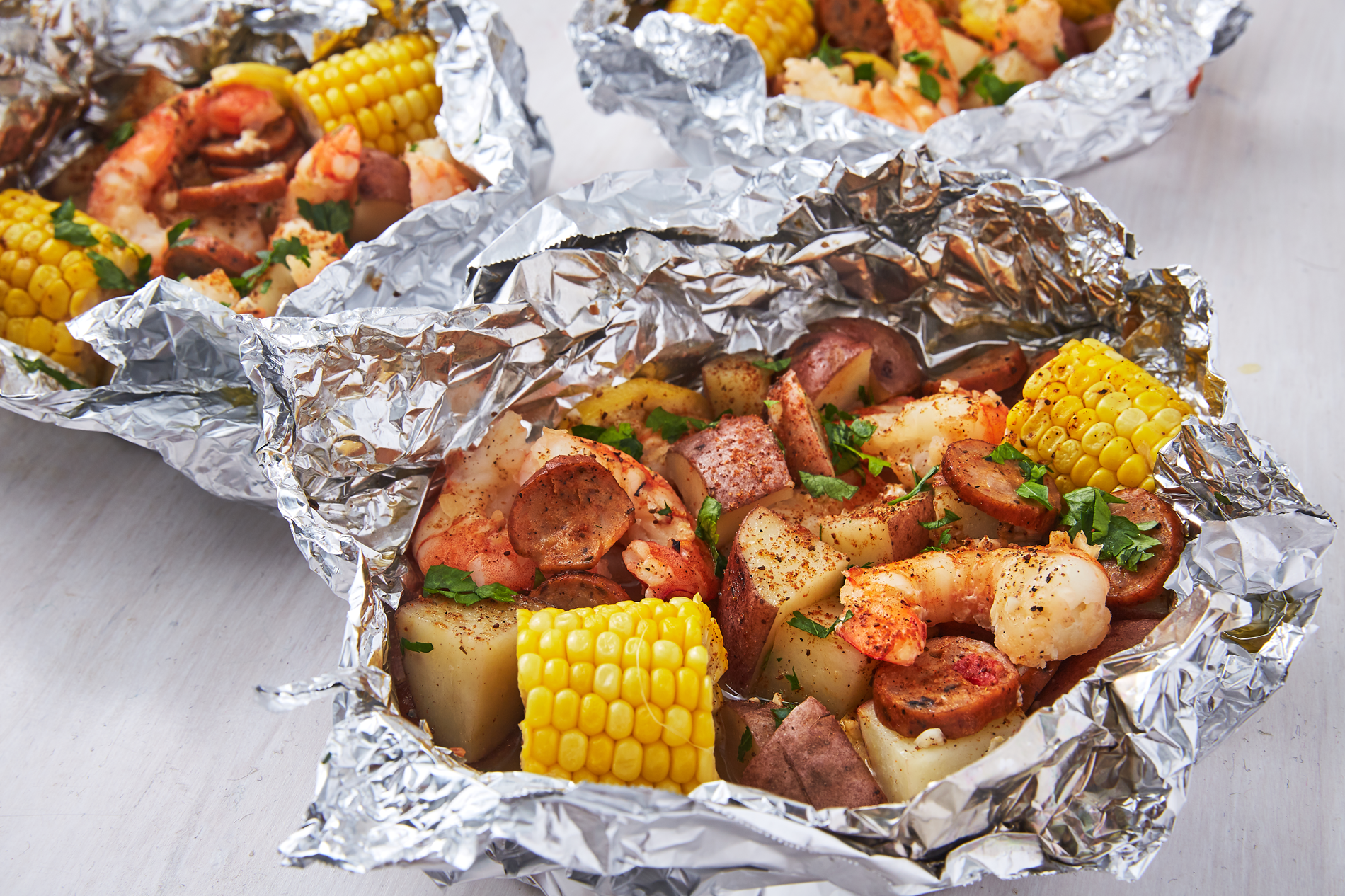 Ingredients:
2 pounds large uncooked shrimp, peeled
4 precooked chicken sausage links, sliced
2 ears corn, each cut in half
4 red potatoes, quartered
1 squash, sliced
2 tablespoons olive oil
4 teaspoons garlic salt
1 lemon, sliced
Directions:
Preheat the oven to 400 degrees. Lay out 4 pieces of foil, approximately 12 x 17 inches big.
In the center of each piece of foil, place the shrimp, sausage, corn, red potatoes and squash. Divide the ingredients between the foil pieces. Drizzle the olive oil over the ingredients and add 1 teaspoon of garlic salt to each packet. Place 2-3 lemon slices on top of each foil packet and its ingredients.
Corn on the Cob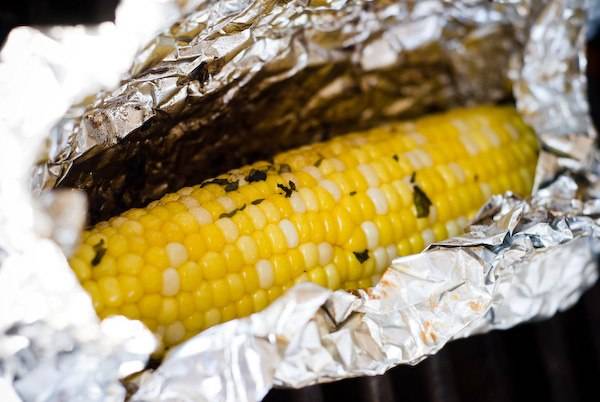 Ingredients:
4 ears of shucked corn
¼ cup butter or olive oil
Parmesan cheese
salt and pepper
4 ice cubes
Directions:
Place the ears of corn on a large sheet of foil. Spread the butter on top. Sprinkle with the seasonings and parmesan cheese. Put the ice cubes on top. Wrap up into a tent pack. Place on hot coals and cook for 20 minutes. Makes 4 servings.
Fresh Fish (Not Frozen)
Ingredients:
Fish
¼ cup of onions
1 tablespoon of butter, melted
lemon juice
salt and pepper
parsley
dill weed
paprika
Directions:
Mix the melted butter with a dash of lemon juice and the above spices to taste. Place the onions on the foil sheet. Place the fish on top and sprinkle with paprika. Wrap the foil in a flat pack
BBQ Chicken
Ingredients:
4 boneless skinless chicken breasts, cut in 1-inch pieces
2 cups barbecue sauce
2 cups drained pineapple tidbits
1 red bell pepper, diced
1 small red onion, diced
Directions:
Heat oven to 375°F. Cut 4 large sheets of foil; arrange singly on flat surface.
In medium bowl, toss together 4 boneless skinless chicken breasts, cut in 1-inch pieces, and 2 cups barbecue sauce until chicken is fully coated.
Burger and Potato
Ingredients:
8 small new potatoes, unpeeled, quartered
1 teaspoon seasoned salt
1 teaspoon Italian seasoning
1 tablespoon olive or vegetable oil
4 frozen lean ground beef patties (about 1/4 lb each)
1 cup frozen cut green beans
Directions:
Heat gas or charcoal grill. Cut four 18×12-inch sheets of Reynolds Wrap Heavy Duty Foil; spray foil with cooking spray.
In medium microwavable bowl, toss potatoes, 1/2 teaspoon of the seasoned salt, 1/2 teaspoon of the Italian seasoning and the oil to coat. Microwave on High 4 minutes or just until potatoes are fork-tender.
Place 1 beef patty and 1/4 cup of the green beans on each sheet of foil; sprinkle patties with remaining 1/2 teaspoon seasoned salt and 1/2 teaspoon Italian seasoning. Top each evenly with potatoes. Wrap each packet securely using double-fold seals, allowing room for heat expansion.
When grill is heated, place packets on gas grill over medium heat or on charcoal grill over medium coals; cover grill. Cook 30 to 40 minutes, turning packets over once halfway through cooking, until meat thermometer inserted in center of patties reads 160ºF and potatoes are tender. Carefully open packets to allow steam to escape.
Cheesy Ranch Chicken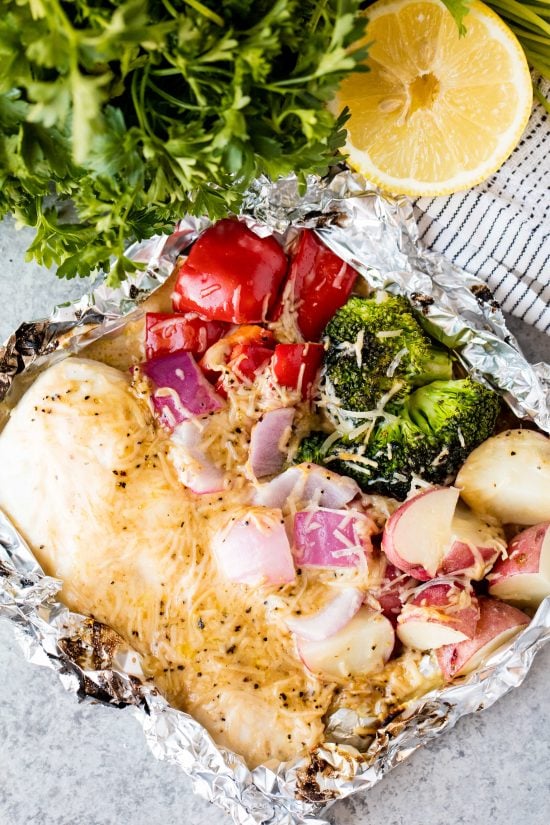 Ingredients:
4 boneless skinless chicken breasts
3/4 pound red potatoes, sliced thin
1 red bell pepper, diced
1/2 red onion, diced
2 cups broccoli florets
1/4 cup ranch dressing
1 tablespoon olive oil
2 tablespoons worcestershire sauce
1/2 teaspoon salt
1/2 teaspoon black pepper
1/2 teaspoon sugar
1 1/2 teaspoons lemon juice
1/2 cup grated parmesan cheese
Directions:
Lay out 4 pieces of aluminum foil, approximately 14×18 inches each. Lay 1 piece of chicken onto each piece of foil. Divide potatoes, red bell peppers, onions, and broccoli amongst the foil packets and lay next to the chicken.
In a small mixing bowl, whisk together ranch dressing, olive oil, worcestershire sauce, salt, pepper, sugar, and lemon juice. Drizzle mixture evenly over each of the foil packets.
Sprinkle parmesan cheese over chicken and veggies. Wrap up foil packets to close.Oven: 375 degrees, 35-40 minutes ; Grill: 500 degrees, 20-25 minutes.
10 Foil Camping Meals are just 10 great ideas, for foil camping meals can be expanded to cook almost anything over a campfire using foil.