8 Best Headlamps for Camping, Hiking (Reviews& Buyer Guide 2022 )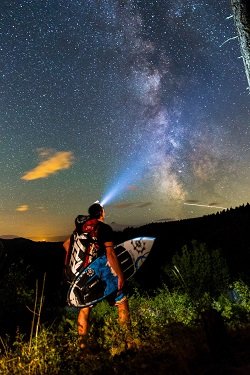 If you're going camping, especially for an extended period, you need a headlamp.
They make life a thousand times easier while camping as compare to Camping Lantern and Flashlight.
They also follow around wherever you look, so they're also a lot easier to use when compared to your typical flashlight.
You can also use headlamps for running at night in your city or for other different tasks.
Lights out in the basement and you just watched Paranormal Activity?
No problem. Throw your headlamp on and head down without being afraid.
Best Value
Shining Buddy headlamp
Best of the best
GRDE Zoomable LED Headlamp
PREMIUM PICK
LE Headlamp Flashlight
Choosing a headlamp, there are many different features to consider. Lumens might be the most common, but we should look at other things such as beam type and the beam distance, run time, just name a few.
Lumens: Lumens gives you a general idea of how bright the headlamp. It depend on some conditions like batteries full, room temperature, etc..
You can get a really good general idea of how bright the light will be lumens. But it is not a standardized system for measured. So this means that you can't necessarily compare lumens alone when you're comparing headlamps across brands.
More lumens, more brightness, low lumens, low brightness.
Beam distance, so headlamps will tell you how far the beam's reach is both ones the light is its brightest and then when it's lowest or dimmest.
So this can give you again a measurement of how far that light is going to reach.
Type of light: Many will have two types of light: the spotlight and then the floodlight.
Floodlight give you more peripheral light but not as much distance. Really great for cleaning up at camp or reading or anything that's sort of close to your face.
The spotlight will be great for night hiking, or night climbs need to see a lot of distance but don't necessarily need to see what's on the sides.
Run Time: Run Time run time will tell you how long the light will last at its maximum brightness and minimum brightness. It is again just a general idea of how long the light will last because you, of course, will probably be using it at a variety of different brightnesses.
Water Resistance: How long the headlamp will survive in water without running the light.
Battery Some headlamp use rechargeable batteries as opposed to just standard double or AAA.
Lockability: What this will do is? It will lock the light so you can put it into your backpack and not worry about it turning on and then draining all the batteries.
Weight and bulk of the headlamp: So you'll have some bulky headlamps that big battery packs and will last a long time and then some much lighter headlamps where the strap is just a simple string or a wire with small battery and low run time.
In this post, we're going to showcase a few different headlamps. We believe that these are some of the best headlamps you'll be able to find at each different pricing tier.
GRDE Zoomable 3 Modes LED Headlamp
GRDE Zoomable Headlamp provides super bright light with rechargeable Batteries which you can charge with Car Charger, Wall Charger, and USB Cable.
So please avoid using your headlamp while charging.
You can use in three different way as headlamp , Waist lamps or Desk lamps you can also adjust its zoom.
You can use it 3 different mod of light beam like Low, Mid, Strobe.
Super Bright LED Headlamp Head Light for Hiking Camping Riding Fishing Hunting Outdoor Sports.
Lifespan reaches up to 100,000 hours.
Brightness up to 1800 lumens.
Advantages:
Super Bright
Waterproof
Easy adjustable and Zoomable.
Rechargeable battery
3 switch modes output, and strobe.
Package Includes:
1 Headlamp
1 Wall Charger
1 Car Charger
2 3.7V 18650 Rechargeable Batteries
1 GRDE Headlight Special USB Cable
1 GRDE English manual book
Lighting EVER Headlamp LED
LE Headlamp is best due to its powerful battery for Camping, Running, Hiking.
It has 4 different lighting modes with three different levels of brightness 1st one is 2 leds 2nd one is 10 leds and the 3rd one is 18 leds and a red flashing mode is also available.
It is very lightweight only 2.85oz with easily adjustable, elastic headband due to which it is perfect for every age peoples.
The IP44 rating means it is protected against splashing water from all anglesFree bonus.
Shining Buddy LED Headlamp
Shining Buddy LED Headlamp is one of the best-selling headlamps on Amazon due to its light weight which is only 2.6 oz.
It is best for all age peoples for Camping, Hiking, Dog Walking, and Kids.
It is Waterproof and Shockproof with Duracell batteries.
It has 160 lumens with tow switches with different setting through which you can set low and high beam.
Shines ultra-bright with 160 Lumens and bulb lasts up to 100,000 hours.
VITCHELO Headlamp with White and Red LED Lights
VITCHELO Headlamp is best Waterproof and 168 Lumens Bright Head Light.
You will also get 3 AAA Duracell Batteries when you buy in the box.
If you go for hiking at night, camping or you love to read in bed you will love this headlamp because of it best for you.
Its curved design sits perfectly on the forehead or a hat, and 168 lumens sheds light as far as 360 feet.
It is Bright enough to suit most needs of your night light and it will less tire on your eyes and adjustable.
If you're looking for a headlamp to go backpacking, skiing or trekking, without breaking the bank, the V800 is certainly one to consider.
Headlamp by SmartLite Ultra
SmartLite Ultra Headlamp is best-LED Headlight with Strobe, Lightweight and Waterproof for Camping, Running, Hiking and you can also use it for Emergency Kit.
SmartLite Ultra Headlamp is very light due to its lightweight which is only 35 grams.
It will rest snugly on your forehead with its curved bracket and an adjustable strap that fits both adults and kids.
It is best for car repair work while kids can enjoy using it as a reading light under a tent.
The white CREE LED bulb turns from low, medium and high to flashing or SOS mode.
To avoid disturbing people at camp or animals in the wild, bypass the white light to go straight to red light by pressing the LED switch for three seconds.
Energizer Pro 3 LED Headlamp:
We mentioned that we'd have some budget headlight, but did you ever think that you'd find one for under $?
This is a very, very basic headlamp, but still gets the job done.
Energizer makes it, so you know the quality of it is going to be very good.
It has two separate light modes and is incredibly comfortable.
It also comes with batteries, even though it's very cheap, so you don't have any external costs.
If you're looking for a cheap headlamp, this is the one you want.
It will get you through any difficulties you might have, but don't count on it working for years on end if you use it frequently.
Here's a video review as well if you'd like more details:
Black Diamond Storm Head Lamp
Here's a more high-quality headlamp for those of you who are looking for a headlamp that will get you through some more tough times.
As it says above, this is a storm headlight. That means that this lamp will survive any storm; it is waterproof.
It even gets an IPX 7 rating, so you can tell it's very high quality. You'll get 100 bright, shining lumens coming out on the highest setting.
This is enough to see anything you'll want to see or blind your friends if you're into that.
You can also activate the red LEDs if you want to use it for night vision.
It takes four AAA batteries, but the battery life is very well sustained and the lamp will last for quite some time.
There's also a meter on the lamp that will show you how much battery is left so you'll know when a switch is going to be needed.
Petzl NAO Headlamp
Petzl NAO Headlamp is a bright lamp with the newest technology.
It has two LED emitters: one diffuse and the other a fairly tight spot.
Each of the two puts out about 150 lumens.
The light of the headlamp adjusts to meet the demand of what you're doing.
If you're on a trail in the dark, the headlamp will turn on the long-distance beam.
Stop to check GPS and map and the light will dim to the level needed for such close-up work.
The unit has many settings range; it provides amazing brightness and intensity.
Petzl has created Reactive Lighting and has done it well.
Also, this headlamp is light and very comfortable to wear
SIX NEAT USES FOR A HEADLAMP
Headlamps are almost universally used in tons of various professions, as they do some great things. They're also used for a lot of usual tasks that we do every day.
If you asked ten different people what they'd use a headlamp for, you'd likely get ten different answers (if they were forced to be descriptive).
Chances are, you own a headlamp, or are thinking about buying a headlamp, but just haven't explored how many neat uses for a headlamp that there are.
In this article we're going to take a look at six different headlamp uses you should try if you want to get the full potential out of your headlamp or want to see what you could use your headlamp for.
Electrical Work:
Often we have electrical outages, such as during a storm or something like that. If you have a headlamp nearby, you can use it to help you with the process.
If you don't have to light, and it's dark where you need to do the work, a headlamp can be incredibly helpful. Don't stop there though.
You can also use a headlamp for working on your car. It's very hard to see the deep interior of your vehicle if you're looking for the hood.
With a headlamp, looking at the small parts you may need to work on becomes a breeze.
Reading:
Tons of people use headlamps for reading. Perhaps you remember as a child trying to sit in bed reading at night under your blankets with a headlamp or a little light.
You can still do it though! Just use a headlamp to preserve electricity while you read.
There's no need to have your entire room illuminated with light when all you want to see is the book.
You can get a small headlamp for a very low price as well, that can help you with your reading at night.
Perhaps check out our post on buying headlamps if you're looking for a cheap headlamp for reading.
Fishing:
If you're a hardcore fisherman (or woman), you surely know that the best time to fish for the most part is early in the morning. There's the old saying "the early bird gets the worm." This applies directly to fish if you think about it. Taking a headlamp out with you when you go fishing can immensely help you as you fish early in the morning. It can be hard to see what you're doing when you're out there at 5:00 AM for example. By using a nice headlamp, you won't have this issue at all! You can fish with ease, no matter what time it is.
Camping:
This is the obvious answer for a why people would want to use a headlamp. There are so many reasons to use a headlamp while camping that we won't even bother to explain them to you. By using a headlamp while camping, you can make the entire experience a thousand times easier on yourself, and the people you're camping with. Remember when you bring a headlamp camping, you aren't just helping yourself, you're helping everyone around you who forgot their flashlight or headlamp.
Biking:
Sometimes bike enthusiasts like to bike at night; we get it. At least be safe when you do it by using a headlamp on the bike. Tons of headlamps will allow you to strap your headlamp right on your bike, so it's like you have headlights on your bike. This makes it a lot easier to ride, as well as a lot safer. You should seriously consider getting a headlamp if you bike a lot at night. The extra $ can end up saving you a ton of hassle.
Exploring:
It doesn't matter what you're exploring; chances are you're going to want to use a headlamp when doing it. If you're going to be exploring a cave for the day, simply bring along your headlamp, and you'll be set. The same goes if you're hiking. Sometimes trails can get very dark, and it can be difficult to see where you need to go next. Just bring along your headlamp, and it won't be an issue any longer. If you're searching for firewood at night or something like that as well, just pop on your headlamp and regain your vision.
What do you use your headlamp for? We'd love to hear what kind of crazy uses our readers have for their headlamps. Do you use your headlamps to work on plumbing? Do you use your headlamps to repair a certain thing? Or perhaps you fall under one of the uses we mentioned above! Whatever it may be, feel free to leave a comment below and compare what you use your headlamp for to what we've mentioned. Thanks as always for reading, hopefully, you enjoyed the post.
Why should you buy a headtorch?
If you are on this website you hopefully already know the benefits associated with a headtorch over that of a standard handheld torch. However, for those that don't, the main benefit that you will find with a headtorch is that it leaves both hands free to do whatever they want, be that cooking, climbing or even just reading a book. The first time I used a headtorch was on the walk back from the pub and allowing me to keep my hands nice and warm rather than exposed holding a handheld torch.
As you can see from this site the headtorch range has become increasingly diverse in the last few years. For this reason, I have written this short buying guide to aid you in the buying process of your new headtorch. The type and model that you end up choosing to buy will ultimately depend on your use for the product, and I only offer honest advice to get you the best product for your needs.
If you only require a device for camping and backpacking then you should be fine with a lower powered and more importantly, cheaper device; whereas if you are looking to go caving or night climbing you may be much better off with a higher powered device. That will often be set up to provide a much longer lighting distance so you can spot routes and navigation landmark points.
There are torches that will be usable in both environments, such as the Tikka XP that uses a removable diffusion lens to provide both a flood beam and a focused long range beam, but if you only require short distance lighting the extra premium in cost may not be justifiable.
With this in mind, the following are the main factors to consider:
The headtorch light source and therefore the light output of the headtorch.
Historically the light source found in all small portable lighting devices has been the incandescent bulb. However, the rise of the LED has brought about the end of a single incandescent bulb powered device. So this typically leaves 3 choices:
Standard LED (often found in multiple bulbs to increase output)
Dual Incandescent and standard LED
And High-powered LEDs.
Standard LED bulbs offer a wide bulb angle otherwise known as a "Flood Beam" which provides a wide angle of light generally over a short distance creating a bubble of light perfect for camping and backpacking. These LEDs provide a robust light source that is very difficult damage by external forces, perfect for use in outdoor environments.
Dual incandescent and Standard LEDs provides the short range flood beam of a standard LED array and the long-range flexibility of an incandescent bulb. This flexibility, however, comes at the cost of significantly decreased battery life and runtime. Due to the increase of high-powered LEDs available in modern devices, I would not recommend hybrid devices unless for specific uses, such as industrial or underwater use, where the Petzl Duo is perfect due to its robust construction.
High-powered LEDs provide a longer beam of output more similar to that of incandescent bulbs. However, they often have a fixed, focused beam angle such as in the Tikka Pro. Petzl has developed a unique lens to provide flexibility to their products such as the Tikka XP and the Myo RXP that changes the angle beam angle between the standard, focused beam and a large flood beam to provide the benefits of both output characteristics. The output of High-powered LEDs is significantly greater than that of a standard LED, but this also means that they come with a higher purchase price. This type of headtorch is perfect for night orienteering and caving since they allow you to spot routes and see further into the darkness than a standard LED powered headtorch.
In my opinion, the main thing to consider here is how much light you will need the price of the headtorch. Standard LEDs headtorch's will often cost less than a headtorch fitted with high-output LEDs, but then also they will have a lower light output only set up in a wide angle beam providing a large amount of nearby light, which may not provide focused enough lighting for route spotting and caving needs.
The battery type and location
The Batteries used within a headtorch are typically located in one of three locations: in a battery pack worn on a belt, in a battery pack mounted on the back of the head and finally in the main device enclosure.
Generally, devices that have batteries in the main device enclosure are the models towards the bottom-middle of the available range, e.g., Tikkina and Tikka products from Petzl. This is perfect for simple devices used in casual environments. These devices operate on AAA or smaller batteries.
A device with a battery pack mounted on the back of the head is a much more powerful and expensive device such as the Petzl Myo or Ultra. The pack is mounted on the back to balance the extra battery weight required for increased performance. These devices either have specific battery packs, like the Petzl Ultra or AA batteries in the Petzl Myo.
Finally, some devices have a longer battery cable to allow the pack to be mounted on a belt. This means that the battery weight is moved from the head perfect for physically demanding activities that require lots of head movement and for use in cold weather where the pack can be kept close to the body increasing battery performance. These packs generally hold the highest battery capacity and therefore deliver higher device performance. The Petzl "Ultra Belt" comes with an ACCU 4 battery as standard rather than the ACCU2 Battery which comes as standard on the head mounted battery version of the UTRA. This provides twice the battery capacity.
The running time of the headtorch
The running time of the headtorch will be a trade-off of output against battery capacity and location. LED devices offer a significant improvement of battery life over incandescent models, with most Petzl models offering over 100 hours, the Petzl Ultra is an exception to this with less than 20-hour runtime on the ACCU2 battery, but this device has significant light output. Some more expensive devices such as; Petzl Myo and Tikka XP offer a battery power indicator so you can quickly gauge the remaining power.
Weight of the headtorch
There are slight differences between headtorch models regarding weight, and the trade-off is that weight increases with headtorch performance. Most of the weight for headtorch's is due to the weight of the batteries. For most people, the weight difference between comparable headtorch's is so similar that the weight will not hold a significant role in the decision-making process.
Light output modes
Most headtorch's now come with multiple light output modes to enable the user to match their lighting needs to light output and to prolong headtorch battery life. The most common setup within Basic Petzl models is high output, low output, and S.O.S flash output. The high and low outputs enable the user to prolong battery life and S.O.S mode aids signaling friends or rescue crews. Some newer Petzl models such as; the Myo RXP allows users to select their output from a defined range to further fit the product to user needs.
Conclusion
Headtorch's are excellent items for both casual backpackers and campers to hard-core adventurers and cavers. The main decision to make when purchasing a headtorch is: how much light do I need? If the answer is not a lot and the only use it will see is a campsite, the likelihood is that you would only need a compact headtorch such as one from the Petzl Tikka range or the Tikkina. However, should you require more light than the Petzl Myo or Ultra might be more appropriate!
I hope this guide helps and enjoy illuminating the dark!