8 Best Headlamps for Camping, Hiking (Reviews& Buyer Guide 2023 )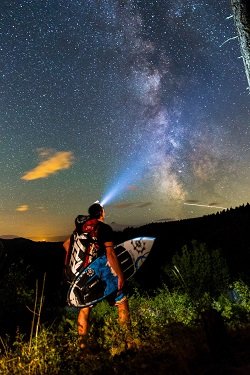 If you're going camping, especially for an extended period, you need a headlamp.
They make life a thousand times easier while camping as compare to Camping Lantern and Flashlight.
They also follow around wherever you look, so they're also a lot easier to use when compared to your typical flashlight.
You can also use headlamps for running at night in your city or for other different tasks.
Lights out in the basement and you just watched Paranormal Activity?
No problem. Throw your headlamp on and head down without being afraid.
Choosing a headlamp, there are many different features to consider. Lumens might be the most common, but we should look at other things such as beam type and the beam distance, run time, just name a few.
BIAT Store Headlamp Rechargeable
Enjoy hands-free illumination outdoors with the lightweight and rechargeable BIAT Store Headlamp.
Perfect for camping, hiking, cycling, or any other outdoor adventure!
Unlike traditional headlamps, this rechargeable one illuminates an impressive 230° wide-angle with 350 lumens of brightness – no need to worry about lighting up only a small area in front of you!
The headlight is designed with one extra bright XPE spot light, allowing you to focus light on some spot and see farther.
Unlike traditional headlights, it has a better view, and you can also use its spotlight to focus on specific areas.
Motion sensor switch allows you to quickly ON/OFF by waving your hand in front of the device, even when wearing gloves.
The BIAT Store Headlamp Rechargeable is your perfect companion for any night-time endeavors, boasting waterproof construction, six light modes and a snug fit.
You can press the power button to cycle through six light modes, including COB light high, COB light low, XPE high, XPE low, Strobe Mode, and Motion Sensor.
The BIAT Headlamp is made of soft silicone and an adjustable elastic headband, suitable for adults or children.
Pros:
The 230° wide beam
Motion sensor mode allows for easy ON/OFF
6 different light modes
Lightweight and comfortable design
Waterproof IPX4
350 lumens, making it ideal for various outdoor and indoor activities.
Long-distance spotlight
Suitable for use with most types of helmets.
Cons:
The charging cord is short, which may make charging while using difficult.
The strap may require handwashing, which may not be as convenient as machine washing.
It is ideal for outdoor lovers as camping gear. Whether you are camping, exploring, hiking, cycling, fishing, climbing, repairing, or engaging in other outdoor or indoor activities, our headlamps are your good assistants.
Victoper Rechargeable Headlamp
Victoper Rechargeable Headlamp is a high-quality headlamp which is favorite of many outdoor enthusiasts, hunters, and campers.
This headlamp has 8 powerful LED lights that provide up to 18000 lumens max, illuminating your world with brightness and clarity.
You can see everything around you clearly, whether you're exploring caves, running in the dark, camping under the stars, or enjoying other outdoor activities.
USB charging make it convenient for everyday use With two rechargeable batteries, it can provide 3-6 hours of long-lasting power in different modes.
IPX5 waterproof rating make this high power headlamp is built to withstand splashes of water from all angles.
You will get 8 different modes to choose from, including strong beam, warm beam, red light, SOS red strobe, main beam, side beam, all beam, and SOS strobe.
Pros
Eight powerful LED lights provide up to 18000 lumens max
Support USB charging, making it convenient for everyday use
Two rechargeable batteries
IPX5 waterproof rating withstands splashes of water from all angles
Lightweight and comfortable to wear for extended periods of time
Eight different lighting modes
Perfect gift for anyone who loves the great outdoors
Cons
No low battery indicator
No lock feature to prevent accidental activation of the headlamp
Overall, Victoper Rechargeable Headlamp is an excellent headlamp for outdoor enthusiasts, hunters, and campers.
Black Diamond Storm Head Lamp
The Black Diamond Storm 400 Headlamp is an excellent choice that is versatile, waterproof, and powerful, with 400 lumens of brightness.
As it says above, this is a storm headlight. That means that this lamp will survive any storm; it is waterproof.
The Black Diamond Storm 400 Headlamp is a unisex headlamp made of aluminum.
The headlamp measures 7.09″D x 4.72″W x 4.72″H, making it compact enough to fit in your backpack.
Weighing only 120 grams, the Black Diamond Storm 400 Headlamp is incredibly lightweight, making it comfortable to wear for extended periods.
It even gets an IPX 7 rating, so you can tell it's very high quality. You'll get 100 bright, shining lumens coming out on the highest setting.
This is enough to see anything you'll want to see or blind your friends if you're into that.
You can also activate the red LEDs if you want to use it for night vision.
The headlamp comes with red, green, and blue LEDs, making it easy to switch between different lighting modes depending on your needs.
It takes four AAA batteries, but the battery life is very well sustained and the lamp will last for quite some time.
There's also a meter on the lamp that will show you how much battery is left so you'll know when a switch is going to be needed.
It is designed for mountaineering, hiking, camping, running, Nordic walking, cycling, ski touring, and urban outdoor activities.
Pros
Waterproof, making it perfect for outdoor activities in wet conditions
Powerful with 400 lumens of brightness
Versatile and can be used for a variety of outdoor activities
Lightweight, making it comfortable to wear for extended periods
Comes with red, green, and blue LEDs for different lighting modes
Power Tap Technology allows you to quickly adjust the brightness
Battery life indicator makes it easy to tell when it's time to replace the batteries
Cons
It can eat up batteries at high power rather quickly.
It might not be the best option for close work.
GearLight LED Head Lamp
The GearLight LED Head Lamp uses American LED technology which make bright and long-lasting beam of light. Its 586 lumens provides excellent illumination for all your outdoor activities.
The headlamp has 7 different lighting modes including white strobe and red beam for safety.
It also has a 45-degree pivotable head, allowing you to direct the light exactly where you need it.
The removable, washable, and adjustable headband of this LED headlamp provides maximum comfort for adults and children alike.
Weighing only 3 oz with batteries, it is the ideal head light for outdoor adventurers.
The GearLight LED Head Lamp is water-resistant and shockproof, making it suitable for use in rain or snow, indoors or outdoors.
Pros
Superior brightness with American LED technology
Long-lasting beam with up to 10+ hours of runtime (on low setting)
Versatile with 7 different lighting modes and 45-degree pivotable head
Adjustable and washable headband for maximum comfort
Water-resistant and shockproof for outdoor use
Excellent value with a pack of 2 headlamps included in each order
Cons
Battery not included, requires 3 AAA batteries
No separate switch for red light mode, must cycle through white modes
No specific lumens rating, but actual output ranges from 165 to 200 real lumens depending on battery type and strength
GRDE Zoomable 3 Modes LED Headlamp
GRDE Zoomable Headlamp provides super bright light with rechargeable Batteries which you can charge with Car Charger, Wall Charger, and USB Cable.
So please avoid using your headlamp while charging.
You can use in three different way as headlamp , Waist lamps or Desk lamps you can also adjust its zoom.
You can use it 3 different mod of light beam like Low, Mid, Strobe.
Super Bright LED Headlamp Head Light for Hiking Camping Riding Fishing Hunting Outdoor Sports.
Lifespan reaches up to 100,000 hours.
Brightness up to 1800 lumens.
Advantages:
Super Bright
Waterproof
Easy adjustable and Zoomable.
Rechargeable battery
3 switch modes output, and strobe.
Package Includes:
1 Headlamp
1 Wall Charger
1 Car Charger
2 3.7V 18650 Rechargeable Batteries
1 GRDE Headlight Special USB Cable
1 GRDE English manual book
VITCHELO Headlamp with White and Red LED Lights
VITCHELO Headlamp is best Waterproof and 168 Lumens Bright Head Light.
You will also get 3 AAA Duracell Batteries when you buy in the box.
If you go for hiking at night, camping or you love to read in bed you will love this headlamp because of it best for you.
Its curved design sits perfectly on the forehead or a hat, and 168 lumens sheds light as far as 360 feet.
It is Bright enough to suit most needs of your night light and it will less tire on your eyes and adjustable.
It has several lighting modes, including full strength, dimming, strobe, red night vision, and green night vision. The red and green modes help to preserve night vision and are perfect for reading maps or navigating in the dark.
The Black Diamond Storm 400 Headlamp is designed to withstand extreme weather conditions. It has an IP67 rating, which means it's fully waterproof and can be submerged in up to 1 meter of water for up to 30 minutes.
If you're looking for a headlamp to go backpacking, skiing or trekking, without breaking the bank, the V800 is certainly one to consider.
Lumens:
Lumens gives you a general idea of how bright the headlamp. It depend on some conditions like batteries full, room temperature, etc..
You can get a really good general idea of how bright the light will be lumens. But it is not a standardized system for measured. So this means that you can't necessarily compare lumens alone when you're comparing headlamps across brands.
More lumens, more brightness, low lumens, low brightness.
Beam distance, so headlamps will tell you how far the beam's reach is both ones the light is its brightest and then when it's lowest or dimmest.
So this can give you again a measurement of how far that light is going to reach.
Type of light:
Many will have two types of light: the spotlight and then the floodlight.
Floodlight give you more peripheral light but not as much distance. Really great for cleaning up at camp or reading or anything that's sort of close to your face.
The spotlight will be great for night hiking, or night climbs need to see a lot of distance but don't necessarily need to see what's on the sides.
Run Time:
Run Time run time will tell you how long the light will last at its maximum brightness and minimum brightness. It is again just a general idea of how long the light will last because you, of course, will probably be using it at a variety of different brightnesses.
How long the headlamp will survive in water without running the light.
Battery Some headlamp use rechargeable batteries as opposed to just standard double or AAA.
Lockability:
What this will do is? It will lock the light so you can put it into your backpack and not worry about it turning on and then draining all the batteries.
Weight and bulk of the headlamp:
So you'll have some bulky headlamps that big battery packs and will last a long time and then some much lighter headlamps where the strap is just a simple string or a wire with small battery and low run time.
In this post, we're going to showcase a few different headlamps. We believe that these are some of the best headlamps you'll be able to find at each different pricing tier. 
Headlamp by SmartLite Ultra
SmartLite Ultra Headlamp is best-LED Headlight with Strobe, Lightweight and Waterproof for Camping, Running, Hiking and you can also use it for Emergency Kit.
SmartLite Ultra Headlamp is very light due to its lightweight which is only 35 grams.
It will rest snugly on your forehead with its curved bracket and an adjustable strap that fits both adults and kids.
It is best for car repair work while kids can enjoy using it as a reading light under a tent.
The white CREE LED bulb turns from low, medium and high to flashing or SOS mode.
To avoid disturbing people at camp or animals in the wild, bypass the white light to go straight to red light by pressing the LED switch for three seconds.
Energizer Pro 3 LED Headlamp:
We mentioned that we'd have some budget headlight, but did you ever think that you'd find one for under $?
This is a very, very basic headlamp, but still gets the job done.
Energizer makes it, so you know the quality of it is going to be very good.
It has two separate light modes and is incredibly comfortable.
It also comes with batteries, even though it's very cheap, so you don't have any external costs.
If you're looking for a cheap headlamp, this is the one you want.
It will get you through any difficulties you might have, but don't count on it working for years on end if you use it frequently.
Here's a video review as well if you'd like more details:
Petzl NAO Headlamp
Petzl NAO Headlamp is a bright lamp with the newest technology.
It has two LED emitters: one diffuse and the other a fairly tight spot.
Each of the two puts out about 150 lumens.
The light of the headlamp adjusts to meet the demand of what you're doing.
If you're on a trail in the dark, the headlamp will turn on the long-distance beam.
Stop to check GPS and map and the light will dim to the level needed for such close-up work.
The unit has many settings range; it provides amazing brightness and intensity.
Petzl has created Reactive Lighting and has done it well.
Also, this headlamp is light and very comfortable to wear
Conclusion
Headtorch's are excellent items for both casual backpackers and campers to hard-core adventurers and cavers. The main decision to make when purchasing a headtorch is: how much light do I need? If the answer is not a lot and the only use it will see is a campsite, the likelihood is that you would only need a compact headtorch such as one from the Petzl Tikka range or the Tikkina. However, should you require more light than the Petzl Myo or Ultra might be more appropriate!
I hope this guide helps and enjoy illuminating the dark!