5 Best Tactical Gloves-Buyer Guide (Updated 2022)
The main purpose of tactical gloves is to protect your hands, provide increased grip and keep your hands warm & dry. You want dry hands to be able to handle a weapon accurately.
You want your hands protected from fire, scrapes, and cuts.
So what are the key aspects you need to consider to choose the right tactical gloves?
Material
Modern tactical gloves are made of synthetic materials which are key ingredient of dexterity, grip, and protection.
Higher-end tactical gloves still incorporate leather in the gloves for added comfort. while some gloves even have materials, such as Nomex, that are fire-resistant for added protection.
The top tactical glove manufacturers have patented materials that offer special features. For example, the Line of Fire glove range has the Technology Enhanced Grip System, which is high friction material providing excellent grip.
Dexterity
The most effective tactical gloves need to allow you to move your fingers freely and without restriction. This is especially important for the trigger finger that you would want to be able to move quickly.
For dexterity, look for gloves that are not too loose fitting and is not constructed from overly thick materials (especially around the fingers).
Full Finger vs 1/2 Finger Gloves
Full finger gloves will provide the warmth and dryness that 1/2 finger gloves will not. Also, full finger gloves will provide the increased protection for your fingertips.
However, 1/2 finger gloves let the wearer use his/her fingertips for increased sensitivity and to grasp fine/small items (example adjusting the small dials of a rifle scope).
Also, if you need to operate a touch screen device, the 1/2 finger gloves are a much better option than the full finger gloves, which you would have to take off each time you want to use your touchscreen device.
Additional Features
Some tactical gloves have additional features that could either be beneficial for the purpose you want to use the gloves or could be a hindrance.
Reinforced fingertips – Added protection for your fingertips. This could, however, affect your ability to handle small items with precision.
Knuckle protection – Molded protection for your knuckles. This could make the gloves a bit bulkier but provides the additional protection for your knuckles in hazardous situations.
Special materials – The top quality tactical gloves have Kevlar materials to protect you from cuts and shrapnel; and Nomex materials to protect you from fire and heat. These materials will make the cost of the gloves a bit higher but will give you the protection you need from tactical gloves in dangerous situations.
What to look for
Leather Palms
What kind of leather do you want on your palms? The most preferred kind is synthetic leather, goatskin leather, and sheep hair leather as they allow for the most dexterity.
Elemental Conditions
Do you plan on using your tactical gloves in an environment where your hands will be sweating a lot or would perhaps a situation where they will be exposed to some chilling elements? What about water, do you want your tactical gloves to be waterproof? Or maybe fireproof?
Ease of Use
Some tactical gloves include a "quick pull loop" which allows you to quickly slip on your tactical gloves without fumbling and wasting valuable seconds.
Safety
Safety is a significant factor when dealing with "tactical gloves" / "combat gloves." You have to option of having slash resistance, carbon-fiber knuckles, impact protection, reinforced fingertips and of course fire/flash resistance.
These are just some of the basics to look for when choosing the right tactical glove/combat glove for you.
Compatibility
A pair of gloves which is compatible with your other equipment is essential. You need to ensure that your tactical gloves do not interfere with your performance when using your tactical flashlights or night vision goggle unit.
Other factors you may look into are brand names; this is what we will be sorting the tactical gloves into as it is the easiest way to research. The pages linked below lead to guides written about each manufacturer's gloves. There will not be a page about "Outdoor Research's" tactical gloves. They make very high-quality winter gloves in the $200+ range with many dynamic features.
The Top Rated Tactical Gloves
Below is an overview of the top rated tactical gloves currently available. The reviews are based on comments from hundreds of person who have used these gloves and provided feedback.
Our Pick: 5.11 Tac A2 Gloves
A key piece of sniper gear in any aspiring marksman's tool kit, is a nice pair of shooting gloves.
5.11 is the best company in America when it comes to civilian Shooting Glovesshooting gloves, and we really like their A2 gloves, which have several features that I'm sure you will enjoy.
First off, they are made out of Kevlar cloth, which feels more like cotton than. If you know anything about Kevlar, you know that it is extremely durable, so your getting the best of both worlds here.
Secondly, these gloves are extremely light weight, at about .2 pounds per glove, and can keep you warm except in sub zero temperatures.
The awesome breathability of the gloves also means that they work great in warm climates as well.
These puppies, for performing their role, are also fantastic. The key to getting a good pair of gloves is to make sure that they are tight, and flexible. Kind of like spandex.
Yet at the same time you want them to be durable and protect your hands.
These gloves should give you a nice, tight fit, but provide you the flexibility needed to pull the trigger with limited hinderance, due to the reduced leather near the end of the fingertips.
As for the rest of the glove, it offers a superior grip. Best of all, it looks fantastic!
The one complaint, is that when you first put them on they may bleed some black. Your also looking at about a one year life span if you double these up as winter gloves.
Blackhawk Men's S.O.L.A.G. HD Glove with Kevlar
These gloves are made by a reputable manufacturer, namely Blackhawk, who is known for producing quality gear.
The gloves contain Kevlar material as well as dual-layer cowhide leather palm and fingertip protection.
It has the added features of knuckle protectors, wrist adjustments and a nylon loop for easy attachment to carabiners.
Users who have worn and used these gloves highlight that the gloves are comfortable, provide excellent grip and hold up well in terms of quality.
The users that have used this on deployment found the loop for attachment to carabiners especially useful.
One negative common theme from user comments that seems to come out is that the stitching is not what it should be.
A number of users commented that the stitching came apart on parts of the gloves. This is of course not ideal if you plan to take these gloves out for long deployments.
5.11 Station Grip Glove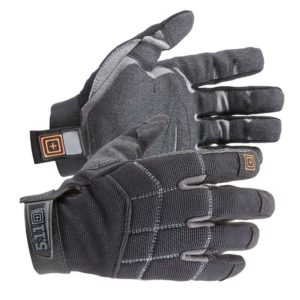 The 5.11 tactical glove range was developed by former Navy SEAL Jeff Gonzales. These gloves have some nice features, which include:
A back panel that stretches four ways for increased dexterity in the glove.
Reinforced palm and fingers.
Machine washable and dries quickly.
ID tags so you can identify your gloves easily.
Feedback on these tactical gloves is really positive. The users who have used these gloves commented on the gloves' high quality, comfort, grip, and durability.
Users have noted that the size of the gloves tend to be small and as these gloves are not made from natural leather they do not stretch much more over time and use; so it might be a good idea to pick a size slightly larger than you would normally wear, to have the right size for a good fit.
These gloves are padded for heavy duty usage, so they are not ideal for use when shooting small weapons. However, many users commented that the gloves work fine on regular size weapons.
Mechanix Wear MP2-55-010 M-Pact II Glove Covert – for Heavy Duty Work
These combat gloves have a synthetic leather palm that is built for long-term use either in your home garage or a car shop.
They're very comfortable, and the fit is very good. The Lycra inserts are between the fingers so there's plenty of ventilation and you don't have to worry about sweating or feeling cramped.
Even if you just bought these gloves, they don't have the tight feel common with new ones, and the dexterity is among the best around thanks to the interior stitching.
The EVA foam padding on the palm is another nice feature as it protects your hands from abrasion and injury. These gloves are designed for professional use, and that's easy to see as they're made from the highest quality materials.
Like other Mechanix gloves these have knuckle protection, and the palm areas have special padding so it can withstand continuous use.
Taking everything into consideration, Mechanix tactical gloves will be the perfect fit for DIY enthusiasts.
Blackhawk Men's Black S.O.L.A.G. Special Ops 1/2 Finger Light Assault Glove
Another pair from the Blackhawk range, these 1/2 finger gloves are made from all synthetic materials, which is machine washable and dries quickly.
They also have dual back-of-hand and wrist adjustments which makes it easy to adjust the gloves to fit snugly.
As with the other Blackhawk gloves, this pair comes with a nylon loop for easy attachment to carabiners.
Users of these gloves commented that the padding is excellent, construction is excellent, durability is great and the gloves are overall comfortable.
As with the other Blackhawk gloves we reviewed, these gloves are noted to be a small fit; so it is advisable to buy a size larger than you would typically choose.
5.11 Tactical Scene One Glove Gloves – Durable and Comfortable
These combat gloves sport tough leather palm for extra grip, and the Velcro makes them easy to secure around your wrist.
Style wise these Tactical Scene gloves look great, but these are serious working gloves that can be used in rugged terrain. If you're working in hot environments, these will be perfect since there's plenty of ventilation for your hands here.
Not only is the Tactical Scene designed for heavy duty use but they are incredibly durable. Even when used in rugged environments regularly, they won't suffer any wear and tear.
In fact, these gloves are durable enough to be used for hill climbing, and they do a great job of protecting your hands and fingers in the process.
These are, in short, excellent working gloves, comfortable, easy to secure around your wrists and sturdy.
Additionally, the 5.11 tactical gloves don't winter gloves, but they're thick enough to keep you warm during cold days.
Oakley Factory Pilot Glove Coyote Size Large – For Heavy Duty Needs
Regarding popularity, these are right up there with their tactical shooting gloves, and their Pittards full grain leather palm provide comfort and flexibility, and there's none of that heavy or tight feeling that you get from wearing a new pair of gloves.
Like other Oakley gloves, these have Airprene joint panels and Velcro closure for convenient fitting. While they're very comfortable make no mistake about it, they're durable enough for military use and good enough for the US Marines.
The interior cushions are perfect, and the knuckles are more than adequate.
There are other less expensive gloves out there, but if you are looking for heavy duty military gloves, these are the ones for you.
These Pilot Gloves, by the way, are not just for military use but also ideal if you're looking for shooting gloves or you are an outdoor enthusiast.
Conclusion
A good pair of tactical gloves can be a great asset to an operator. Either providing comfort and grip when shooting and working or keeping your hands warm and dry when in harsh conditions. We hope our article helped you choose the right tactical gloves for your needs.
What are your thoughts on tactical gloves?
Do you have a pair that you believe is superior to other tactical gloves? Share your thoughts and experiences by leaving a comment below.
What to Look for When Browsing for the Best Shooting Gloves
The purpose of the glove, is to take some of the friction off of the gun itself, control the recoil, but most of all, give you a firm grip. Shooting gloves are often times thrown into the category of tactical gloves because they feature high durability Kevlar cloth, but can also feature other materials. Kevlar cloth is in my opinion the best material that you can possibly use, because of its flexibility and tight fit. This can be a god send when you are out in a wooded area, and need the extra protection.
There are two main types of shooting gloves in my opinion, hard knuckle and soft knuckle. Hard knuckle gloves are designed for increased grip, and are more of a tactical style glove. Soft knuckle gloves however, are what the vast majority of people will be using. These gloves, featuring Kevlar, are very light weight, have high breathability, and insulate your hands enough that you can wear them comfortably in both warm and cold climates.
Flexibility versus Tightness
There is somewhat a degree of customization that goes into every glove, that happens immediately the first time that you put them on. With about 24 hours of constant use, gloves will be broken in to fit your hands. Having said that, there is a balance that needs to happen, between flexibility and tightness. Think about it, when you go to squeeze the trigger, you don't want any loose cloth getting in the way of the trigger and your index finger. At the same time, gloves that are too tight could cut off blood circulation and make you very uncomfortable. For this very reason, some gloves are made fingerless so that you can pull the trigger unhindered.
This is where Kevlar shines, however. They are elastic enough to fit snuggly onto your hands, while still being tight enough to pull the trigger unhindered. Most of the better constructed shooting gloves also have a thinner layer of Kevlar around the tips of the fingers, because they understand this need.
Choosing a Good Grip
So now that we have the potential detraction's out of the way, it is time to decide on what kind of grip you want to have for your rifle. The best shooting gloves all have extra firm grips. Whatever gloves you choose to purchase, there is no limit to the amount of grip that you want. Ideally, you want to be able to pour baby oil onto your gloves and catch a carp. However, that isn't the case, and you will need to test these the gloves out to determine how effective they are in the field.