Best Camping Recipes-Easy Camping Food Ideas
Trying to find some simple camping recipes for your next camping trip?
I've got some good ideas for yummy basic meals that will please you and your crew members. Planning tends to make the actual camp cooking a breeze and strain free for the cook.
I try to do maximum work in my home kitchen before heading out. Some meals I cook all of the ways and freeze them and others I just package items together, and others do some of the prep at home to be completed off at the camp site.
Tin foil is excellent to cook plenty of things over a campfire, and in coals, you can easily cook fish, corn, sweet potatoes, bananas to name a few. Think of it as a straightforward camp oven.
Simple Camping Recipes – Tin Foil is Your Friend
Did you ever make hobo dinners as a kid?
It's a simple meal you possibly can prep at home or on site. This is much more of a guideline than a recipe since you probably can alter the meat, vegetables, and seasonings to suit your tastes and imagination.
Use a double layer of heavy-duty tin foil. Do not skimp on the tin foil!
Layer:
Thinly sliced potato
Sliced carrot
Hamburger patty
Garlic seasoning
Sliced onions
Make a packet out from the tinfoil making certain it is sealed well and set inside the coals on the fire. The potatoes always take the longest to cook so judge your time by them.
Tin foil is excellent to cook plenty of things over a campfire or in coals; fish, corn, sweet potatoes, bananas to name a few. Think of it as a straightforward camp oven.
Simple Camping Recipes -Dog on a Stick
Small children will need to have supervision with this, but it is a fun main dish that every person gets to cook for themselves.

Sharp green sticks or hot dog/marshmallow skewers
Biscuit mix, refrigerated or made from the mix. If produced from mix keep it fairly thick in texture.
Hot dogs or another sausage
Skewer the hot dogs.
Roll the biscuit dough into a strip and wrap around the hot dog on the skewer. Pat in place, so it's on really well.
Roast over coals, turning so the biscuit dough cooks evenly around the hot dog.
Done when the biscuit dough is cooked through.
Serve with mustard and relish for dipping. No need for buns!
Simple Camping Recipes – Beyond Spaghetti
Chili and spaghetti are favorite easy camp meals that can be prepared at home and be ready to cook up in a hurry. Why not take pasta a step further for another easy meal that's quick and simple as well as tasty and filling?
Chicken and Pesto Tortellini
Cooked chicken cut into bite-sized pieces.
Pesto. Homemade or in a jar
Tortellini or other pasta, ravioli works well too
Heat a pot of water until boiling, add pasta and cook until al dente
While the pasta is cooking heat or cook the chicken.
Once the pasta is cooked, add this chicken, stir in the pesto to coat.
Serve with garlic bread and salad.
One Pot Camping Meals
One Pot Camping Meals are the camp cook's best friend. A meal that's easy to cook and clean up. You can quickly fix one-pot meals that you prepare at home ahead of time, such as chili or spaghetti, and just heat them up at the camp site. These are great emergency meals for those nights when you pull into camp late tired and grumpy and need to feed everyone in a hurry.

Other one-pot meals that are easy to cook at camp are soups and stews, either canned, dried or homemade. One skillet meals such as a breakfast scramble or hash make excellent breakfasts too. Here are some ideas for "one pot camping meals from quick and hearty to long slow simmering over the coals.
One Pot Camping Meals are the camp cook's best friend. A meal that's easy to cook and clean up.
One Pot Camping Cooking Gear
[amazon_link asins='B01NCMK1W0,B01H3DODOU,B0009PUR4A,B06ZYGW8V1,B01LYP7RM9,B01HPA43SC' template='ProductCarousel' store='doorchamp-20′ marketplace='US' link_id='4b42522d-67ad-11e7-b005-3b8a87b83003′]
One Pot Camping Meals – Ribs and Sauerkraut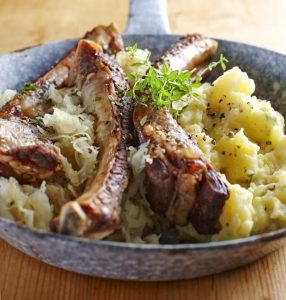 A tasty combination of pork ribs and sauerkraut cooked over a slow fire in a Dutch Oven.
Ingredients
2 TBL vegetable oil
1 rack pork baby back ribs cut into individual ribs
Salt and pepper
1 medium onion, chopped
6 medium potatoes, quartered
1 lb bag sauerkraut
1/2 C white wine or stock>
Heat oil in Dutch oven over medium heat. Season ribs and sear them in the oil. Transfer to a plate. Saute the onions until soft, scraping up the bits of meat. Add the potatoes and ribs, cover with sauerkraut. Add wine or broth. Cover Dutch oven and cook until the ribs are tender, 2 to 3 hours. Check periodically and add more broth if needed.
One Pot Camping Meals – Sloppy Joes
Sloppy Joes Make a Quick and Hearty One-Pot Meal
Ingredients
1/2 lb ground beef
1 medium onion, chopped
1/4 C ketchup
2 TBL mustard
2 TBL Worcestershire
1/2 TSP garlic powder
Brown ground beef in skillet. Drain the grease and add the remaining ingredients. Cook until onions are soft. Serve on buns with coleslaw and chips.
One Pot Camping Meals – Apple Cobbler
A tasty one pot dessert to enjoy around the campfire
5-6 large Granny Smith apples
1 cup brown sugar
1 box yellow cake mix
1 stick butter
Line 12-inch Dutch Oven with tin foil. Core and slice the apples. Layer in the bottom of the Dutch oven. Sprinkle the apples with brown sugar. Spread the cake mix over the apples, do not mix.
Place pats of butter over the cake mix and sprinkle with cinnamon. Cover the Dutch oven and place about 15 coals on top. Place the oven over the coals. Check after 30 – 40 minutes. Its done when the crust starts to brown and the apples and brown sugar are bubbling up through the crust.
Easy Campfire Meals
Looking for some Easy Campfire Meals for your next camping trip? Food is eaten on a camping trip always seems to taste better. Maybe it's because we're so hungry or because it's the change of pace and we're on vacation. Or Maybe it's because the camp cook knows how to cook!
I like to make camp cooking as easy as it can be for myself and do a lot of the prep work at home before we leave. I cut up meat and vegetables in my kitchen and bag and label them before they go into the cooler. When I'm ready to cook at camp, a lot of the work is already done, and if it happens, we're late at camp, and I'm cooking in the dark it makes it so much easier to get a hot meal on the table.
Some meals, like spaghetti and chili, are easy to make and package at home to use camping. I like to freeze up serving size portions and then use them as ice blocks in the cooler until I need them for a quick meal.
Planning and preparing food ahead of time is my key to Easy Campfire Meals as well as having some sure-fire recipes for cooking over a fire.
Food cooked on a camping trip always seems to taste better.
Campfire cocking Gear
[amazon_link asins='B01LXMUEEF,B06Y5HZW9P,B00008GKDW,B00YOKWBI6′ template='ProductCarousel' store='doorchamp-20′ marketplace='US' link_id='2248181e-67ae-11e7-8e1d-bb0a4a5efb9c']
Easy Campfire Meals – Tin Foil is Your Friend
Tin foil is your friend when cooking over a fire. You can use it to roast corn, bake potatoes, and sweet potatoes. It can be used as an impromptu oven to back apples or entire meals!
The trick to using tin foil is not to skimp on the foil! Use more than you think you'll need and use heavy duty foil. The idea is to seal in the juices of whatever you're cooking to keep it moist and add flavor.
The best way to do this is with the drugstore or butcher's wrap shown in the picture. By folding in the ends and sealing the top, you make a nice packet of your meal that can be cooked directly on the coals or on a grate over the coals.
Easy Campfire Meals – Chicken in Foil
C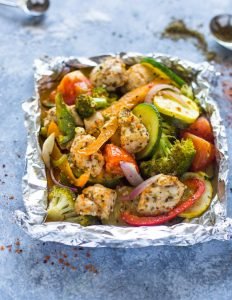 hicken in Foil
1 boneless skinless chicken breast
1 potato, washed & sliced
1 sliced onion
3-4 fresh mushrooms, cleaned & sliced
6-8 stalks fresh asparagus; tough ends snapped off
Place chicken on a large piece of foil. Season the chicken and layer the rest of the ingredients on top of the chicken.
Wrap in the foil and place chicken side down on hot coals. Turn after about 20 minutes and cook for another 10 minutes.
Unwrap and test for doneness.
Easy Campfire Meals – Sloppy Joes
Sloppy Joes make a quick and hearty one-skillet meal. Serve on hamburger buns with chips and coleslaw
1 lb ground meat
1 can tomato soup
1 jar salsa.
Brown meat in skillet, drain fat, add soup and salsa to heat.
Easy Campfire Meals – Hobo Potatoes
2 lb frozen hash brown potatoes, defrosted
1/2 C ranch dressing
1/2 C milk
Shredded cheddar cheese
Mix all ingredients and either wrap individual servings in tin foil (see drugstore wrap above) or cook as one batch in a hot, oiled dutch oven. Cook over coals about 20 minutes until potatoes are hot and cheese is melted. Makes a great side dish for dinner or breakfast.
Camp Cook Books [amazon_link asins='0760352011,1623158842,1620930862,1537570145,1580089453′ template='ProductCarousel' store='doorchamp-20′ marketplace='US' link_id='f2a6135a-67ae-11e7-8b3c-633be426aae1′]
Easy Campfire Meals – Stuffed Apples
1 apple
Brown sugar
Raisins
Butter
Cinnamon
Core the apple and stuff with brown sugar, raisins, and butter. Wrap in 2 layers of tin foil and bury in coals. Cook for 5 to 10 minutes.
Easy Campfire Meals – Banana Boats
1 banana
Chocolate
Marshmallows
Do not peel the banana. Slit it from end to end and crossways. Remove some of the chunks of banana. Replace the banana pieces with chocolate and marshmallow. Wrap in a double layer of tin foil and roast in the coals
Camping Menu Ideas
Looking for some great camping menu ideas? For inspiration think about some of the best camping meals you've ever had. You know, the ones you don't forget? Was it a hearty breakfast around an early morning campfire? Was it something you tried for the first time and maybe didn't come out just the way you planned, but you all had such a laugh doing it you didn't care and ate it anyway? Was it the fresh fish you caught for dinner?
Camp cooking holds its special memories along with a distinctive set of challenges. Read on to view how you can overcome some of those issues and produce some of your memories.
Breakfast Camping Menu Ideas
Start out the Morning With a Good Breakfast.
Camp breakfast has its challenge. If you are moving camp that day you've got the additional chores of getting camp torn down and packed, or you could have a full day of sightseeing planned. You want to make sure everyone has a good meal to carry them through to lunch, especially with lots of physical energy being used all morning long.
Oatmeal is a good choice that doesn't need to be boring. You can dress up any oatmeal with dried or fresh fruit, milk, honey, nuts, brown sugar, syrup or molasses. Instant oatmeal only needs boiling water to be ready quickly. You can let "real" oatmeal cook over low heat while everybody gets up and dressed and it will be ready when you are.
A yogurt, fruit and granola parfait is another quick cold breakfast or snack which will carry them through the morning. Breakfast Rollups or breakfast in the bag are 2 other hot quick fix breakfasts to get them out of the tent and ready to go.
For inspiration think about some of the best camping meals you've ever had. You know, the ones you don't forget?
Lunch Camping Menu Ideas
Lunch is the meal that is most often eaten on the run when you're camping. A lot of times you are on the trail or sightseeing when lunch rolls around. It can be seen as a chance to take a break and catch your breath or a distraction depending on what you're in the middle of! Skipping lunch leads to that dreaded late afternoon crash that leads to grumpy campers.
Making lunch portable is a great way to be sure everyone eats. Snacks of fruit and granola bars stashed in your pockets provide a quick meal on the go to tide you over. Instead of using bread try using wraps and pita pocket bread to make sandwiches easy to eat and carry. Peanut butter slathered on a tortilla is one idea for a portable lunch. Pita pockets seem as if they were created for portable lunches. A favorite of mine is chicken salad with grapes layered on fresh spinach in a pita pocket.
Dinner Camping Menu Ideas
When you're camping, dinner is the meal that can be a relaxed meal at the end of a full fun day that everyone looks forward to or a scramble to get everyone fed in the dark!
There are times when you get lost, the weather turns, etc. and you end up getting into camp late tired and grumpy. That's when you want to pull a miracle out of the cooler and feed everyone a hot filling meal. If you planned that miracle is possible. Plan an emergency meal for your trip by making a pot of soup, chili, stew or spaghetti at home and freezing it in serving portions. It can be an extra block of ice until you need it and if stored in smallish portions it can be quickly and easily heated up on the stove. Everyone gets something hot and nourishing quickly, and the camp cook is a star!!

On those evenings when things are more relaxed, and everyone plans to be gathered around the fire why not plan a Dutch oven dinner? You can get as elaborate as a pork loin with apples and cabbage or as simple as the stew that you assembled at home ready to go on the fire. Dutch oven cooking didn't take much in the way of supervision once it put together. It does need a long cooking time over a steady low heat, just like your crockpot at home!
Dessert Camping Menu Ideas
'Smores are the classic camping dessert that you have to have at least once on a camping trip! Another idea that includes chocolate and marshmallows is a banana boat. Split a banana open from end to end, don't peel it! Slice the banana into sections in the skin. Remove some of the pieces of banana and replace with pieces of chocolate and marshmallows. Wrap in tin foil and cook over the coals until the marshmallows are gooey and the chocolate is melted!