Best Time for Fishing – Some Basic Instructions
What is the best time for fishing
Fishing is exciting game, but it is equally frustrating if at the end of the day you need to come back with empty hands. Thus, one needs to be a little tricky and wise while choosing the time to fish. After all, a fish on your hook is what can bring the smile after the whole day tiring tussle. Anglers need to have the best understanding of how fish live, and this will help to them to determine the best times to fish.

The position of Sun and Moon for fishing
The sun, moon, tides and weather – these are things that vastly influence fish activity. As we all know, fish tend to feed more at sunrise and sunset. And surprisingly during a full moon, tides are higher than usual and fish tend to feed more. In bright sunlight, when it's hot and sunny, fish move to cooler, deeper waters to stay comfortable, so avoid a shiny day. Rather choose more clumsy & dark ones as cloudy days are great for fishing. As the clouds diffuse sunlight, fishes love to spend time on the surface. And this is the time when you should be ready with armors to attack!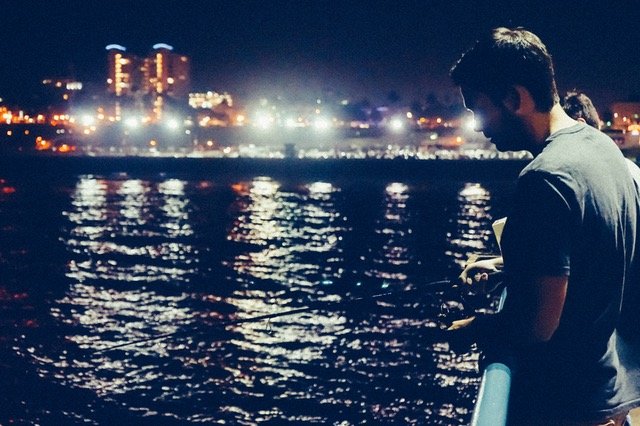 The following are some fingertips that come handy while choosing the right time for fishing:
The perfect time for fishing is believed to be one hour before & after high tides and one hour before & after low tides.
It is clever to fish during the morning rise that is after the sun comes up for a spell. And during the evening rise that is just before sunset and the hour or so after that.
A barometer is a helpful tool for determining accurate fishing time. When the barometer is steady or on the rise, you will not be unhappy if you fish that time. But even during stormy periods, the fish aren't going to give up feeding. So if you are a smart fisherman, all you need is an impudent bait to lure a fish.
Fishes tend to come closer to the coast when the breeze is from westerly quarter rather than from the north or east. But on the other hand, fishes love the surface when the water is still or rippled, rather than during the wind.
The Sun, Moon, tides, and weather all influence fish activity. Fishes need food to survive they tend to eat more at sunrise and sunset. During a full moon, tides are higher than average and fish tend to feed more.
Essentials you need for fishing
Here is list of some things which you need for fishing. You should check list for going fishing.
Bobbers
Swivels, to keep fishing line from twisting
Fishing line
Leaders
Sinkers
Different sizes of hooks
Pliers, to help remove hooks
Stringer to hold all the fish you catch
Ruler/Scale
Insect repellent
Sunscreen
Unscented soap to wash your hands before handling bait
Right time to fish
Learn about the right time to fish from these videos