5 Best Shoulder Holsters Review-Buyer Guide 2022
Fewer and fewer people are using Shoulder Holster to transport and protect their firearms, and they are becoming markedly less common as a result.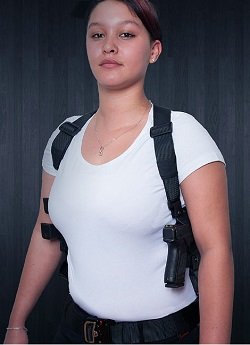 Most often comfort and complication level are cited as the reasons why gun shoulder holsters are passed over in favor of hip and ankle holsters.
There is no question that it's far more challenging to use a shoulder holster over one situated at the hip.
Essentially, hip and ankle holsters are literally ready to go out of the box. In some cases a bit of customization may be involved, but at the end of the day there is no extra work necessary to use a hip holster.
Choosing the best shoulder holster to depend on some basic matter like personality, budget, and your gun size as well.
We understand budget of every person is different and you want best shoulder holster for you at same budget.
This insisted me to write an unbiased review about leather & nylon shoulder holster that is equally power affordable and stylish as well.
We will list them to write a short description about them, hope this will assist you understanding basic difference & help you identifying the right shoulder holster for you.
You should consider personal preference that you feel good and comfortable.
You should consider the good company as well as personal preferences. Most of the people search only design, but good companies always use the best material and interior on their product. This helps them acquiring customer trust and satisfaction as well.
We will list altogether to help you understanding which product is best for you. In this review post, we are listing 5 shoulder holster that is popular among the customers.
Best Value
Galco Classic Lite Shoulder System for Walther PPK
Best of the best
Uncle Mike's Vertical Shoulder Holster
PREMIUM PICK
Bianchi X15 Shoulder Holster – Tan
Uncle Mike's Black Kodra Nylon Sidekick Vertical Shoulder Holster
The most glaring difference between Uncle Mike's Shoulder Holster and other models is the price.
Hands down, there are fewer underarm holsters that can compare to the low, low price of Uncle Mike's.
At between $25 and $65 on average, it's a more than affordable way to comfortably tote your firearm in a concealed and secure manner.
This low price may translate into a few shortcomings in the eyes of some users, including stiff snaps and notably slow quick draw.
However, for both value and function, few vertical Shoulder Holster products compare to Uncle Mike's.
When used primarily for comfort and long term wear, however, the Uncle Mike's holster really shines. It's big, wide (two and a half inch) straps provide superior and long term comfort.
For those spending hours outdoor hunting, these straps can keep the weapon feeling secure yet lightweight all day long.
It's absolutely ideal for larger revolvers and larger weapons that can be bulky and cumbersome to tote around.
While functional and comfortable, this vertical Shoulder Holster does not score many points in the looks department. It appears poofy and the black fabric lacks the smooth leather look that more expensive models are made of.
However, the material differences in the holster affect only the price, not the quality. It's solidly constructed and well suited for larger weapons, secondary weapons or smaller guns and is able to keep them clean, secure, dry and (sometimes) hidden.
UTG Deluxe Universal Horizontal Shoulder Holster
UTG Deluxe Universal Horizontal Shoulder Holster is a customizable solution for those looking for an economical yet secure solution. Both left and right handed shooters will find the black, universal shoulder holster from UTG comfortable, practical and versatile.
Both in terms of holsterable firearms and girth of the wearer, size is much less of an issue with this padded shoulder holster than other models all the way around. On one hand, various sized guns from revolvers to pistols fit snugly and securely in the holster. On the other hand, the unit itself fits the wearer comfortably, snugly and securely, even those with larger than average chest sizes.
But on the flip side, weight may be a factor, although more so in terms of the gun than the shooter. Some heavier weapons may prove uncomfortable for the wearer over long periods in the holster. Interestingly enough however, while the load bearer may find heavier guns awkward and cumbersome, the actual horizontal shoulder holster itself is quite lightweight and comfortable.
The UTG Deluxe Universal Horizontal Shoulder Holder is simply not a premium product. Users won't find leather details and Sherpa shoulder padding. However, the holster also carries a mere twenty dollar price tag, and users find it isn't missing anything in terms of quality construction. The padded parts are comfortable, the straps are secure and easily adjustable and the Velcro based components are lightweight and functional.
For anyone looking to be able to carry a wider range of weapons than many standard holsters without compromising comfort and security, the UTG Deluxe Universal Horizontal Shoulder Holster may be an ideal solution. Priced well below many other comparable products, it's an excellent value that more than accomplishes its intended purpose, although it lacks bells, whistles and flair.
Galco Miami Classic Shoulder System for 1911 5-Ince Colt, Kimber, Para
Boasting signature design elements reminiscent of the 1970 Galco original, the Miami Classic Shoulder Holster is one of the most popular underarm units available, thanks to its reputation amongst proficient shooters and enthusiasts alike.
Anyone looking for a 1911 shoulder holster should look no further than the fully modular patented holster from Galco.
While there are numerous add on products available, the well known spider harness is actually what makes the Miami Classic Shoulder Holster so popular.
This unique design allows for four point independent pivoting combined with a trademarked back plate.
Some sights and lasers work well with the Galco shoulder holster for 1911 weapons.
However, this varies from type to type and it's probably worthwhile to contact Galco directly regarding specific makes and models.
In terms of toting extra ammo however, the Galco falls flat. Its two snap positions may make fit and comfort more agreeable, but it won't allow for 10 round magazines to fit properly.
Shoulder Holster 1911 options are rarely so comfortable and so easy to fit.
The saddle leather shoulder holster 1911 comes in both right and left handed draw options and also comes in both tan and black color finishes.
A standard break in period is pretty common for most users, with the leather made straps requiring a bit of time to become flexible and pliable.
However, after the break in period, the product performs extremely well and is considered amongst the best Shoulder Holsters in terms of comfort and wearability.
All these perks will come with a higher than expected price tag (ranging from $150.00 to $200.00 from many retailers) however, but users point out that the Galco Miami Classic is worth every penny thanks to its quality construction, durability and unsurpassed comfort.
Bianchi X15 Shoulder Holster
An X Style harness and dual spring design combine to create this vertical carry holster from Bianchi. It's constructed from soft leather and lined with leather also for superior comfort.
While keeping the wearer cozy is a concern, the holster also doesn't slack in terms of keeping firearms stable and secure, thanks to a premium closure. For large weapons such as the Colt Python, it's an excellent rig.
While users tend to enjoy a fast draw from the Bianchi Shoulder Holster(an uncommon occurrence outside of hip holsters) there are some tightness issues that some users have experienced with certain firearms.
However, for the 629 44 mag and the 41 mag, the holster proves a superior fit. This is further evidenced by the holster's two retaining straps which allow for larger firearms to be used in the holster and allow for a secure and snug fit for varying weapons.
Pricing really varies with the Bianchi X15 as it comes in four different sizes: small, medium, large and extra large. The holster in the smallest size will average around a hundred dollars and can cost as much as two hundred for the extra large model.
There is no difference in price however for left or right hand orientations, both of which are available in this design. And, though the harness is adjustable up to 48 inches, some users may find that this expansion doesn't provide enough room for larger persons.
Much of what accounts for the high price tag of the Bianchi Shoulder Holster revolves around the materials used and the quality manufacturing of the product.
There are certainly comparably performing holsters available that are markedly less expensive than the Bianchi X15.
However, the inside and out leather which provides superior comfort combined with the secure retention provided from a dual spring closure mean that the luxury elements of the vertical holster serve and enhance its practical factors too.
Galco Classic Lite Shoulder System for Walther PPK, PPKS
At under one hundred dollars, the Galco Classic Lite is one of the least expensive premium shoulder holsters on the market. Instead of supple leather, the Lite holster is comprised of Steerhide, a premium center cut product.
This composition allows for the durability and longevity users have come to expect from Galco without the sticker shock often associated with first-rate leathers.
The Galco Shoulder Holster is not meant for everyday use, and most users insist that it's essentially best used for part time carry only.
However, for pistols that are very light in weight, the holster can and will perform beautifully all day long.
The majority of well known holsters tend to be one size fits all once some comfort adjustments are made.
However, the Classic Lite system from Galco boasts the rare distinction of being very "big guy" friendly. More than adequate for people taller than six feet, the holster is easily used by those approaching six and a half feet without issue.
Chest sizes of up to 54 inches and larger are also no problem for the affordable Lite system. While a pleasant perk for bigger weapon owners, the straps may not adjust well for smaller wearers, and the size and girth of the straps may be challenging for some.
Quality is not a concern with Galco products, however some users point out that the hide material the holster is cut from has a tendency to flake a bit with heavy use. It's important to remember however that this is normal for the material the holster is constructed of.
Anyone looking for an affordable Galco product can take advantage of the manufacturer's nearly half decade long legacy for an excellent price with the Galco Classic LIte Shoulder System.
Galco EX204 Executive Shoulder Holster for Walther PPK
If a fast draw and immediate use are important factors, the Galco Executive shoulder holster is an excellent choice.
It's the ideal solution for small and lightweight weapons that need to be accessible in a hurry.
With built in security features and an Italian design that is unparralled, this high end offering from Galco is well worth its inflated price tag.
Unlike many shoulder holsters, the Galco Exective allows the gun to be held in place securely in a horizontal, rather than vertical, position.
What this means is that the gun is much more easily accessible, allowing for instantaneous response if need be.
Security and safety may seem like issues in terms of this horizontal design; however it's not a problem at all thanks to a tension screw adjustment for added protection.
Because the Executive Shoulder Holster by Galco is designed for compact weaponry, it's absolutely perfect for concealing weapons meaning that it's just as easily concealed under a t-shirt as it is under a tuxedo.
Its open front design contribute to its easy access, and the two traits combined allow for the held weapon to be uniquely available while perfectly hidden.
Although compact in appearance, the Galco EX204 is anything but cheap, carrying (and warranting) a two hundred dollar price tag from most retailers. But, what the purchaser gets for the price really rationalizes the higher price point.
Along with a quality, durable and reliable way to invisibly conceal a compact weapon, the holster also boasts premium materials and master construction.
Supple leather combines with solid brass to create a perfectly crafted yet combat ready piece of equipment.
BLACKHAWK Angle Draw Shoulder Holster
Blackhawk is one of the most well known names in the holster industry. This is because their products are not only solidly manufactured but also reasonably priced. While perhaps best known for hip holsters, the Blackhawk Shoulder Holster featuring an angle draw is an incredible value for a fully ambidextrous holster that fits weapons of many various sizes.
While most shoulder holsters are either vertical or horizontal, the Blackhawk angle draw holster is unique in that it allows for a very rapid draw thanks to a 45 degree angle design. This difference in design does not mean that comfort is compromised however. The harness system is completely adjustable which not only keeps the user cozy for hours of continual wear, but also ensures that a wide variety of firearms are quickly and easily completely concealed.
What the Blackhawk Shoulder Holster lacks in styling it makes up for in convenience. Extra storage for ammunition is available thanks to twin spare mag carriers. This also helps ensure even weight distribution and comfortable balance.
One of the biggest complaints surrounding the Blackhawk angled Shoulder Holster has to do with retention and some users find that the retention strap snap is not well designed. Some users claim to have lost their weapons because of this flaw. However, the majority of users find the unit more than adequate and find any shortcomings more likely related to improper fit and adjustment as opposed to manufacturing problems.
In terms of cost, there are few holsters that are as inexpensive as this Blackhawk offering that boast such high quality. Priced at under fifty dollars at most retailers, the versatility of the rapid draw and fully adjustable unit are well worth every penny. In addition, the incredible range of weapons and sizes of weapons that the holster is capable of securely holding and concealing is another attribute that many Blackhawk fans are quite pleased with Shoulder Holster.
The Extinction of Shoulder Holster
And then there's that pesky question of comfort that can also keep many people from choosing Shoulder Holster.
While there are several hip holsters that are incredibly uncomfortable, on the whole they are known for being the most comfy and convenient manner in which to keep weapons close, safe and secure which often makes them a simpler and easier choice compared to a shoulder gun holster.
Unlike hip units, holsters situated under the arm can require a bit of fitting and a bit of coercing to feel just right. This can be bothersome for those looking to pull it out of the box and go.
Paying More to be Frustrated?
Interestingly enough in terms of pricing, there is little differentiation between holsters of various locations.
Just like hip and ankle models, Shoulder Holster come in varying grades in terms of pricing. There are certainly budget buys to be had, and on the flip side, consumers can expect to spend a pretty penny on the best shoulder holster choices available.
This differentiation in cost may be much more pronounced in fact with underarm holsters, where spending extra money may be more likely to result in a far superior product.
The Redeeming Qualities :
Regardless of how many negative traits people may kick back and forth about underarm holsters, there are a lot of reasons why they are still a superior choice for weapon access, safety and security.
Interestingly enough, safety is almost always one of the most common reasons people give for not choosing a Shoulder Holster.
Why is this?
Because in a lined up formation, such as the case for instance during training or at the range, the crosswise manner in which underarm holstered weapons are drawn means that no matter what, the drawn weapon will inevitably be pointed at a person nearby.
Although perhaps a scoff worthy matter for seasoned professionals, shoulder holster inevitably also mean that during the drawstroke the housed weapon will also be pointed at its user, for better or worse.
However these safety concerns do little more than mask the larger concern about handgun safety in general, regardless of holster used.
There is no denying that there are some uncomfortable underarm holsters.
Whether rubbing, chafing, sliding or slipping, some just don't fit right, others aren't made right and some just plain aren't right at all.
However, on the flip side, thanks to incredibly even weight distribution, shoulder holster make all day long wear comfortable and barely noticeable.
This comfort is further expressed with different types of weapons. For instance, anyone wanting to tote around a six inch barreled gun without being noticed may want to consider holstering it under the armpit.
And, driving can be a challenge depending on the type of weapon and hip holster used.
Gun Shoulder Holster eliminate these types of headaches making carrying more convenient in a wide variety of situations.
It All Comes Down to What You Bui:
Like most products, choosing the best Shoulder Holster has a lot to do with the manufacturer, material and quality level of the product.
Some are simply of sub-par quality or not at all designed with comfort or fit in mind.
Conversely, some are well worth their higher price tags for premium wearability and performance.