5 Best Trolling Motor Battery Reviews-Buyer Guide 2022
For all boat lovers, the trolling motor battery is indispensable. With its electric motor and propeller, the trolling motor of the boat cannot function if there is no good trolling motor battery.
The best trolling motor battery is the one that that is branded especially one coming from a good brand.
Whatever happens, do not sacrifice the quality for the cost, so you should aim for batteries that come from the top brands on the market today.
With the perfect choice of trolling motor battery, you can power up your boat or kayak in no time and with no hassle.
Here are the top choices for the best trolling motor battery:
Best Value
VMAXTANKS VMAX V35-857
Best of the best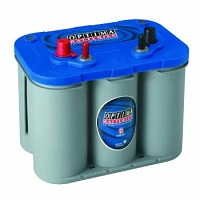 Optima Batteries 8016-103 D34M
PREMIUM PICK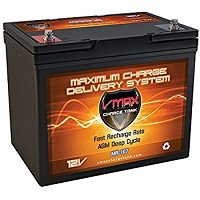 VMAXTANKS MR107-85
Best Trolling Motor Battery Reviews
1. MinnKota Trolling Motor Power Center Review
The MinnKota Power Center is perfect for small boats that have no battery compartment. With the MinnKota Power Center, you can easily access the external battery terminals in order to connect both the charger leads and the trolling motor leads without having to open the box.
The built-in meter of the battery displays the state of charge of the MinnKota Power Center. In addition, this trolling motor battery boasts of its 2 manual reset circuit breakers, where accessory plugs get 15 amp and the trolling motor 60 amp.
The MinnKota Power Center can perfectly fit batteries of the group 24 and 27 sizes. Thus it has a greater versatility when it comes to accommodating batteries of different sizes. This 12v trolling motor battery means that it has 12v accessory plugs that further ensure the efficiency of the boat that is being powered by the MinnKota Power Center.
The MinnKota Power Center is a durable case and is never weak. It also features lift handles on each end that are carefully molded in.
Moreover, the MinnKota Power Center includes a steel backing plate for added strength and a sturdy handle that can tip it down and safely and conveniently lay it flat. This trolling motor battery also has a strong belt that holds the cover on, and it also has two plastic holds down brackets for optional use.
The MinnKota Power Center is very much portable while it is a heavy duty battery at the same time. You can easily and conveniently carry it from one place to another when you travel. There is never anything more efficient than the MinnKota Power Center.

2. VMAX857 AGM Battery 12 Volt HI Performance Battery Review
All trolling motor battery reviews agree that the VMAX Marine Deep Cycle has plates that have a unique physical and chemical structure. Thus, the VMAX Marine Deep Cycle is proud of its unique strength, reliability, and performance. Its high performance is, in fact, superior to motor trolling batteries using Pb-Ca plates that are used in products that look similar.
What makes the VMAX Marine Deep Cycle batteries a much better choice than ordinary, mediocre Wet Lead Acid Batteries is the physical and electrical advantages. The Absorbed Glass Matt (AGM) material added between the VMAX plates brings about these added benefits. The AGM also increases and even maximizes the resistance of the VMAX Marine Deep Cycle to vibrations and shocks. The total absorption of the electrolyte by the AGM makes the VMAX Marine Deep Cycle and any VMAX motor trolling battery not only non-hazardous but also non-spillable.
The VMAX Marine Deep Cycle features a tough, sturdy tank that provides protection to the tightly packed plates. The plates deliver the VMAX motor trolling battery in a package that is 100% maintenance free. A popular special feature of these VMAX tanks is their long life span as well as their capability of fast recovering no matter how many deep discharges they have gone through. This gives VMAX batteries, in general, the popularity that they deserve.
The heavy duty performance of the VMAX Marine Deep Cycle is due to its lead tin alloys. This combination maximizes battery performance as well as service life whether the trolling motor battery is used in either cyclic or float applications. In addition, despite over discharging the battery repeatedly, the VMAX Marine Deep Cycle lives on. Moreover, with its maintenance-free operation, there is no need to keep checking the specific gravity values of the electrolyte. It is also not necessary to add water to the VMAX tanks while undergoing its float service life. Actually, this type of maintenance is not even provided. The VMAX Marine Deep Cycle is therefore ultimately efficient and reliable.

3. Optima Batteries 8016-103 Marine Battery Review
Considered the best deep cycle battery for trolling motor equipment, Optima Deep Cycle is ideal for your boats and other similar vessels that need to be powered up by a trolling motor battery. Optima Deep Cycle, or the Optima D34M BlueTop, is a dual purpose battery that functions as a start-up batter or deep cycle ba
ttery for people who need a strong power source for the boat or RV. This power source is definitely maintenance free and is considered sure to start and strong cranking even in the harshest weather conditions. It is also 15 times more resistant to vibration, and so it remains very durable.
Optima Deep Cycle boasts of its unique SpiralCell design that provides a power source that is not only strong but also clean. Thus you, your family and the environment are safe. This motor trolling battery also has a longer shelf-life because of its high reserve capacity. This capacity can power up your boat whenever you need it and whenever you need it. In addition, recreational vehicles or boats even those with accessory loads that are extra large.
Optima Deep Cycle has a reserve capacity that can be used for 120 minutes for the constant strong performance of 12v power. The Optima Deep Cycle also charges at a higher rate than most batteries, and it does not heat up even after fast charging at 70 amps. In addition, there is no corrosion for the posts, and the battery can be safely used outdoors and indoors.

4. VMAX Tanks MR107 Marine Battery Review
As one of the best interstate marine batteries, the VMAX MR107 is a trolling mother battery that is considered heavy duty for 12v AGM (Absorbed Glass Matt) deep cycle. The VMAX MR107 has a 10-year Float Service Life span. This trolling motor battery relies on an electrolyte suspension system that consists of a highly porous AGM that totally absorbs and contains the electrolyte. In addition, no contaminants or even silica gels are used instead of this electrolyte suspension system.
The VMAX MR107 includes carrying handles in its package. In addition, as with all VMAX batteries, their plates have a one-of-a-kind physical and chemical composition. The plates undergo a special treatment and manufacturing process that demonstrates strength, reliability and most of all high performance. Thus, the VMAX MR107, as with all other VMAX batteries, exceeds the performance of Pb-Ca plates that are used in products that look similar.
With its maintenance free operation feature, the VMAX MR107 does not anymore require you to check the electrolyte's specific gravity, and does not anymore require the addition of water to the VMAX tanks while it operates with its float service life. The fact is that there is no need at all for this type of maintenance. Moreover, the heavy duty grids of the VMAX MR107 define its stability and durability even after many times of discharges. The structure of the VMAX MR107 allows a huge extra margin of performance and service life for the battery, whether cyclic or float.
In addition, the VMAX MR107 boasts of its non-spillable and non-hazardous nature. It also has protection coming from its tough tank from the moment the trolling motor battery is delivered to your doorstep until you take it out of its 100% maintenance-free package. In fact, the VMAX MR107, just like all VMAX batteries, is known as the favorite of many consumers not only because of its long life span but especially because it can easily recover even after multiple deep discharges.

5. 12V 100Ah Battery for Minn Kota Sevylor Review
The 12v MinnKota Sevylor is a classic MinnKota battery that utilizes Absorbant Glass Mat, or AGM, technology that maintains the superior level of its performance. Also known as the UB12000 12V 100AH, the MinnKota Sevylor is a very versatile type of trolling motor battery that can be used to power up electric vehicles, lawn and garden equipment, consumer electronic equipment, access control devices, boats and other portable tools, toys and motorcycles, emergency lighting and photography equipment, as well as engine starters and electric vehicles.
The MinnKota Sevylor is extremely durable, and with its 55-pound thrust motor, it can stay steadily wide open for up to four hours. Thus, the MinnKota Sevylor is a favorite of many trolling motor battery users not just for its versatility but also for its longevity. The MinnKota Sevylor can operate all day long without any hassle.
The MinnKota Sevylor also boasts of a 12-month warranty and can run a 30 pound trolling motor for more than one hour at full speed and the battery stays even up to 3 hours more when the trolling motor runs on a lower speed. The MinnKota is also the choice of many boat lovers as it can power up a boat at normal speed all day long after a full charge.

Trolling Motor Battery Buying Guide
Things to Consider Before and After Purchasing Your Trolling Motor Battery
One of the very first things that you have to do before purchasing a trolling motor battery is to determine which equipment it has to power up as well as to know the basics of these trolling motor batteries. If you are planning to power up a huge boat or several of these and you usually operate them at full speed, then you have to consider buying not just one very good trolling motor battery but many of these batteries.
What Are the Main Things to Remember Before Buying a Trolling Motor Battery?
Before buying your first ever trolling motor battery, make sure that the battery should have a long lifespan like 6 years, the best performance without using much power, a constant discharge rate, and efficient design for a deep cycle.
More importantly, you should try to consider the weight of your boat, the method of fishing that you use, the conditions of the water and the specific use of your boat, and the thrust level of the motor of the boat. Unless your trolling motor battery dries completely, you have a long time to enjoy using it. Lastly, as much as possible, please do not sacrifice price for quality and durability. Besides, the price of the trolling motor battery does not exactly say much about its quality. Instead, check trolling motor car battery reviews for a more objective judgment.
Can You Use Your Car Battery Instead of a Trolling Motor Battery?
A car battery can power trolling motors but cannot be used with them. If you decide to use a car battery for your trolling motor, then eventually they will both most likely be destroyed. The main reason is that car batteries are not specially designed to allow multiple and repetitive recharges. Moreover, car batteries can never go to the level of the water. Nonetheless, if you still decide to use car batteries for your trolling motors, you may have to spend for 3-4 car batteries instead of just one trolling motor battery.
What Is the Advantage of Marine Batteries?
Marine batteries are a popular choice for powering up trolling motors. The main reason why marine batteries are preferred by many is perhaps their cheapness. The problem is those marine batteries cannot be used for traveling long distances at high rates of water current. Thus
, if you want to purchase your next marine battery, please do so using good brands. Trolling motor batteries from good and popular brands will definitely promise you a long service. Unless you have concerns about the cost, always go for the marine trolling motor batteries that are sold by their famous brands. These high quality trolling motor marine batteries usually take less time to get recharged, and they definitely last long after charging.
How Do You Know if the Trolling Motor Battery is Really Good?
Ideal and excellent trolling motor batteries usually have high power in them, and they are rechargeable anytime too. The best battery for the trolling motor has the capacity to maintain their charge for long periods of time, and will not take you to spend such a long time recharging it. If you buy something that lasts long when used but would take up a very long time to recharge, then you have bought something inefficient.
Moreover, the best trolling motor battery is resistant to any form of tremor, shakes or resistances. Trolling motors sometimes have to undergo rough environments, and the battery needs to withstand all the pressure while it keeps on working. A trolling motor battery with the ideal shock resistant design is the most preferable.
The ideal trolling motor battery can also take care of all types of heavy duty work without getting itself overheating. The ideal trolling motor battery is equipped with a heatproof design. This then allows the battery unit to cool properly so that it stays cool in all circumstances.
Another good feature of an excellent trolling motor battery is good construction. The trolling motor battery should not allow harmful acids to spill. In addition, should they be subjected to the harshest conditions, they do not break. Those without a good quality would break in the slightest condition. Moreover, with the spill-proof design, the trolling motor batter can perfectly fit into the boat in any way you should position it.
Which Trolling Motor Batteries Are Really Bad?
The really bad trolling motor batteries are those that immediately use up their energy with only a few times that the boat is sped up. They usually take a long time to recharge, and they even overheat after around 10 to 20 minutes of charging. Most of all, bad trolling motor batteries would usually die out in a month or two, thus not living up to the standard of some very good batteries that last up to 6 months. Still, another bad trolling motor battery easily gets damaged when they are subjected to a long time of shaking and heavy movement. Moreover, they are prone to short circuits that could destroy not only the battery but also the boat or equipment that they are supposed to power up.
How Do You Take Care of Your Trolling Motor Battery?
Despite the fact that trolling motor batteries require low or zero maintenance, you should still try to take good care of them. Pay attention to their condition, and they may just last longer than you think. One thing that you have to do is to charge your batteries and do not leave them empty for a long time. As soon as you return home from a kayaking adventure or a fishing trip, recharge your batteries immediately. Charge them full too unless you want them damaged. If you let them sit under a zero or partial charge for quite some time, you will notice a drop in their performance as well as an overall drop in their lifespan.
Second, watch out for rust. As days go by, you will notice the buildup of corrosion located on the terminals of the battery. Corrosion will then result in partial charging as it will gradually make the trolling motor battery resistant to charging over time. Corrosion may also cause a short circuit if not controlled. This is why rust or corrosion must be removed all the time. Corrosion is a result of a leakage of electrolyte whenever the battery is overcharged or heated up. You can remove corrosion using baking soda and water solution, a simple rage and sandpaper or wire brush to have the terminals cleaned. After doing this, you should coat the corroded areas with electrolytic grease in order to clean it.
Thirdly, although it may not be that important, always clean your battery and get rid of the dust, the slime and the oil. Do not let anything settle on your battery for a long time even water. Water will eventually cause corrosion.
What Are Some Safety Precautions That You Should Take When Working with Batteries?
Anytime that you are working on your trolling motor batteries, you need to put on some protective gear that should consist of safety glasses, long pant, long sleeved shirts and rubber gloves if possible. All these things can shield your skin and eyes against the painful and damaging effect of electrolyte acid or the corrosive dust that may have settled in old batteries.
Another thing that you have to remember when dealing with trolling motor batteries is that you should charge them in a well-ventilated area since hydrogen gas is among those given off by the battery when it is charged. Without a considerable amount of air in the immediate environment, the trolling motor battery that is being recharged may set itself up for the explosion.
Never overcharge or undercharge a battery because as mentioned, these two things can just decrease the overall performance or lifespan of the battery. If you undercharge it, the sulfation process will be incomplete, and the battery will then get used to partial charging until its performance lowers. If you overcharge it, there is a tendency of either explosion or electrolyte spillage. The electrolyte spillage will also sooner or later damage whatever is inside the battery. Moreover, do not rely on portable chargers. Go for automatic chargers when recharging your trolling motor battery.
In addition, you should not let very young children handle the battery since the electrolyte that may spill out of it on certain occasions is harmful to health. Moreover, the battery is usually heavy, so if a child carries it, he or she risks hurting himself or herself. Batteries should be kept in high places or along with the boats in safe places and definitely out of reach of young children.
Do not eat or drink anything while recharging or handling or whenever you are handling trolling motor batteries. The electrolyte and rust that may come from the battery are both toxic, and should, therefore, be washed out or wiped up. A baking soda solution is ideal for people with a trolling motor that has heavy corrosion.
Do not charge the battery while traveling or while the battery is trying to power up something like a boat. It will destroy the battery if you are using it and charge it at the same time. Always have a spare trolling motor battery if you have to use a battery right away. It is wise to have an extra battery rather than have only one and charge it partially during emergencies so that you can use it right away. Besides, there is no such thing as a rush sports adventure or a rush kayak fishing except if you have truly forgotten to recharge your battery earlier.
What Are Some Other Useful Tips with Trolling Motor Batteries?
One useful tip when dealing with trolling motor batteries is that you should try to keep the receipts to at least use it as proof in case the battery break downs and you need to use the warranty to fix it. If you have no receipts, then the battery may not be fixed by the company where you bought it, even if the owner of the store knows you.
Every time you are in doubt about something always get yourself an expert when it comes to trolling motor batteries – from the first purchase, to the maintenance and to exploring other brands and options. If you do not seek an expert, make sure that you follow good and valuable advice from someone who knows a lot about boats or trolling motor batteries. If not, then you are just merely setting yourself up for disaster.
Conclusion
Whether it is the MinnKota Sevylor or the VMAX battery types, the one thing that you have to know is that the idea of using
a trolling motor battery depends on a lot on your skill and expertise when handling and maintaining batteries. Choose batteries that have all the good features in it like a long lifespan, maximum performance with relatively little time to charge, and durability and low-maintenance features. At the same time, do your part in trying to maintain the longevity of the battery. Do not overcharge or undercharge it, and do not try to expose yourself or your children to its chemicals particularly if they spill. Moreover, you should try not to subject the batteries to too much pressure or outside the movement. Otherwise, it could damage normal function. Whatever happens, choose the best trolling motor battery on the market today and enjoy that beautiful day with your kayak that is powered by your battery. Without your battery, then there is no way you can maximize your water sports experience.