10 Best Walkie Talkie Reviews – (Updated Buyer Guide 2022)
A Walkie Talkie is a communication device that consists of an half-duplex channel and a "push-to-talk" feature which is its most basic functionality.
A Half Duplex channel implies that only one person can talk at a time but unlimited recipients may tune in to the channel to listen to it.
Every Walkie Talkie has a "push to talk" button which when pressed allows the device to commence transmission.
A Walkie Talkie or also popularly known as the handheld transceiver is a communication device which can be held by hand, as its name suggests, and is actually a radio transceiver.
Walkie talkie History. It was introduced during the Second World War were meant for the use of military purposes. But now they are being used even by the ordinary people and to make using the cumbersome device comfortable for talking they have been reduced in size.
They come with a speaker from where you can hear the voice of the person with whom you are talking while the mouthpiece is where you have to speak in.
Phone vs Walkie Talkie. Today though the cell phones are extremely popular walkie talkies are quite popular because they offer some advantages.
They can be used in places where there the cell phone reception is not possible. Though the walkie talkies have some disadvantages like it doesn't have a nationwide network and doesn't have a strong battery the walkie talkies are being used even by the common man.
The walkie talkies can be used for the emergency purpose, a longer trip, camping and also in the work place among the colleagues.
Apart from this, they are being used very widely among the police, army men, and blue collar construction workers.
Best Value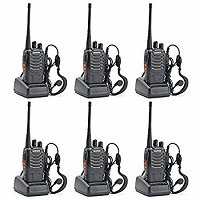 BaoFeng BF-888S
Best of the best
Midland – GXT1050VP4
PREMIUM PICK
Motorola MH230R
So you can bring a walkie talkie within your family and friend's circle to reap the benefits that cell phones don't provide.
Number of channels
Two-way radios offer from 2 to 14 channels for you to access. The more channels are available to you, the better accessibility you have especially in areas that are high-traffic.
Ask for models that allow accessing to sub-channels. A model that has 10 channels and 38 sub-channels per channel, for instance, actually connects you to 380 contacts and makes communicating much easier.
Naturally, the more channels you can use, the expensive the model will be.
Range
Know the maximum range of the units. Also test them out based on the environment you're going into. While manufacturers list the effective distances most use best scenarios when testing.
This means line of sight. If you're in mountain terrain or going to use it in the city with lots of buildings and interference the effective distance of communication will be lessened.
Privacy call or code
Other equipment with the same frequency and number of channels as yours can tune in to your channel, so look for a model that has a privacy call feature.
Battery
Be aware of the battery life. How long the units work varies per model and manufacturer. You also want to make sure to fully recharge the 2 way radios before any trip or use.
When selecting the suitable walkie-talkie it is important to pay attention to power capacity. Those with strong power can transmit the signals over the long distances without any distortion.
Although they may be little costly but they are worth the money.
Good Grip
These are devices which are used in almost any condition where it may become very crucial that the grip is good. With a handy size they are easy to grip and can be pocketed easily as well.
Analog or digital
The traditional models of two-way radios use the analog system.
Radio makers and users are making a big switch to digital systems, however, because of greater voice clarity, noise and interference elimination, higher capacity, guaranteed privacy, and other enhanced features.
While the analog system's usefulness is not completely obscured, it is safe to say that the digital system is the future of two-way systems.
Models and Brands
If possible, try using the same models and brands for the entire group. This ensures fluid communications plus compatibility in terms of privacy codes.
Make a choice that works for you
Radio equipment comes with many features, such as special buttons for making emergency calls, high power ratings, weather information channels, and display screen for notifications and info (on time, compass, temperature, altitude or atmospheric pressure).
There are several types of walkie talkies that are available on the market. You have to read these top 10 best walkie talkies in 2021 reviews so that you can select your favorite device easily.
These products receive many good reviews from other customers because they come with complete features and benefits.
Retevis H-777 Two Way Radios
Are you shopping for a new package of walkie-talkies for communicating over a long range?
Do to waste money on the poorly built low-grade models that some individuals you.
To get unmatched power and enjoy crisp communication over a long range, Retevis H-777 is the product for you. Durable, for instance, its performance outdoors is unmatched.
Frequency range (400-470MHz) is desirable, while the pack of 10 single-band walkie-talkies buyers get benefit families and institutions alike.
Featuring powerful 16-channel designs, Retevis H-777 walkie-talkies perform better than most expensive models in stores.
Attainable pre-programmed, for instance, you can use them immediately you receive them. You do not have to tinker with settings and or fiddle with its system in any way to get positive results.
The voice prompt function offered eases location of channels (even in the dark). Its illuminated LED screen (blue-themed), on the other hand, is both charming and easy to use.
Each walkie-talkie that you get has a built-in LED torch that illuminates well in the dark. You also get a VOX function that grants users true hands-free communication and 50 CTCSS/105 CDCSS channels.
With a bit of practice, you will be able to share personal and private messages easily and on demand.
Pros:
Built-in LED torches
Illuminated LED screen
Long frequency range 400-470MHz
50 CTCSS/105 CDCSS channels
10 single-band walkie-talkies
True hands-free communication (VOX Function)
Cons:
Motorola MR350R Walkie Talkie
The Motorola MR350R is a lightweight, durable long range walkie talkie radio with a range of up to 35 miles.
It has large buttons, useful for using with gloves, an LED flashlight and an emergency alert feature which allows you to inform others of any impending danger.
The MR350R Motorola walkie talkie has FRS and GMRS capabilities and boasts 22 channels including 7 NOAA channels. It has a silent vibrating ringer so you can respond even when background noises are intrusive.
MR350R Walkie Talkie Specifications include:
Channel scan. This feature allows you to search the 22 channels in order to locate unknown parties, individuals who may have changed channels accidentally or simply to locate unused channels.
Charging. It comes with a standard charging port, though you may wish to purchase a mini-USB cable to use when travelling.
Privacy codes. To facilitate the blocking of unknown transmissions it comes with 121 eliminator codes to ensure protection.
Call tones. The MR350 is equipped with 20 different call tones so you can select which of your party you are contacting.
Hands free. The MR350 has an iVOX feature allowing you to transmit hands-free without resorting to a headset.
PTT power boost. This feature increases the transmission range a
t the push of a button.
BaoFeng BF-88S Walkie Talkie
There are many useful advantages that you can get from this product. This walkie talkie comes with comfortable earpiece, so you can do your activities while using this walkie talkie.
Sought-after in stores, BaoFeng BF-888S is a pack of six two-way walkie-talkie radios each with a durable and professional-grade design.
Fitted with an earpiece, for instance, these accessories deliver a quiet and immersive listening experience outdoors.
The powerful 1500mAh Lithium-ion (Li-ion) batteries used to power then are safe and ideal, while their plastic cases are durable.
Dropped accidentally, you do not have to worry about them breaking apart as some low-grade models often do. They are also comfortable to hold in summer, winter, and rainy months.
This set of premium walkie-talkies performs like no other brand. Attainable pre-programmed and ready to use, for instance, you can start using them off the shelf.
Their adjustable frequency ranges improve their functionality, while their built-in scanning feature eases location and connection to channels.
You also get an audible alarm function that comes in handy when in distress.
BaoFeng BF-888S is software-programmable. If you purchase an original one that does not perform to your expectations, you can easily customize its system using a computer.
It also remains sought-after because of its affordability, bright LED torch (built-in), and advanced monitor and TOT functions. Order yours today.
This device also comes with power saving feature, to improve the durability of the battery of this device. There are some useful features that are added to this walkie talkie, including alarm function, emergency system, and also scanning function.
Pros:
Built-in bright torch
Durable plastic cases (heavy-duty)
Advanced monitor and TOT functions
Fully programmable design
Battery-powered (1500mAh Lithium-ion)
Cons:
Limited coverage
Low-grade headsets
Midland LXT118VP
Designed to cover up to 18 miles efficiently, Midland LXT118VP is a package of high-performance walkie-talkies for individuals and professionals.
Featuring advanced 22-channel designs, their performance in most environments is desirable.
They also support GMRS and have light and quality designs that last for years.
Compared to similar products, the convenience of Midland LXT118VP walkie-talkies is desirable.
Powered by rechargeable batteries, for instance, you do not have to replace batteries often to retain their functionality.
Their portable designs are also easy to carry around and the quality plastic used to make them designed to withstand abuse well. Expect memorable results.
Their range and convenience aside, these walkie-talkies are among the most sought-after because of the myriad of advanced features offered.
VOX enabled, for instance, their hands-free system of operation is desirable. Their advanced two-way systems also support channel scan and have quality speaker systems that produce crisp and clear sound outdoors.
Finally, you get auto squelch, a keypad lock, and a call alert feature in a durable and water-resistant case (plastic). This is unlike some brands.
Pros:
Light and portable
VOX-enabled designs
Water resistant plastic case
Auto squelch, a keypad lock, and a call alert
Cons:
Does not hold charge for long
Uniden 16-Mile Radio Pair
As its name suggests, Uniden is a pair of two 2-way radio walkie-talkies each with an advanced 22-channel system.
Considering the low amounts that individuals pay for an original package, you will never regret having this radio pair around. Both radios support FRS and GMRS technologies (7 and 15 respectively).
They also support voice search and generate call tones that notify users of incoming communications.
During your outdoor trips, you will never endanger your life because of a missed communication.
With an original Uniden 16-Mile Radio Pair, you do not compromise durability in any way.
The heavy-duty plastic used to make theme radios is durable. It is also aesthetic and has a waterproof design that prolongs their lives further.
Whenever you are camping outdoors with friends or family, therefore, you do not have to worry about your walkie-talkie damaging unexpectedly.
In terms of convenience, Uniden 16-Mile Radio Pair outmatches its competition in numerous ways.
The pair of belt clips offered, for instance, grip belts and clothing snug for safer and easier transportation.
The detailed reference guide offered is informative, while their unique roger beeps streamline communication well.
Pros:
Effective Roger beep
Sturdy belt clips
22 channels
Detailed reference guide
Durable yet portable designs
Support FRS and GMRS technologies
Heavy-duty plastic construction
Cons:
Floureon 2-Way Handheld Walkie Talkie
In reputable stores such as Amazon, walkie-talkies are attainable in diverse sizes and designs that most individuals appreciate.
To get a well-made model with a professional-grade system, this 2-way handheld model from Floureon is one of the best.
Ranking tenth on our review of the best walkie-talkies for 2021, buyers get a durable product with 22 radio-responsive channels.
It is also affordable, has a striking orange theme, and contains four FRS/GMRS accessories that better its functionality. When on hiking and or camping trips, you will keep contact efficiently.
When in use, these walkie-talkies generate smooth and crisp sound without background interference. This, in part, is because of the quality speakers that they come with.
Forget about the annoying crackling sound that some low-grade models make.
Floureon 2-Way also has adjustable volume controls for customizing its performance and an auto squelch system that isolates background noise well in crowded areas.
If you are shopping for a walkie-talkie for monitoring your baby in the mall or the pack, this is one of the best products to use.
Floureon 2-Way Handheld Walkie Talkie is easy to use. Featuring a fast channel search feature, for instance, finding other devices is a breeze.
Their LED backlit displays are easy to use, while their travel-worthy designs are ideal.
Pros:
Fast search feature
20 responsive channels
Large LED-backlit displays
Portable travel-worthy designs
Visible orange-themed case
Adjustable volume controls
Convenient two-way system
Cons:
Unable to coordinate signals
Blind spots at screen corners
Kidzlane Durable Walkie Talkies
This pair of kid-friendly walkie-talkies by Kidzlane tops our list.
If you have a kid aged six years and older that you want to keep contact with, it is one of the best products.
Made of premium materials, for instance, these walkie-talkies are durable. Range is approximately three miles, while their ease of use desirable.
These walkie-talkies have three selectable channels.
They also have battery-powered systems [3.5 hours (continuous) and 9 hours (standby)] and convenient push talk technologies.
Pros:
Kid-friendly materials
Push talk technologies
Portable battery-powered systems
Cons:
Motorola MH230R Two Way Radio
As the Motorola MT350R listed herein, Motorola MH230R is a pair of quality two-way walkie-talkie radios for outdoor use.
Each product is durable and has a 22-channel (FRS and GMRS) system that works well. The Motorola MH230R is a 22 channel Motorola walkie talkie radio with a 23 mile range. It boasts FRS and GMRS. It's a lightweight radio measuring 2.2 x 1.2 x 6.2 inches.
With an impressive 12-mile range, each radio is also professional-grade and thus perfect for outdoor exploration.
It comes with 7 NOAA (National Oceanic and Atmospheric Administration) channels so you're always in touch with the weather. 121 Privacy Codes mean you're unlikely to be interrupted.
The QT (Quiet talk) function allows you to communicate with compatible Motorola two way radios. Always useful if you find yourself lost.
The iVOX feature allows for instant hands free communication so keeping in touch couldn't be simpler.
The alkaline batteries offered keep these walkie-talkies well powered for up to eight hours.
This is unlike some low-powered brands that often disappoint users outdoors.
Motorola MH230R walkie-talkies have 121 privacy codes, 11 weather channels, and water resistant cases that last long.
You also get a charging adapter, iVOX hands-free technology, and dual drop-in charger.
To make things easier for you, making sure that you're never without power, the Motorola MH230R can be charged in one of four ways:
with a desktop charger at home
with a mini-USB car cable
with a mini-USB wall cable when you're in a hotel
with a mini-USB PC cable from your PC
MH230R Walkie Talkie Specifications include:
Emergency alert button – this allows you to transmit an alert siren to warn of any unforeseen danger
Built in LED flashlight – always handy when you find it getting dark just a bit sooner than you expected
Mini USB port – see above paragraph re. charging your Motorola walkie talkie radio
2 belt clips – a hands free unit is always useful
Charging adapter – see above
10 call tones
Keypad lock – for further security
Water resistant – in case the weather or your canoe turns over
Pros:
121 privacy codes
11 weather channels
iVOX hands-free technology
Impressive 12-mile range
22-channel (FRS and GMRS) system
Cons:
Ineffective around obstacles
Midland GXT1000VP4
This unique walkie talkie holds a variety of great features. Up to thirty-six miles one can locate fifty channels. If the person is outdoors for a long period of time, the radio's weather channels will scan and alert anyone of any hazardous weather that may occur.
If caught in an emergency the radio offers a distress call and locator signals to assist in calling for help. To provide good, clear communication there are 142 privacy codes to keep out unwanted noise and other conversations.
The communication is so clear that one can whisper and still be heard. Also, one can call to either one person in the group or everyone in the group. Lastly, if there are multiple people, the radio can program a different ringtone for each person. The Midland GXT1000VP4 radio is a unique walkie talkie with wonderful features available.
Midland LXT118 Walkie Talkie
This is another high-quality walkie talkie that you can use regularly. This device can support up to 22 different GMRS channels. It can reach up to the 18-mile range so that you can enjoy your experience with this powerful product. Its keypad lock can help you prevent any unwanted situations from happening in the future. When you plan to use this device, you need to use its channel scanning feature properly.
 Uniden Two Way Radio Walkie Talkie
As far as sixteen miles one can find twenty-two channels. This walkie talkie can support up to 22 different channels, including 15 GMRS and 7 FRS channels.  Due to the automatic squelch system this radio is capable of automatically blocking and eliminating unwanted noise. 
Like its competitors it can also scan and warn people of any inclement weather that may occur. To keep the user from accidentally changing the channels there is a keypad lock available. A scanner assists in locating other users of this radio.
When the speaker is finished talking the Roger beep lets the listeners know so they can talk too. With its various features the Uniden GMR1635-2 makes a handy radio for those in need of constant communication.
This device has loud call tone, so you will never miss any important details in your communication You can also use this device without any interference because it is supported by its auto-squelch feature.
Portable Digital Walkie Talkie
When you want to have a good walkie talkie with portable size, you can take a look at this device. It is a unique wrist watch walkie talkie that is very durable for long time use.
It can support hands-free VOX mode so that you can communicate with other people easily.
Don't forget to manage all settings on this device before you start using this walkie talkie device. All settings can be managed via its screen.
Uniden GMR 30 Mile Walkie Talkie
If you need to have a durable walkie talkie for supporting your needs, you can buy this walkie talkie today. There are some useful features that can be found in this device.
It has about 121 privacy codes for every channel, to reduce any interference signals from the environment.
This device also has a roger beep that can let you know when other people are finished speaking.
Motorola MT350R FRS Weatherproof Walkie Talkie
This is a great product that is offered by Motorola. This device is specially made from a weatherproof design so that you can use this walkie talkie at anytime you want.
Known for its cell phones and smartphones, Motorola uses advanced manufacturing techniques to come up with durable high-performance products.
In the walkie-talkies niche, it is also a notable brand with products such as MT350R attracting global acclaim. While some individuals appreciate the pack of walkie-talkies offered for their stylish orange themes, their performance is invaluable.
With their two-way systems, for instance, communication with friends and colleagues is seamless. Range, on the other hand, is an impressive 35 miles, which users like.
This item can allow you to get access to the NOAA channels, to provide emergency alerts to any emergency situations, such as severe thunderstorms, winter storms, tornadoes, flash floods, emergency evacuation, and many other disasters.
This product comes with additional accessories, such as battery pack, belt clips, cable wall adapter, mini USB connector, and also user's manual.
Recommended for use outdoors, the walkie-talkies offered can take a thorough beating without malfunctioning.
The quality plastic used to make their cases, for instance, is both stress and impact-resistant.
Its water resistance (IP-54) is desirable, while its durable screen and buttons withstand abuse for long as well.
With an original pair, you get rechargeable NiMH battery packs that power them excellently longer.
You also get NOAA channels for monitoring emergency alerts and a mini USB charging system that works well with most outlets.
Pros:
IP-54-rated design
35-mile range
Effective mini USB charging system
Rechargeable NiMH battery packs
Cons:
Lacks carrying case
Lacks a charging station
Cobra Electronics CX 112 Walkie Talkie
When you want to purchase high-quality walkie talkie for yourself, you can take a look at this device. This portable unit is very popular among many users these days. It can be used to support long distance reception easily without any problems. Its front panel buttons can help you get access to 22 different channels easily. This device can also reduce the risk of receiving any weak transmission signals or unwanted noises.
Zastone T-388
There are some people who are using this walkie talkie today. You can enjoy your experience with this powerful radio communication tool.
It has monitor screen so that you can watch any warnings or signals on this screen easily. This product comes with portable and compact size.
Therefore, you can bring this device at anytime you want easily. This device is also equipped with night lighting function.
AGPtek Rechargeable Walkie Talkie
This walkie talkie has a lot of useful features for all users. This device is supported by its intelligent battery and charging system, to improve the durability and performance of this device.
Its VOX function can increase the sound or audio clarity from this high-quality walkie talkie.
This device also has 1500 mAh lithium ion battery that can last for about 8 hours without any stops.
Why Should You Use Walkie Talkie?
Using a walkie talkie can change your life and make it smoother. It will help you to stay connected people especially when you are doing some outdoor activity, where the cell phone reception is not available. Moreover, if you have a little child and you need to visit the neighborhood or a nearby store you can leave your baby sleeping with a 'baby monitor' walkie talkie and carry one with you.
Whenever your child wakes up and starts crying you will get to know from the 'baby monitor' walkie talkie that you are carrying. These are the benefits of using a long range walkie talkie. Many companies claim that the walkie talkies manufactured by them are of great range, but that is not true in every place. There is a separate urban range, and the range greatly increases in the greater height areas. The long range walkie talkies are more effective than ordinary walkie talkies, so they are more preferred by people.
How do Walkie Talkie Reviews can help You
If you have decided to buy a walkie talkie, you should carry out an adequate search to get the perfect walkie talkie for you. Many telecom companies are manufacturing walkie talkies today, and they make claims of several features that their walkie talkies consist. But before believing in all the marketing strategies of the walkie talkies you need to l read about the different models of walkie talkies and especially, the reviews on them. The walkie talkie reviews are more useful than the details and the exhibited pictures in the websites.
The walkie talkies reviews are useful because they enable you to make up your mind regarding the model that you wish to buy. The reviews help to clear all the doubts that you have regarding the walkie talkie models and also can give you with some helpful suggestions.
More on Walkie Talkie Reviews
A very common problem that people face when they wish to buy something is confusion regarding the feature and quality of the product. Walkie talkie reviews can help you to solve this confusion. The reviews would enable you to learn about the latest technology in the domain of walkie talkie cell phones.
For example, the push to talk feature is a new one that has been introduced in walkie talkie cell phones which help people get access to the other person just by pushing a single button. Similar technologies are available in this domain, and the reviews will help you to know all about latest walkie talkies.
Price of Walkie Talkie
Since walkie talkies are not as popular as the cell phones, you might not know the price of the walkie talkies. Walkie talkie reviews on the Internet can be of great help in this regard. Almost all telecom companies like Motorola, Nokia, Samsung manufactures walkie talkie cell phones by the price of their products vary; the more sophisticated and technologically superior models cost more than their less sophisticated counterparts.
All you need to do is be sure of the money that you can afford to spend on the phone and the type of technology you want your phone to possess. Keeping these factors in mind sit with official Websites of the telecom companies and find out the walkie talkie of your choice and that comes within your budget.
What Are Walkie Talkie Radios?
Our website reviews and compares some of the best walkie talkies available online. Here you will be able to find great resources and deals.
Walkie talkie radios were first introduced during the time of the Second World War for military purpose. The walkie talkie radio enabled army personnel to communicate with each other in adverse conditions. A walkie talkie radio is a backpack walkie talkie that is carried by army men, and the ones which are handheld are called handy walkie talkies by them. In the initial days of its introduction the walkie talkies were used only by the army, but today it has been transformed into a device meant for talking with family and friends as well.
The walkie talkie radio is being used to communicate in the workplace with colleagues and also in the home. Even in this age when cell phones are so popular walkie talkies are being used so much as they provide some facilities which cell phones fail to provide. For example, walkie talkie radios can be used where cell phone reception is unable.
Especially, the one with long range feature is even more popular. Moreover, the contemporary walkie talkie radios have greatly shrunk in size and thus have become more user- friendly. It no longer looks odd with its cumbersome size hence can be easily used.
Features of Walkie Talkie Radios
The general features of the walkie talkie radio is a speaker from where you can hear the voice of the person with whom you are conversing while a mouthpiece is where you speak in. You are also provided with earpieces to carry out the most discreet conversations. Unlike the cell phone in walkie talkie radio, the speaker is strong enough to make the voice of the person audible near the person who is using the walkie talkie.
Another important feature of walkie talkie radio is the factor of license. Both licensed and unlicensed walkie talkies are available in the market though the latter variety is easier to purchase. The unlicensed walkie talkie radios, unlike the licensed ones, don't need any specific frequency. The unlicensed ones often tend to create some trouble so they are usually avoided by the professional people, and they are also cheaper.
Walkie Talkie Range
The range of a walkie talkie radio is something that deserves mention. Often the manufacturers of the walkie talkie radios make claims of the range of the phones of being very long, but that is not always true. A walkie talkie radio with a normal range is pretty fine, but you would need one with a long range in some circumstances.
A long range walkie talkie requires a high more in comparison to the normal ones so if you intend to buy a long range walkie talkie make sure that possess high power feature. But there are few techniques available to increase the range of walkie talkies which are of low power.
There are some walkie talkies with a baby monitor that is of the wide range that enables people to keep their baby alone sleeping in the house and go for shopping in the nearby grocery shop; when your baby wakes up the baby monitor walkie talkie will let you know so that you can rush back to your home.
New Features
The contemporary walkie talkie radios are available with more advanced features that make them more preferable. One of the latest features is the push to talk feature which can enable you to access the person whom you want to connect just by pushing a button.
Unlike cell phones, walkie talkie radios come with an additional feature that enables you to talk to more than one person at the same time. The walkie talkie manufacturing companies are coming up with a variety of new models that consist of the latest and most effective technology.
Buy Two Way Walkie Talkie Radios
Contrary to what people used to think the walkie talkies haven't lost their charm to cell phones. Since their size has been reduced tremendously and it has no problem of a network like the cell phones they are being preferred by people. Though they don't have a nationwide range and have a comparatively weak battery, they have no doubt improvised the communication system.
But as the walkie talkies are not as popular as the cell phones you need to have a proper idea about them before you buy it. In this case, Internet can be of great aid. You can read the reviews on the different models that will help you to decide about the model that you should go for. Be sure of your needs and budget before you purchase a walkie talkie.
Use Walkie Talkie Headsets
Our website reviews and compares some of the best walkie talkies available online. Here you will be able to find great resources and deals.Walkie talkies though were introduced to serve a military purpose are being used by laymen today. The walkie talkies are hugely popular today. They are being used in the workplace for better communication amongst workers, by blue collar workers and for emergency purposes. The walkie talkies are also being used to stay better connected to the family members and friends. Their size has also been reduced considerably to make it more user- friendly.
The walkie talkies are provided with a mouthpiece and a speaker. The walkie talkies have made communication system more adept providing great operational facilities. Walkie talkies differ in range; if you wish to have a longer range, then you should go for the ones with higher power facility. There are many companies manufacturing different varieties of walkie talkie cell phones, and they are introducing many advanced technologies in the walkie talkies.
The advanced technologies added in the walkie talkies make them all the more coveted. Walkie talkies have made life easier and contrary to what people claimed the walkie talkies hadn't lost their charm to the hugely popular cell phones. This is because the walkie talkie cell phones offer us with some features that cell phones fail to provide.
What are Walkie Talkies Headsets?
Walkie talkie headsets are almost like the ordinary walkie talkies except for the fact that the former is wore around your head. The walkie talkie headsets provide the facility of transmission at the same time. Which means there is no necessity of dialing a number to contact someone; just by pushing a button you can contact the person.
Like ordinary walkie talkies, the headsets come with the general features of on and off option and volume control feature. The walkie talkie headsets are also provided with FM radio in most case enabling you to listen to music.
Like ordinary walkie talkies head set walkie talkies are also provided with chargeable batteries. Walkie talkie headsets can be a wonderful device for communicating with people as they can be used in places where cell phone reception is not available. Walkie talkie headsets can prove to be a great buy as they come with added features than the ordinary walkie talkies.
More about Walkie Talkie Headsets
Walkie talkie headsets can be your best companion when you are going for outdoor activities like trekking and camping. But before buying a walkie talkie headset, it is always advisable to get all necessary information about it. The walkie talkie headsets that are manufactured by reputed companies are always better than the cheap ones. The branded walkie talkie headsets enable you to hear the voice clearly without tampering the auditory system in the ear. But the cheap ones, unfortunately, don't provide this facility. The walkie talkie headsets also provide an acoustic tube meant for proper hearing.
Moreover, the headset walkie talkies are designed in such a fashion that they can be worn in the ear without hampering your appearance. It is manufactured in such a fashion that it is hardly visible when a person wears it. They are real value for money as they provide you with advanced facilities and at the same time improve the health of your ear. They are widely used by people for better communication among each other.
Some walkie talkie manufacturing companies are manufacturing this type of walkie talkie so it wouldn't be much of a problem for you to get hold of the type that you exactly need.
Buy a Wireless Headset
When this variety of walkie talkie can provide you with so many facilities why wouldn't you avail them? There is absolutely no reason why you wouldn't buy a walkie talkie? You just need to spend some money from your pocket to get a walkie talkie and that too of such advanced technology. When the features and facilities of this type of walkie talkie are so appealing, you shouldn't deprive yourself of owning it. You can explore the websites providing details about this walkie talkie to ensure that you are going for the correct deal.
The Internet consists of all possible information on walkie talkies, and you can also have a glimpse of the pictures of the different walkie talkies there. New models are being introduced every second day so you can get an idea about them just by checking some websites on walkie talkies. To make the job even easier for you, you can get valuable reviews on walkie talkie models which would help you to select the correct model for your use.