Best Emergency Survival Water Purification Tablets Review 2017
Are you planning to go for hiking or camping trip?
Have you taken your life saving buddy with you?
Have you taken water purifier tablets with you?
If any of these are true, then you need the best solution for water treatment, we have reviews top 5 water purification tablet which can help you choose the right product for you. You can go through all these reviews and check out for our Buying Guide for water purification tablets.
What is water Purification Tablets?
Water purification tables are medicinal tables which are used to clean water and make then human drinkable. These are used by all over the world where water is scarcity and contain pollution.
These become famous when used in war time, as soldier use this in war for quick water purification. These are now used in developing countries where drinking water is much polluted.
If you are going for hiking, camping, traveling or going to places where natural disaster has struck, these tablets are great way to save your life by purifying water.
How do Water Purification Tablets Work?
There are three substance iodine, chlorine and chlorine dioxide which are the main constituent of any water treatment tablet available on the market. These tablets work as dissolving in the water, during the process it kills all microorganisms which are water borne diseases.
Tables are placed in water according to the written prescription on the bottle. Water is purified according to the constituent present in the tablets. Some tablets purified water in 30 min whereas some take around 4 hours.
Water purifier tablets changes taste after purification. You can use different neutralizing tablets which can remove the permanent taste of iodine or chlorine.
How to use Water Purification Tablets?
Water purification tablets come with instruction to use, some of the water purification tablets are very fast in purification and some takes time. Please check the instruction provided on the bottle how to use these tablets. Some tablet takes 30 min time to get pure drinking water, where as some tablets take 4 hours to make water drinkable.
Are Water Purification Tablets Safe?
Water purification tablets are 100% safe if you use them according to the instruction given on the bottle. Check expiring date before using any water purification tablets. You should also check the time to get drinkable water given in the instruction. Follow the exact procedure given in the instruction, so that you did not get polluted water.
Top 5 Best Water Purification Tablet Reviews
We have reviews top 5 best water purification pills which will help you in your expedition. Please go through our full reviews to find the perfect solution for your hiking.
Aquatabs Water Purification Tablets Review
Do you want cheap insurance against contaminated water? Get Aquatabs water purification tablets. These are the best purification tablets out there trusted by NATO and other military organization for purification of water. These tables are effective against micro-organism present in water and prevent Cholera, Dysentery and Typhoid. This pack contains 100 tablets which can treats up to 200 quarts of water. It can treat water collected over rain, rivers, lakes and wells.
Pros
These are lightweight and used for easy transport
These have good taste not like other chlorine tablets
Used and trusted by NATO and military organization
Treats any type of water
Best buddy in travelling around the world
Cons
Only have 5 years of shelf life
Prescription on bottle is difficult to understand
Conclusion
Take this value for money water purification tablets with you for any expedition. These are great in taste and being trusted by NATO and military forces around the world. Keep this handy when you are traveling to third nation countries where water borne diseases are very common.

POTABLE AQUA PA+Plus Water Purification Review

Do you want water purification tablets which apart for killing microorganism also remove iodine taste and color? Check portable aqua pa+plus water purification tablets. One of the best seller of water purification tablets in the market. These tablets provide purified drinking water after removing all water born microorganism and remove the iodine taste and color. This pack consist of 50 tablets and only takes 30 minute to process any water to make to human drinkable.

Pros
Purifier and neutralizer comes in different bottle for easy transportation
This pills can remove iodine taste and color
Comes with no expiration date
Treats all types of water
Cons
Purification quantity is less than other brands
May cause irritation to those who are allergic to chlorine
Conclusion
POTABLE AQUA PA+Plus is the best water purification tablets out there in market due to its capacity to control both quality and taste. If you did not like taste of iodine which all other water purification tablet does, then you can definitely check this tablet.

Katadyn Micropur MP1 Purification Tablets Review

These water purification tablets are value for money, one tablet can treat one liter of water. These tablet are made with chlorine dioxide, which also remove any unpleasant taste from the water. These water purification tablets take more time to purify water and you have to give some time before you can consume the water.
Pros
Individually wrapped for easy storage and safety
Very easy to use
Clean all kind of water
Meets EPA microbiological water purifier test standards
Cons
Water changes to yellowish after treatment
It has lower shelf life
It takes longer time to purify water
Conclusion
Do you want fresh tasting water after any water treatment? Then, you can go for Katadyn Micropur MP1 Purification Tablets; these tables are tested in the lab and meets EPA microbiological water purifier test standards. You can use these tables in your outside camp activity such as hiking, camping, fishing or travelling around the world.

Polar Pure Iodine Water Filter Purifier Review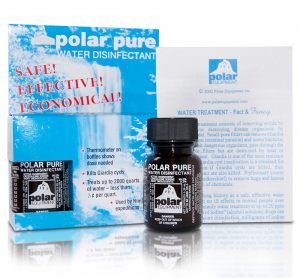 Best value for money, this product can treat up to 2,000 liters of water, which when compare with other purifier tablets only purify 25 liters. These are compact bottle and have only 5 ounces in weight which takes less space which you go for expedition.
Pros
Can purify 2,000 liters of water with one bottle.
Printed direction are on the bottle for easy understanding
Cost effective solution just 1 penny per quart.
Kills all bacteria and viruses in water
Cons
Bottle is larger is size
can stain cloth if spilled
Conclusion
These are the best value for money, you can treat 2,000 liter of water form one bottle of Polar pure Iodine water filter purifier.

Aquamira Water Purifier Tablets Review

Get water purification with easy, this is not best for quick drinking of water. It required 4 hours before you can drink the filtered water.
Pros
Has long life
Individually packed
Lighter in weight (full pack)
Cons
Takes 4 hours long to get purification
Have strong smell and taste
Did not remove the taste
Conclusion
Good for those who required less weight to purified water. You have to wait for at least 4 hours before you can safely drink the water.

---
Buying Guide for water purification tablets
Before buying any purification tablets consider reading this buying guide, which will help you to choose best water purification tablets.
Consider Your Budget
This is the most important factor for choosing any product. Consider those pills which fit into your budget and which have long expiring dates. Choose your budget and make sure that you do proper research, as sometime expensive tablets mean better quality.
Check you frequency for hike or camp
Check your frequency for hiking or camping during the course of the year. If you are hiking more frequently, you should consider large amount of water purification tablets. But if you are not camping too much outside, no not buy more than 10 to 20 tablet of water purification tablets. For an adult going on hiking it will only take 5 tablets per day, if the place did not have any drinking water facility.
Check your disaster kits
Before planning for any expedition trip like hiking or camping, investigate the place for hurricanes, floods or any unnatural calamity. If you find everything ok, check expiring date of all water purification tablets, so that you may not face any problem when actual situation rises.
Consider your allergies to any medicine
Before buying any medicine you should know what you allergic to are; many people are allergic to iodine, shellfish, or any other substitutes which these water purification tablets may use. So, it is better to know the full constituents these medicine use before you purchase. For example if you are sensitive or allergic to throat or sinuses then you should avoid chlorine tablets.
Look out for Reviews
If you want to know which product is good one, then you should consult previous customer who has used that product. If you are buying it online, then it is definitely wise to look out for all the good reviews about the product which are selling high at that point. So, if you are looking for any particular brand, just look out for online reviews on that brand product. Reviews are generally given by verified customers who have used that product and are well experience with the pros and cons of the product.
Conclusion
So are you ready for your new expedition? Don't forget to take water purification tablet with you. Go through our exclusive water purification tablet review to find out which one is best for your budget and expedition. Rest assured that this will save your life when it matter most. Don't forget to take this life saving tablet with other accessory. Find out which water purification tablet suited your taste and budget.
---
Read detail article about Best Survival Water Filters Reviews 2017