Best Family Tents for Camping, Hiking, and More
There are tents for all kinds of outings – backpacking, teaching, and winter. You might consider buying a 1 person tent for times you hike or backpack out with friends and prefer to sleep alone. There are tents for sporting events, the beach and your backyard with an open front, an overhead shade, vented windows and walls for privacy. Then again, you might opt for a tent that can fit your entire family when you go camping.
If you buy a tent for camping reasons, make sure to look for weather resistant material with reinforced seams to prevent leaking. I like to make sure that my tents have adequate windows for ventilation and have a fly to go over the top. The ventilation is helpful if you use a lantern or heater in your tent so it can let the fumes out.
Nowadays, tents are made with super-fast setup designs. Most of these come with poles already set up, and inside the tent, so you don't have to mess with them. The easiest tents come with a bungee that you pull to pop out the tent. There are a few others that require a few connections to be made but can be set up in less than 5 minutes.
We are reviewing tents for every personality type and budget. Take a look below to find your next tent.
Best Tents for Camping Under $50


Best Tent for the Beach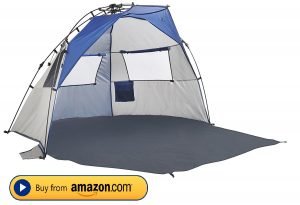 Check out this Lightspeed Quick Cabana tent. This tent is suitable for places with warmer type weather such as your backyard or the beach; I love taking mine to my kid's soccer games. I love that the poles are built into the tent, so it is super easy to set up. There is a drawstring that simply needs to be pulled to open it up. This tent gives you a three-walled shelter system with a sunshade over the opening. Once folded up and put away, it is very lightweight and easy to carry. We live in a windy area so the sand pockets on the outside are great to keep the tent in place. The "porch" area is roomy enough to accommodate me, my husband and our two kids quite comfortably. There are three windows provided that rolls up as well.
The Big House
The Big Agnes brand is known for their technologically advanced designs that incorporate the latest advances in fabric technologies, with the cleverest designs. The result? Camping tents that are simply fantastic!
The Big House is a spacious tent that was voted the best family tent by a leading consumer website. It offers easy setup as well as great weather resistance, making for a cozy slumber no matter what your conditions are.
It's relatively inexpensive and is also lightweight and compact.
Reviews of the Big House tent often mention the extra cost associated with the Big Agnes Big House. While it might seem significantly cheaper than the other top name brand tents, you have to keep in mind that almost any accessories cost extra above the advertised price.
North Face Camping Tents
The North Face brand is synonymous with quality outdoor gear. If you own any North Face apparel, you will know just how wonderfully warm and functional their designs are. The North Face Trailhead tent is an excellent tent offering some advantages for the average camper.
The Trailhead is known to be one of the easiest tents to set up, an important feature in any tent! Camping tent reviews of the Trailhead often praise it for its robust protection from the elements. Adverse comments about the Trailblazer tent are negligible and include complaints about ventilation and zippers. Overall, the Trailhead 8 consistently impresses!
Nemo Losi 3P Tents
The Nemo Losi 3P is another highly rated tent. Reviews often praise the Nemo Losi brand for their spacious and comfortable tent designs. The Nemo Losi 3P is reasonably priced and capable of sleeping up to three people comfortably.
Most impressively, the Nemo Losi features a lifetime guarantee. Combine this with its easy-to-care-for machine washable fabric, and you have the makings of a top tent!
So, what's not to like? Some reviewers criticize the 3P for its weight, but this is only an issue if you intend on taking your tent hiking or backpacking with you.
These are just three of the best camping tents available today. These tents consistently receive rave reviews from experts on camping. Tent reviews are often difficult to decipher. Hopefully, this article has given you a clear idea of the kind of tents you should be looking at.
New Camping Tent 2017
The Coleman Road Trip Beach Shade is also another favorite of mine. It has two zippered doors for privacy and can be used as a changing room at the beach. The shade floor converts to a wall to give you this privacy. There are 4 hanging pockets inside for small items. This tent has a UV Guard Protection of SPF 50 so while you rest, you can rest assured you won't get burned. It comes with sandbags for stability, super long stakes, a dry line, a floor mat, and a carry bag for all of it. The center height is a nice 57 inches to give you plenty of room to move around. This tent gets pretty warm, but if you open the back window, the circulation is much better. It does take a couple of people to get set up. Other than set up, I've been very impressed with this tent.
One Man Tent Reviews
Reviews Of Eureka Backcountry Tent
One man tent is the best option for people who like a private space while camping or for those who are camping alone.
These tents are solo adjusters, specially designed for a single individual to reside. Protective of bad weather, these tents are built high enough to restrain wind or rain to enter, and it also provides adequate cross-circulation for campers to feel airy and comfortable.
This solo tent is light is manufactured from reliable polyester taffeta to prevent damage from external weather changes, and taped seams to avoid rain water from leaking inside. The attachment poles and grommet of the tent are easy to set up by a single person only.
About Eureka Company
This solo tent is manufactured by the Eureka Company, which is highly known for creating tents for various purposes like camping, refuge, and events like weddings and parties. Along with tents, Eureka also creates canopies, sleeping bags and all the related accessories for outdoor activities.
The company is a registered name of the Johnson Outdoors, which started manufacturing tents and related products about 100 years ago for refugees and citizens of America during the Industrial Revolution.
Since then a variety of tents are manufactured for different purposes and according to the number of campers, like The Backcountry 1, Suite V6 and the Apex Series. Every tent is suited to a different weather as well as to a different season.
Feature
The special features are that they offer a personalized space for a single person.
The tent is made from waterproof material, which avoids rain or flood water to enter from any of the attached corners.
The sealed seams prevent the tent from leakage, and a huge window allows air to circulate to and fro to provide an airy and fresh atmosphere to the camper.
One door for the entrance has zipper pulls to seal the tent at night while sleeping perfectly. The tent is available with a height of 3 feet and 2 inches, which allows the camper to move around without much difficulty.
The frame is made from Aluminum, and the post and corner grommets are colored to make them easily recognizable to setup.
Reviews of Eureka Solo Backpacking Tents
The advantages of one man tents are that they provide sufficient privacy to the camper along with adequate space to move around and store necessary accessories like mugs, clothes, and shoes.
The weight of the tent is 3 pounds, which allows the camper to carry it anywhere he goes. The polyester taffeta and the taped seams prevent water from entering, and the window allows air to pass through.
The well-built posts and corner grommets make the tent sturdy enough to resist strong winds and rainstorm. Till now there are no disadvantages of the one man tent apart from the unavailability of the product from showrooms. You can only order the tent from the company's website.
Customer review
Pros: The tent is lightweight and packs very small size. Can use perfectly in wind and rain without no leaks. It is very easy to setup even if it is not self-supporting. Getting in and out is easy cause the door is wide
Cons: none.
Overall amazon.com gives this product 5 out of 5-star rating with 35 people review it. Most of them are satisfied with the product and price. They thought it is the best price for best solo tents.
A-Frame Tents
Review Of Canvas A-Frame Tents
A-Frame Tents are temporary, free-standing structures with lightweight vinyl top stretched for some purposes from camping to organizing large events.
The vinyl topping is a very durable and a weatherproof fabric. These tents are secured with the help of ground pegs.
A-Frame tents are available in one piece or various sections and can be installed on any base. The best feature of this frame tent is that it stands in the absence of any central pole, unlike other traditional tents.
Here are some popular model of A-Frame Tents
Eureka Timberline Tent 2 Person
This classic two-person tent is light weight to carry. This is a nice portable frame tent with a single door but two windows.
The area of 38 sqm. Ft covered by this tent makes it a spacious enough to camp. It has a fly which is used as a protection against the bad weather, but when the climate is dry, it can be lifted up. It is a well-ventilated product because of the provisions provided such as windows.
The spacious element of this tent makes even a taller person fit in easily. Though the product is a little expensive, it is worth every dollar of it as it can easily take an extra person in it.
Scout Backpack Tent
This is a sturdy backpacking very suitable for Boy Scout troops. It can easily be set up without any help. Owning this camp gives you the benefit of having adventures trip at a very reasonable price.
This sturdy product is a perfect fit for two people. The only disadvantage of this product could be that taller people might find it difficult to fit in.
The making of the product makes it difficult to fit cold weather, so one will have to carry all the necessities.
The replacements parts for this tent are easily available. It is a very lightweight product too. Keeping the negatives apart, one cannot go wrong in buying this product.
2-Person Hiker/Biker Tent
This brand new backpacking is winning a lot of reviews because of its excellent durability.
The zipper enables easy fastenings. It is specially designed for kids when they are out on school trips and a single person.
The height of the camp lengthwise enables an average height person to fit in but a taller person may find it tough to fit it, but you can find out a way diagonally.
I don't think one can find a better option than this at such a price. The frame shape tent is suitable for bikers as it is very light to carry and comes with a handle to support.
It is a free standing tent for easy setup. This product could be the best gift for your kid.
10 Person Tent
Most Popular 10 Person Tent
With the passing time, the inclination of people towards recreational activities has also been rapidly increasing.
This calls for the need of continuous efforts in improving camping tents to serve the needs of the people.
Everybody is looking out for a second home even when planning a vacation with friends or family. To cater to the needs of different segments of customers, many manufacturers have come up with various tents sorted with the style feature, accommodation size, additional facilities provided, etc.
Amongst all the highlighting features in any tent, one which any person always looks for is the accommodation spacing provided.
Larger the tent, the more comfortable it is. The trend for Size Does Matter has taken the lead.
Top 10 Person Tent:
Though there is a limited number of companies manufacturing larger sized tents, the ones who make it make it the Best, the most reliable and finally the most durable ones at a reasonable price.
Eureka N!ergy 1310 Tent
Coleman Weathermaster
Swiss Gear Montreaux
Eureka N!ergy 1310 Tent: This tent comes with a lifetime warranty. Easy to clean and excellent ventilation system gives an edge. They also have a room divider which offers plenty of privacy. The straight wall tent contour gives it the liberty to fit in any bed size.
Coleman Weathermaster: Most luxurious family tent comes with 3 separate rooms promising complete privacy. It also an inbuilt electrical access point for charging your electronic items as and when needed.
Swiss Gear Montreaux: The Pin and Ring technique makes it stand up very easily in no mins. The unique flooring is made up of drinking water-resistant fabric. So much to find at such a reasonable price is definitely to be owned.
General Features:
Any good tent will promise you all the below features, so don't forget to check all these out.
Very spacious
Reasonably priced
Separated rooms
Complete privacy
Largely sized front door
Waterproof
Easy assembling and dissembling
Electrical access port
Beware Of Bad Tents:
It is a ying-yang relationship, with everything good comes the bad also. Statistics show that lesser familiar brands always come with the reliability issue. Listed down are a few brands you should be aware of while purchasing one for yourself as their lesser pricing will always lure you.
Model 94
Gigatent
Black Pine
Texsport
Trek
Eddie Bauer
Wenzel Tents
The major drawback of these tents is that though they promise to be waterproof, you will end up swimming instead of camping. I know that sounds funny, but you can bet one!
Last Words:
Apart from all the credentials which every top family tent are carrying, one important thing to be kept in mind is that you should never hesitate to pay a little extra for that extra quality.
While there are cheap tents also available against these high-end tents, the former's durability can never be matched to that of the high-end tents.
Large Family Tent
Large Family Tent: The Best Tents For Your Family Vacation
Camping with your family can prove to be quite challenging.
You have got it all planned and packed, but if something is going wrong, then you will have a lot of responsibility to deal with, especially if you have a large family.
As a parent, the first things you are concerned about are your kids. You want them to be safe and comfortable and to enjoy especially their first outdoor experiences.
You know you will need extra care when picking up your camping gear and you need something you can rely on.
You can find many products on any sports market, and we firmly advise you to pick them up yourself rather than ordering them online.
You need to check yourself whatever camping tent you are buying as online shopping can be deceiving.
Large Family Tent Buying Guide
Whatever you decide to purchase, these are a few things you have to consider before making your decision:
Buy a tent that can accommodate at least one more person inside of it. Families need space, especially when there are kids involved. Plus you have to consider that you will also need space for all the baggage.
For the best weather protections out there only pick up the tents that have sealed seams and a full rain fly. Rain is the most dangerous weather condition for your tent. If it is not completely waterproof, rain will leak in and soak everything inside. Of course, also you can purchase waterproofing solution and make sure you run a watering test on your tent before camping in it.
Make sure you have plenty ventilation inside of your tent. Especially if you need to accommodate more people inside and if the weather is rather hot, you need excellent ventilation. Make sure you have windows on every wall of your tent and consider buying an air conditioning device for your tent.
Recommend Large Family Tent
Coleman Instant 8 Person Two Rooms Tent
Coleman never seems to fail to deliver when it comes to camping gear. And we suggest you first take a look at this producer, for just about anything you might need.
They have a good quality/price ratio, and if you are not taking camping to extremes then you have nothing to worry about, in fact, you will love every single piece of Coleman gear.
This tent can accommodate up to 8 people, and the best part of it is that it is straightforward to set up and it is very well ventilated.
Although the set up is meant for 2 people, it can easily be managed by one tall and strong.
The tent is one piece made; it does not require assembling any parts, the tent poles are attached and telescopic, so all you need to do is extend them.
It has 7 windows, and the interior can be divided into 2 rooms.
The downside would be the weight, 45lbs is not something anybody could carry, so even transportation from the car to the camping ground can be a two person job.
Swiss Gear 10 Person Tent
This is a huge tent with a particular design. Setting it is easy for such a large tent, using a pin and rings system anybody can figure out.
It is entirely waterproof even without using any seam sealer. It has 2 side rooms with a dividing curtain for extra storage or privacy.
The practical thing about it is that it has a lot of pockets to store your stuff, from electrical wires to keys, mobiles and other items you don't want to be scattered around.
The ceiling is al mesh made, so the ventilation is good, and it uses a taped fly for extra rain protection.
Eureka Cabin Tent 12 Persons
Eureka Cabin Tent is the perfect waterproof vertical tent for families. Even though the rain fly is not full and the top of the tent is all mesh and see through, based on user reviews this tent never fails rainy weather.
The frame is very sturdy, made of steel and fiberglass for the best flexibility and resistance.
Easy to set up, it uses sleeves for poles and pins to rings system. The tent itself is so spacious, and the vertical walls will never require you to bend over.
Due to the height of the tent though, the windows can't be opened by children, and as for some this could be an advantage, for some it's inconvenient especially because the tent has 2 rooms: you might want to sleep your kids in the other room.
Family Tents for Adventure
Top Tents Between $50 & $100


Cheap Camping Tent
In this category, I love the Coleman Hooligan 2 Backpacking Tent. This super small tent is perfect for those that like to hike, and camp. It is very easy to carry and super lightweight. It measures 6 x 8 feet and can comfortably hold two people. It features a waterproof floor, protected seams, weather resistant fabric and a strong frame. It is quite easy to set up with just a one pole design in about 10 minutes. It features a mesh inner tent for ventilation and a rainfly to go over the top. There are pockets inside to hold your small necessary items. It weighs no more than 8 pounds to carry. Even though this is perfect for those that like to hike to their camping locations, it is not ideal for backpacking since it takes up a lot of room in a pack.
Best Light Tents for Camping 2017
Best Single Person Camping Tent
Another great tent to consider in this affordable category is the Eureka! Solitaire Tent. As the name describes, this does only sleep one. It is a two hoop bivy style tent with a ventilated mesh roof and full fly for cover. The zippered roof is nice too for star gazing, and easy to get into and out of for that matter. The frame is shock corded for really fast setup. There are three storm guy outs on the fly, two storage pockets for essentials and one flashlight loop. Weighing only 2 pounds 9 ounce, this thing is super light. You should be aware that this tent is non-supporting so your soil must be good to plant the stakes. If you think you will be using this tent in rocky areas, it might not work so well. I used this in a horrible rainstorm that lasted 8 hours; the floor, sides, and top all stayed wonderfully dry.
Best Camping Tents $100 to $200


Large Family Camping Tent
Check out the Coleman 8 Person Instant Tent. My biggest complaint about camping is the time it takes to setup and teardown. You can setup it with in one mint. The pole system comes pre-attached to the tent, requiring you only to extend the poles, click them together and lock them into place. Tents are the worst when it comes to eating into your day. I love how comfortable this instant tent is! It's a 14 x 10-foot tent that easily sleeps, 8 people. With a center height of 6 feet 5 inches, nearly everyone can stand upright in this tent. It comes with a WeatherTec system that helps keep the tent, and its contents, dry. I love that we can opt to all sleep together in the same room, or use the divider to make a two room tent. This is a great option for families, so mom and dad can have some privacy, or older children don't have to sleep next to the little ones. Overall, this has been a very durable tent for our family.
Best 3+ Person Camping Tent
Another highly rated tent is the Coleman Red Canyon 8 Person Modified Dome Tent. Measuring 17 by 10 feet, this can sleep 8 people. You have the option to remove the privacy walls or keep them up. If you keep them up, you can separate the tent into three rooms. It is made with weather resistant fabric and protected seems. Setup is quite easy with the shock-corded color code poles. This one does take a few extra minutes compared to some of the others we've reviewed, but overall it's pretty easy to put up versus tents made a couple of decades ago. It has a center height of 72 inches which is more than adequate. I love that it comes with a welcome mat and pockets, so your tent stays clean and clutter free.
Camping Tents $200 & Up


Best Kodiak Camping Tent
My favorite here is the Kodiak Canvas Flex-Bow Deluxe 8 Person Tent. It's very sturdy and is made with 100% cotton duck canvas that is watertight but breathable. It has two D shaped doors both on the front and back, and has four big windows with no-see-um mesh. It has a very large 6″6″ ceiling height as well. This tent features ventilation and holds the heat inside a lot better. If you want to buy a tent that can last through generations, this is it.
Best Family Camping Tent
Check out the Kelty Parthenon 8 Tent. This is a tent to fit 8 people. It is fairly easy to set up, though takes longer than many others I've used. There is a divider inside for privacy and the mesh panels help keep the tent cool in warmer weather. The organizer wall is nice since it has pockets for all kinds of camping essentials like toilet paper and flashlights.
Family Camping Tent Guide
Going outdoors and camping in a American National park is the perfect vacation for the Family to enjoy. A modern family tent is a lot easier to raise than one might think and many of them are pop up tents. You can pitch these family camping tents by yourself, even though they are often pretty big.
There are so many tent sizes and styles (such as bubble tents) that there is no shortage of selection and there should be a family tent with a price tag to fit every family.
I am highlighting the best family tents that are suitable for easy outdoor activities and camping with the family where space and comfort is the main thing to look for.
Camping Guide, Ideas, And Tent Reviews
An Ultimate Family Camping Guide
Love camping? Or Hiking? Or Backpacking? We facilitate all the above!!! Welcome to a one-stop site which serves you with the following:
Best tents in the market
Individual brand review
Tent ratings
Best tents for the best season
Various camping gear and equipment
General sleeping bag info
Top tents for camping theme like backpacking, hiking or car camping
Camping Guide on food and needs
Tips on choosing camping clothes and shoes
Help you choose the right camping location based on your need
Camping safety tips and more…
People have started swapping from expensive holiday trips to the low-cost adventures camping trips. But can the cut down on the money alone increase the fun?
Camping couldn't have caught one's heart if the manufacturer's had not taken efforts to build tents for all costs with all the possible comforts.
Though a tent is designed to provide basic shelter, it is important to learn if its features meticulously fit for our requirement, for example: does our sleeping bag fit the tent size; is the tent big enough to accommodate the crowd, etc. every manufacturer designs a tent to serve every segment of the people but there have been cases when the tent does not fit in the buyers requirement.
We understand your requirement and assist you in finding the best tent with a comprehensive research on every tent possible. This will influence your decision to pick the right one.
Factors to be considered while choosing a tent:
You can find an independent research performed in every tent available in the market though we do not sell them personally.
This is only to assist you to make the best buy with no intentions of benefiting a single tent entity other than the people in search of best tents. Following are the factors covered while choosing the best tents for camping.
The tent needs on family, friends, couple.
Season tents
Easy tent setup
Tents for all segment of people
Comfort Vs pricing
Tent accessories and availability
Minimizing weight with backpacking
Unique tent designing with various shapes
Steps to search the Best Tents:
We give you can access to all the existing brands, and you can perform your search on the brand types too. Apart from this for easy retrieval of information, we have categorized the tents as follows
Top backpacking tents
One man tents
Ultralight tents
Best family tents
Season tents
A-Frame tent
One can always buy a tent from any store close by to your place, but they cannot assure you satisfaction and comfort as their basic aim is to promote sales.
Imagine, if your tent fails on the camping site? This happens to many people who blindly look out for products even without the basic knowledge.
We will help you frame an unbiased decision on your choice of tents with our facts and figures. This will never lead you to an unwanted and a poor buy.
And don't forget this site also provides camping guide for one man trips or even a family trips. We cover all your camping needs from camping gear to camping games to play with your friends and family.
Tent Material
Know Your Tent Material Before You Buy
The tent you carry for your outdoor recreational activity holds the highest importance.
The poles, the covers, the fabric of the hiking tents, etc. can decide the life of your tent. Hence, it is essential to choose a tent which would prove long lasting. Let's have a closer look at the features necessary to increase the lifeline of your tent.
Tent pole materials
Tent fabrics
Clubbing the tent along with the pole
Tent Pole materials:
Poles form the framework of a tent, and thus it is essential to choose a strong, durable and a bendable pole material. The task is not to find a durable pole material but to reduce the extra load on a camper caused by the pole weights.
A few commonly used tent material are as follows
Fiberglass: This was the traditional pole material used until being replaced with the much stronger Aluminum alloy tubing. Due to its less strength and heavy usage, it finds its place only in cheaper poles.
Aluminum-alloy tubing: This comprises of the present day pole materials. Most poles are either pre-curved to avoid breaking while bending or it comes with multiple sections clubbed through elastic shock cords. Due to its corrosion property, most tents come in anodized form.
Carbon Fiber: This fishing rod material forms the future of the tent poles. They are the strongest and most flexible, thus finding its place in the expensive technical tents.
Tent Construction:
The framework of the tent is constructed with either a single layer or a double layer of fabric.
Single Wall Construction: As the name speaks, there is only one layer of fabric covering the tent which takes the burden of fighting all the odds and as well as provides ventilation.
Double Wall Construction: This tent has an outer fly sheet along with an inner tent. This kind of construction gives the tent an added advantage as the fly sheet is waterproof and the inner tent does the work of transporting the moisture to the outer fly as it is made up of breathable fabric.
Tent Fabric:
The tent cloth does all the work of protection against wind and rain, acting breathable on the parallel lines, etc. Unlike the traditional tent clothes like leather and cotton, these days the tents are made up of much better and breathable fabrics like nylon and polyester taffeta.
A good tent material should have the following characteristics:
Water resistant: This determines the pressure of water on a square inch of fabric with zero leakage. A fly sheet with 80psi is idle to handle bad weather.
Color: This shows the stand apart quality of your tent against the surroundings.
Denier: Denier is the weighing mode of fabric in grams per 1000 meter length. A lightweight fabric should weigh around 50d.
Features of tent covers:
Double-needle stitching seam: To bear extra pressure and load, the fabric is given a double line of stitches.
Single-needle stitching seam: Here, you will find only one line of stitches.
Shed seam: This enables transporting the tent down the tent.
Clear Film: Along with windows, the clear film finds its usage in skylights.
Waterproof/breathable laminates: A waterproof but breathable at the same time, is a must for any tent material. This laminate is a layering system. Examples: Gore-Tex, Climate, ToddText, etc.
Ripstop: Tents are prone to abrasion, and a small tiny rip can get worse. To avoid this, a polyester taffeta with thicker threads are weaved into the material at regular intervals.
Polyurethane coating: This coating gives an extra protection against rain and wind as they are durable and waterproof. One can add any number of coatings at the cost of extra weight.
Clubbing the Tent with its Poles:
Here comes the biggest task, connecting the tent shell to the skeleton. It can be done in two ways
Sleeves: This enables you to slide the poles in the sleeves respectively which can get tough during a rainy season.
Clips: This gives you the liberty of clipping the tent to its pole with ease but at the cost of less strength.
You can also enjoy an added advantage by looking out for a tent with the above combination.
Grab your wallet and go shopping as you are now smart enough to choose the best tent for your intended purpose. You can also check out the accessories and gears if needed.